OK, if you've read the books 3 times, and watched the movies more times than you can count….what's the next thing any logical muggle must do?
Go to The Wizarding World of Harry Potter, of course!
And here's how to do it!
(As of June, I've made the trip more times than I've read the books :-O! (4))
Tip #1:  Stay at Hard Rock Hotel, the Royal Pacific Hotel, or if splurging, the Portofino Bay Hotel—these hotels are within walking distance from the park, or you can use the free water taxis, aaaaand they offer BOTH early admission to The Wizarding World AND give all their guests Express Passes.  To top it off,  the hotels are really nice, too!
I've been to all of them, and finally, most recently, Portofino Bay- the most expensive of all the onsite hotels.  It's very nice, pretty cool, and super nice to have Starbucks so close to help you wake up for those early admissions!!!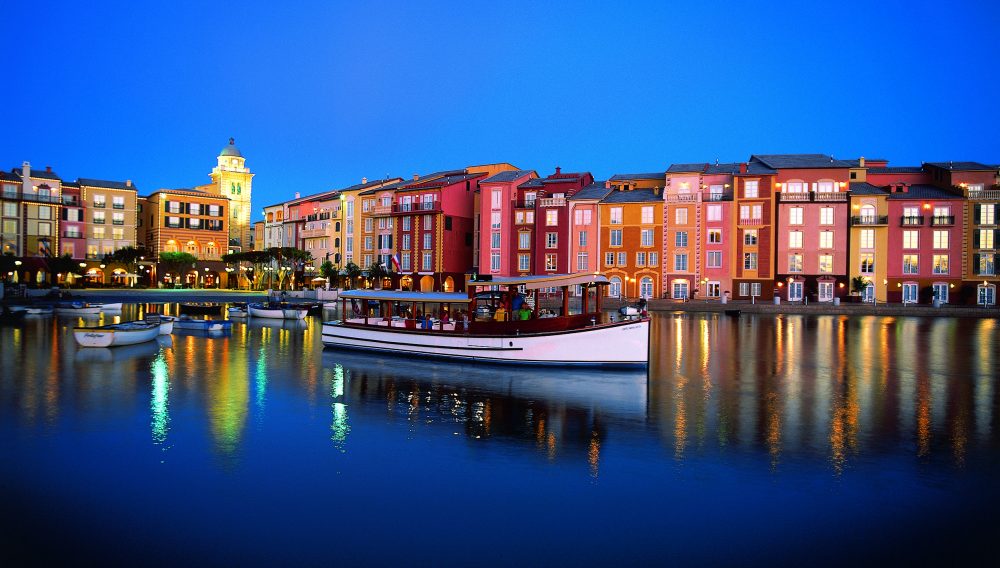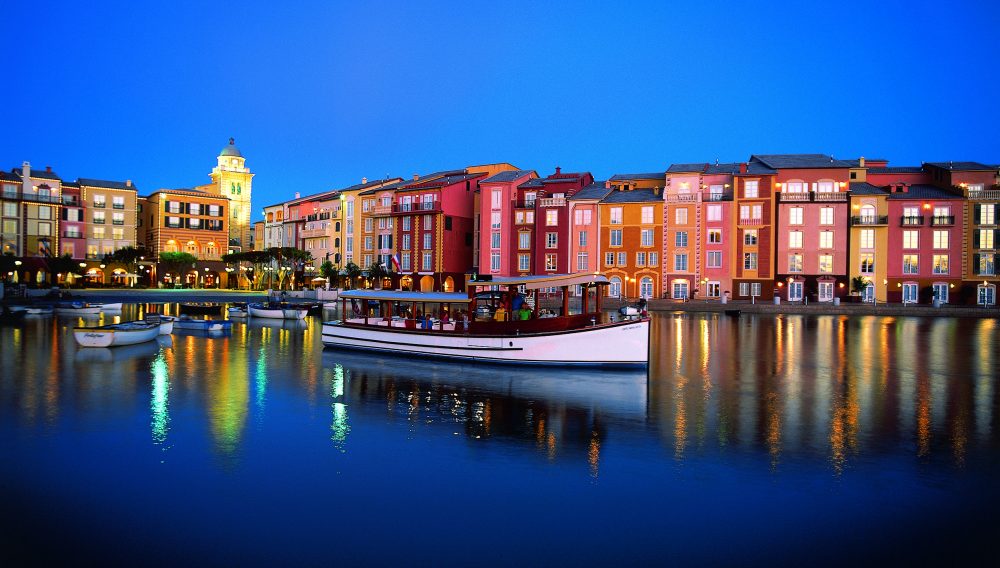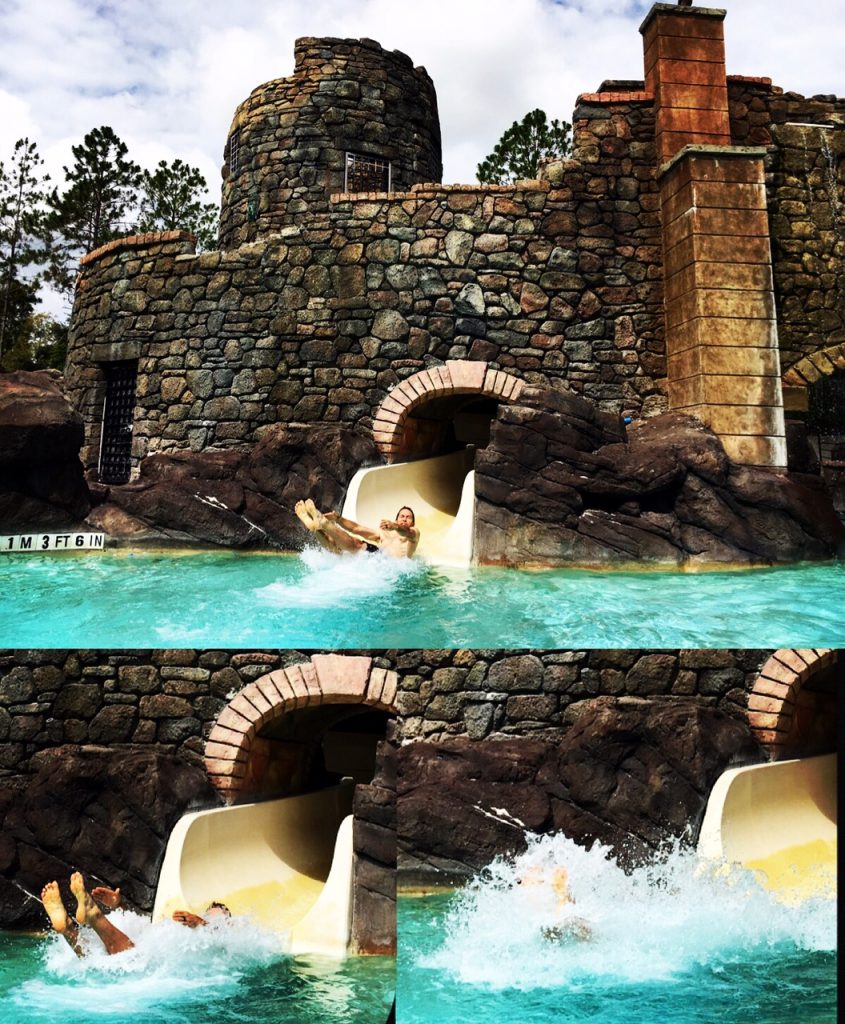 The restaurants are decent, though not my favorite, the room and bed amaaaaazing, and it's nice to have the Mandara spa right there, BUT now that I've finally crossed the "trifecta" (Hard Rock/Royal Pacific/Portofino Bay) off my list, I still think that my favorite is the Hard Rock Hotel, and the Royal Pacific is a very close second.
Hard rock hotel: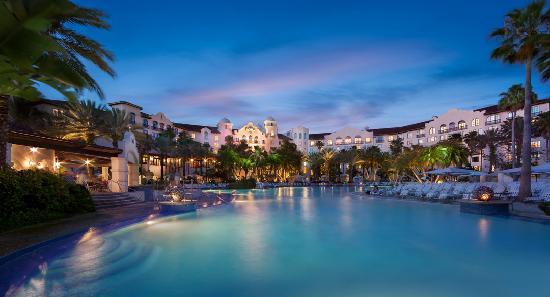 Royal Pacific hotel: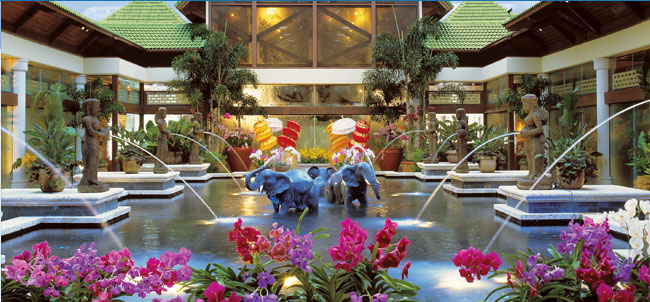 I have only stayed at the Hard Rock, Royal Pacific, and Portofino Bay Hotels, because they are the only ones that offer a complimentary Express Pass to all guests in the room.  Cabana Bay, and even the newest hotel, Sapphire Falls don't offer the Express pass, although you can certainly purchase one separately, for an extra $85 per person, no matter where you stay.
Even if you aren't staying at the Portofino Bay Hotel, you can still check it out and go to the spa, or go to the restaurants if you're craving Italian.  It's just a short walk from Hard Rock Hotel, or you can hop on the water taxi to Portofino Bay from CityWalk.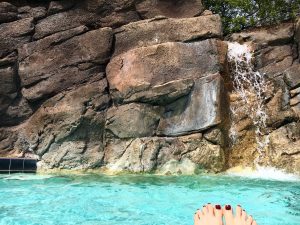 Tip #2: Harry Potter rides (Forbidden Journey & Escape from Gringotts) do not have Express lines, SO you'll want to stay at an onsite hotel, and get EARLY admission and get there first to avoid lines.  Take advantage of the early admission!!! We took this picture as soon as we arrived in Diagon alley…One of the perks of early admission, see how empty it is?!?!?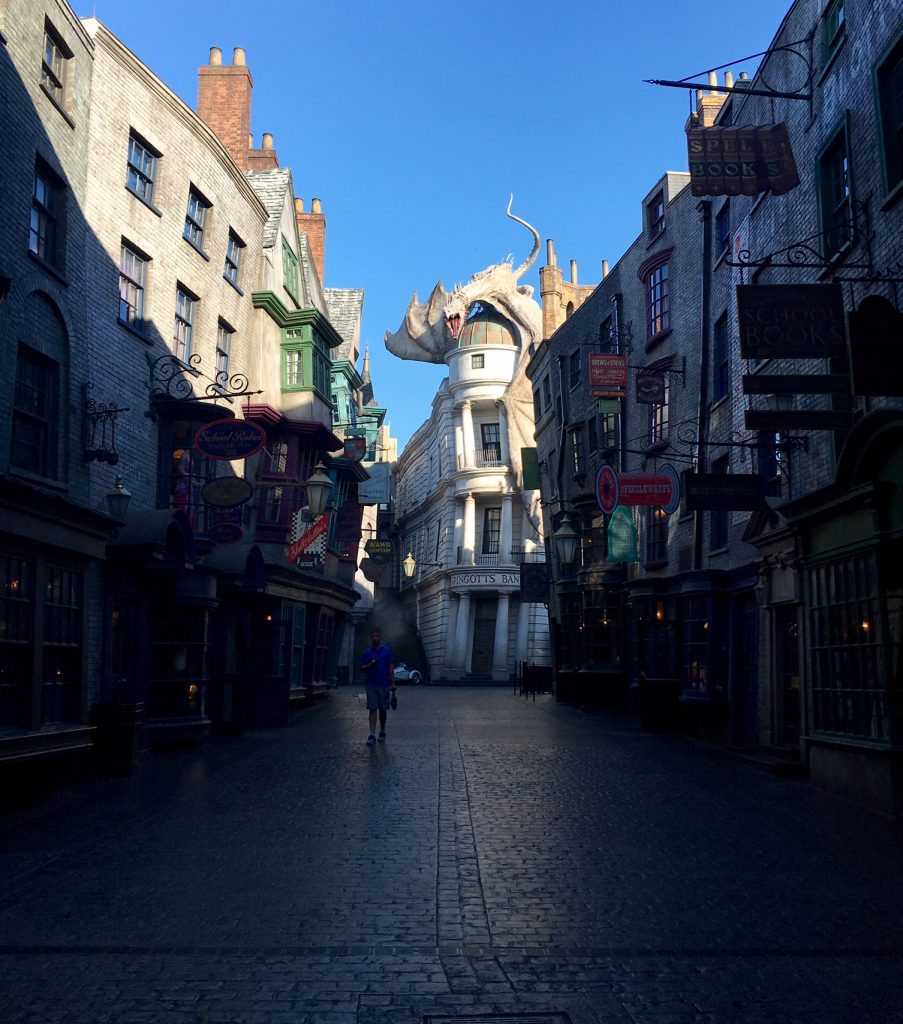 Tip #3: If you can't stay at those super awesome and convenient hotels, you must at least get an Express pass so that you are spending your time RIDING versus waiting in longer lines!!!
Tip #4: you MUST get a park-to-park pass which will allow you to take the Hogwarts train from Diagon Alley, which is in Universal Studios, to Hogsmeade, which is in Adventure Island…this is a MUST.period.or just.don't.even.go! (I feel most strongly about this)
During high volume seasons, the park offers early admission to BOTH Diagon Alley and Hogsmeade for people staying at the onsite hotels.
Ideally, you'll arrive In Orlando in the afternoon or evening, and check out CityWalk and all the fun stores, restaurants and bars it has to offer, then start fresh and early the next morning at the main parks!
DIAGON ALLEY
The "purist" muggle way to start the day is by going to Universal Studios and visiting Diagon Alley first, the way Harry did, of course!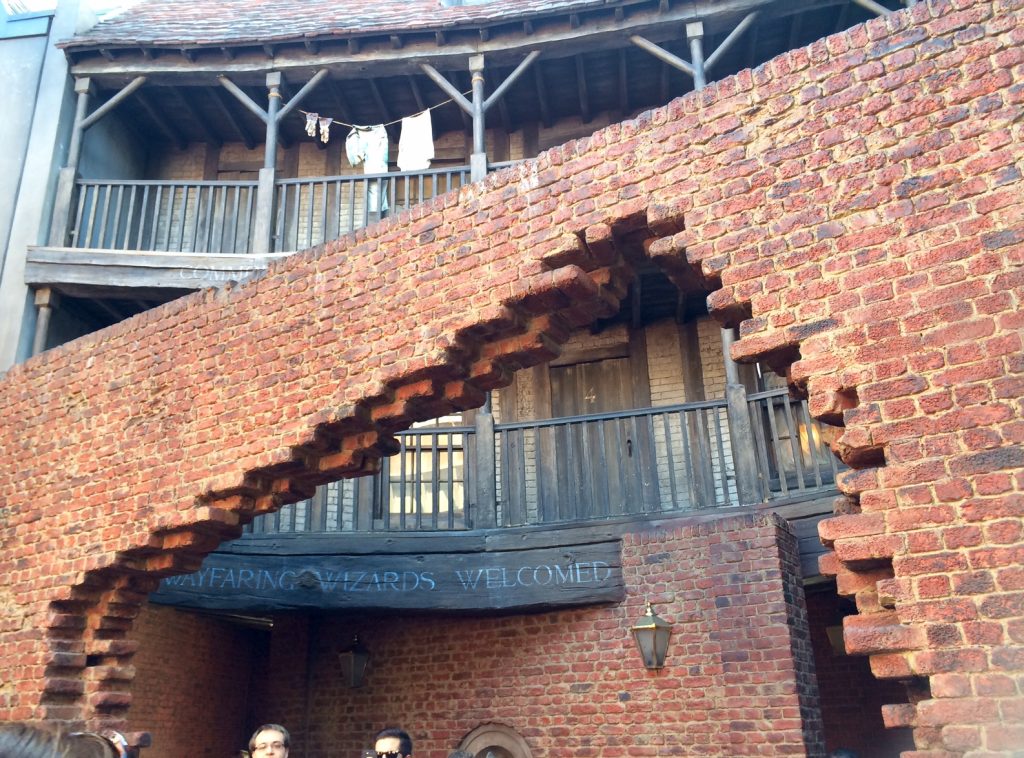 If you get to the entrance of the park at 10 minutes before the early admission (so, if early admission is 8AM, get there at 7:50 at the latest), you should be totally set to be among first in line at "Escape from Gringotts"!!!
If you want to avoid lines in this ride, head straight to Gringott's first, versus stopping in the Red Phone booth (which is the alternate entrance to the ministry of magic) and dialing 62442 to connect to the Ministry, or stopping at the Knight bus to talk to the Stan Shunpike and the shrunken head….you can save that for later!
Once you've entered Diagon alley, head for Gringotts bank with the dragon on top…that's where "Escape from Gringott's" is!!! It's a super cool ride!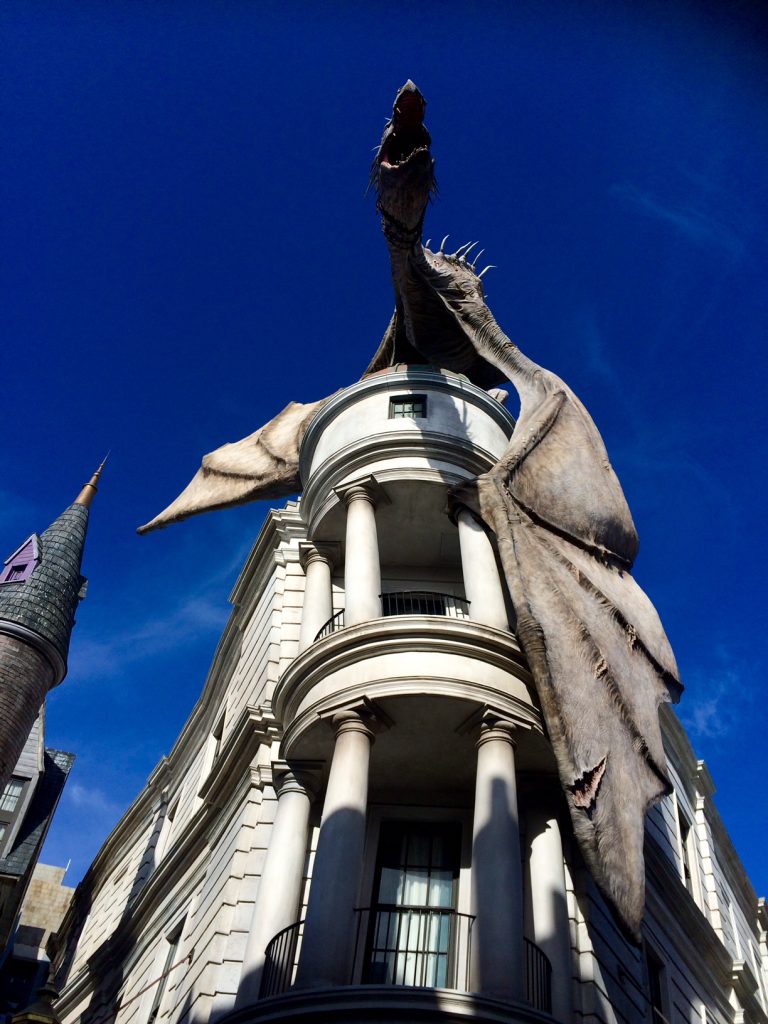 Afterwards, there's lots to check out in all the shops in the area…walk EVERYWHERE around there…so much DETAIL in every nook and cranny!!! And don't forget Knockturn alley!  Borgin and Burkes has many props from the movies, including the vanishing cabinet and a Bogart stuck in a trunk, to name just a few. And the people working in the stores know EVERYTHING there is to know about Harry Potter, so quiz them for fun.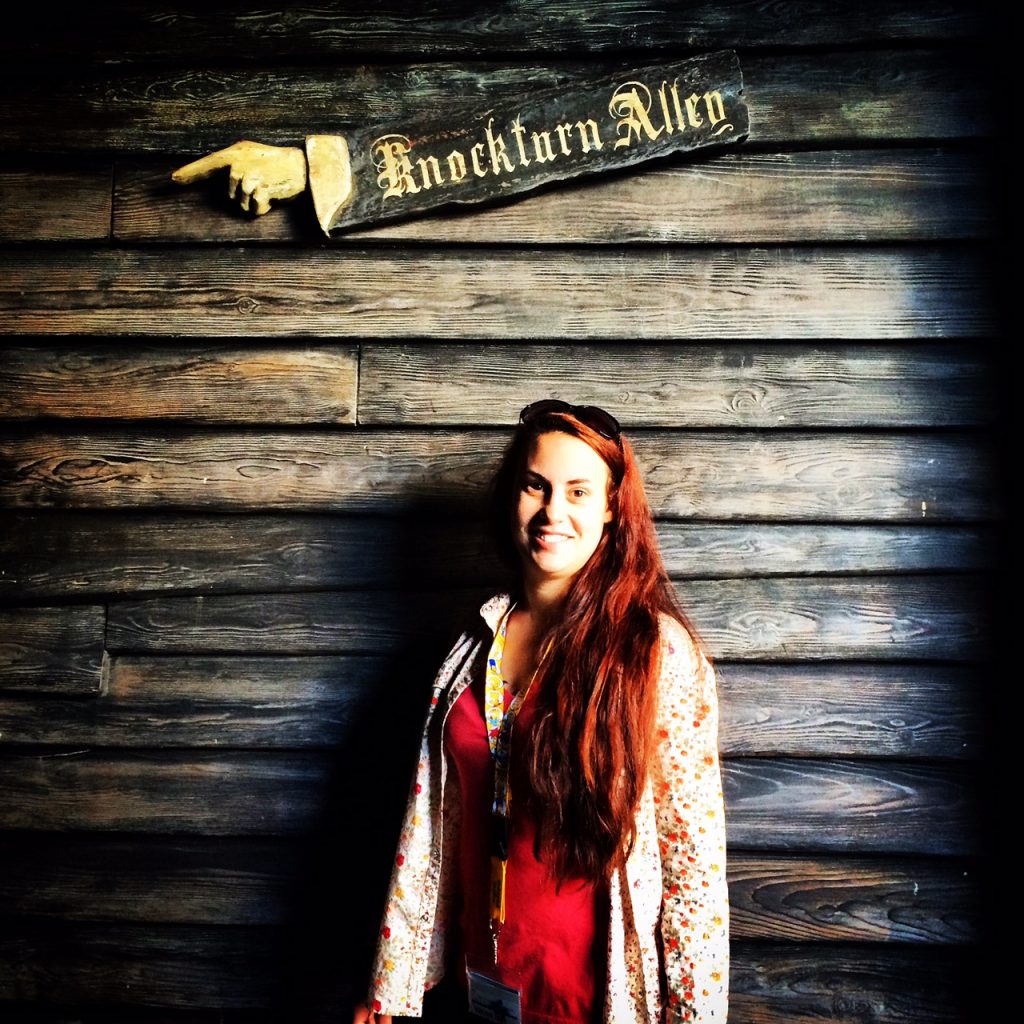 In the Magical Menagerie, there are animals that I thought I never saw in the movies/read in the books, but the people working there will explain where each of them came from.  Also, don't forget to pick up some Love Potion at Weasley's Wizarding Wheezes!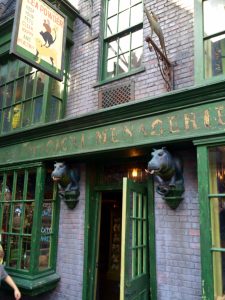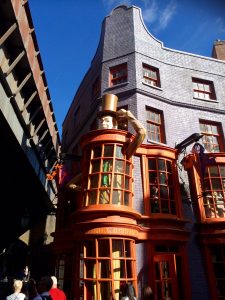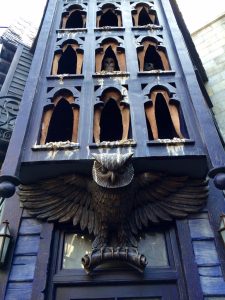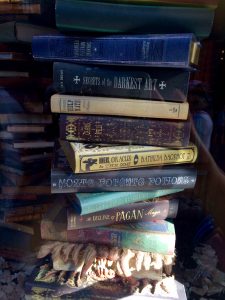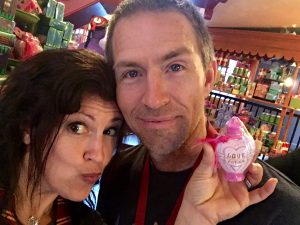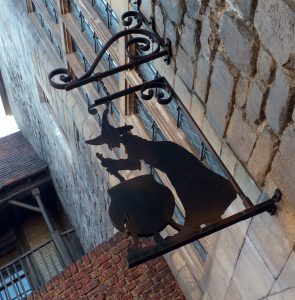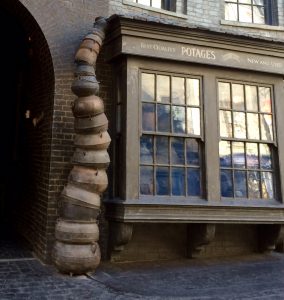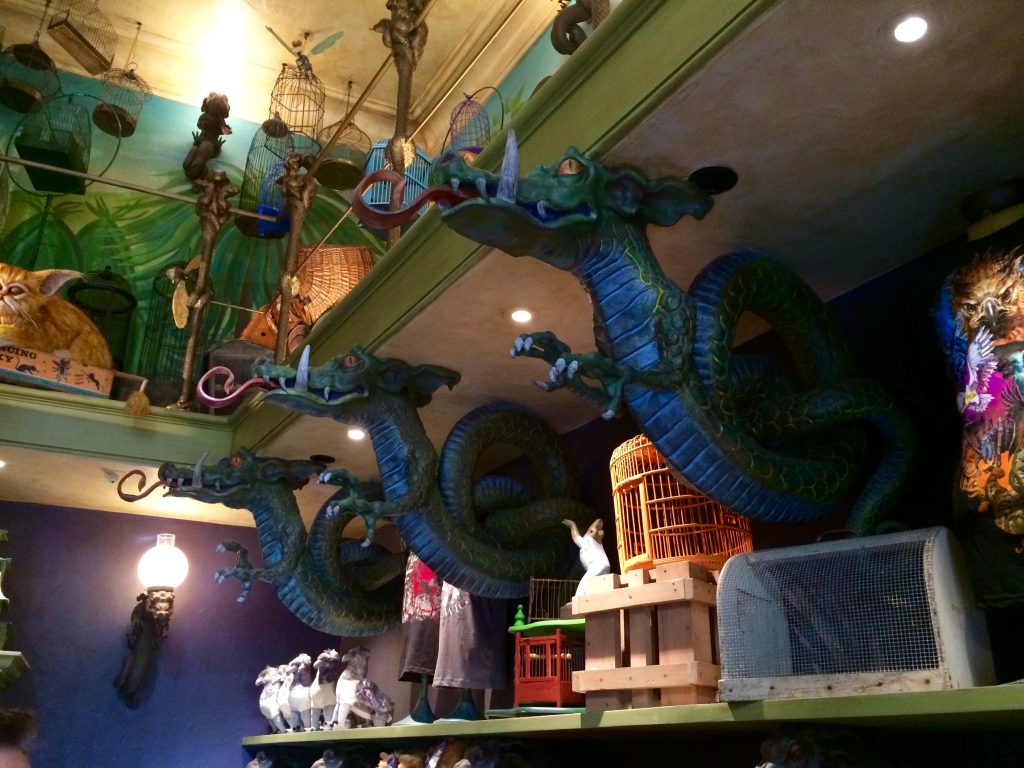 If you don't want to get an interactive wand, no worries, just watch all the other people do the spells to see what they do.
Be careful walking by the water fountain with the Mermaid on it…one of the spells shoots water at people!
There are a couple of spells that will get unsuspecting muggles wet 🙂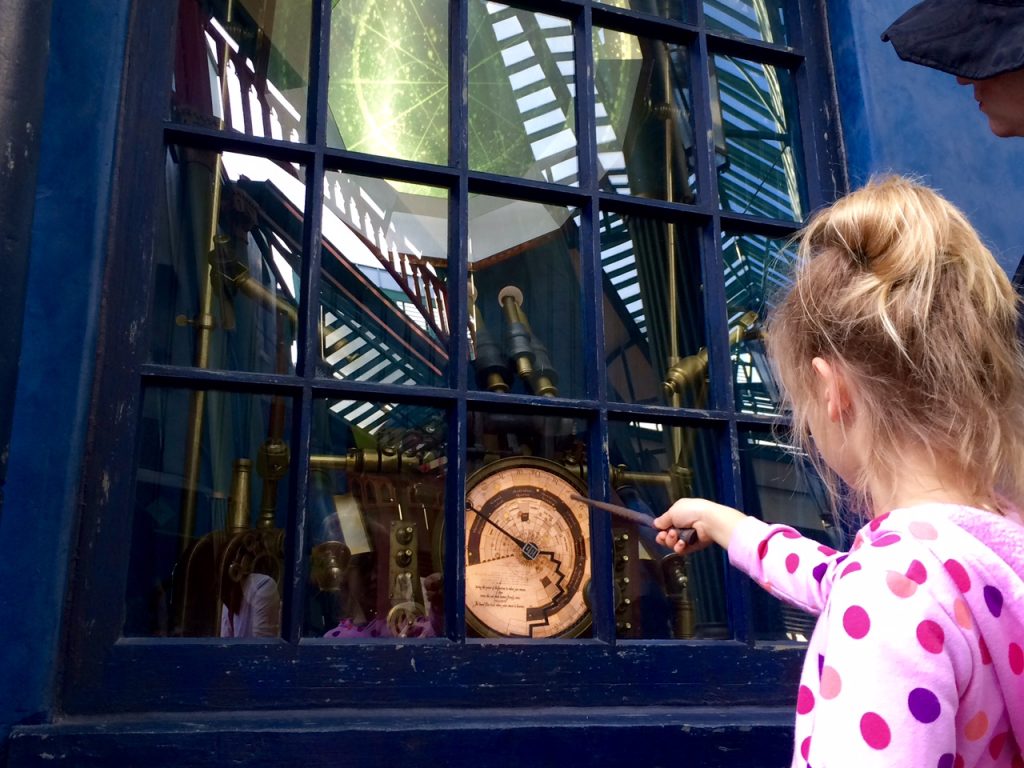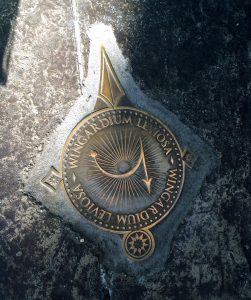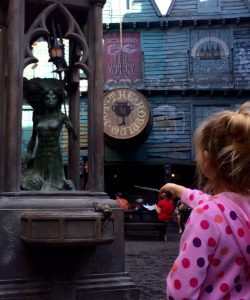 Florian Fortescue's ice cream shop has butterbeer ice cream.  Get it in a waffle cone….it'll knock your wizarding robes off!
OH….and if you start to hear rumbling & grumbling outside, GO OUTSIDE of the shops to watch the dragon shoot fire (looks SUPER cool at night, too!)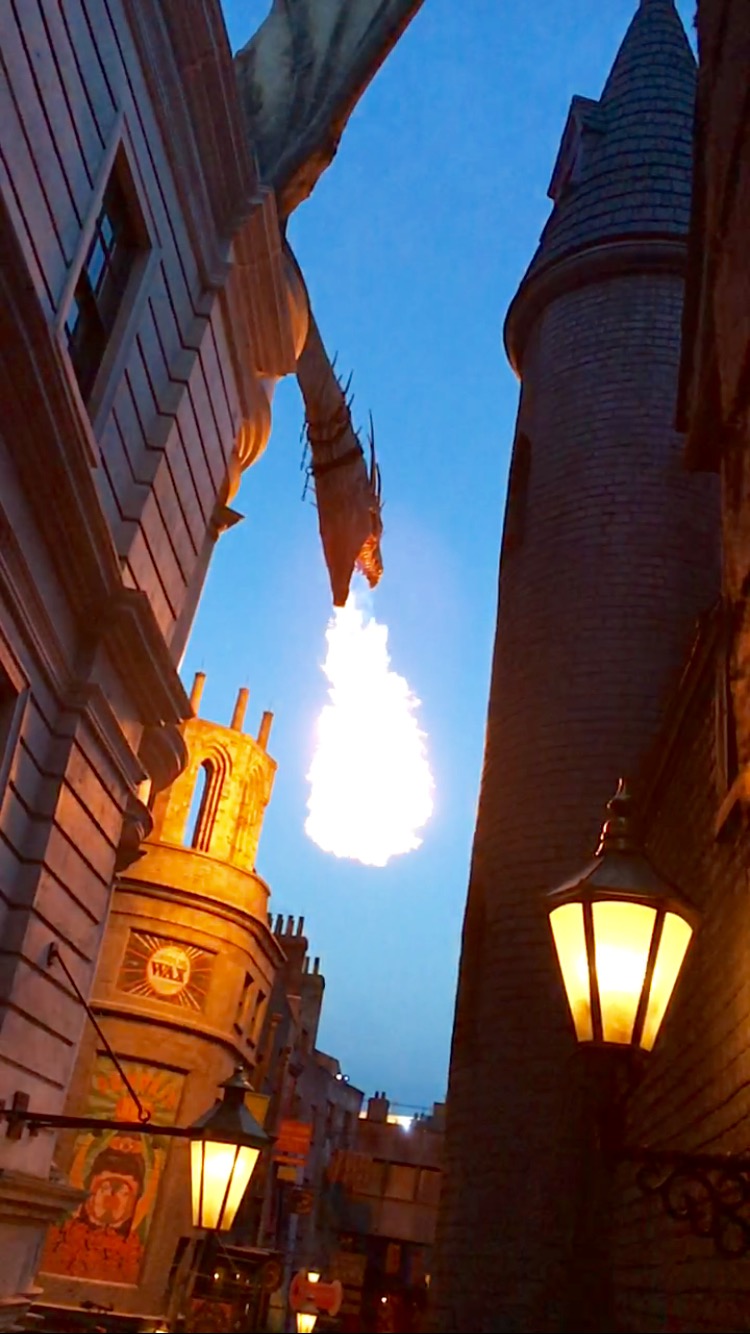 After leaving Diagon Alley, check out London (phone booth, Knight bus, etc.) including Grimmauld place!!! If you have patience, Kreacher peeks out of the curtains of Number 12 Grimmauld place about every 5-10 minutes!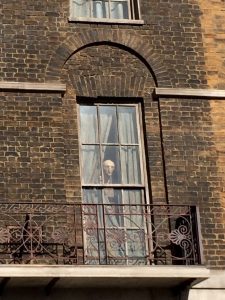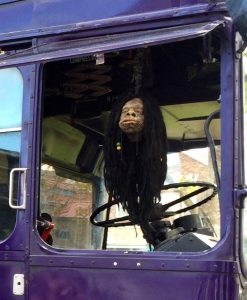 There are a bunch of other rides that are super awesome at Universal Studios:  Transformers (Thee BEST ride of all, in both parks), The Mummy (super FUN, and usually short lines!), Rip Rocket (my #1 favorite roller coaster…don't forget to pick and play music while you're on it!!!).
Other notables: the Men in Black is REALLY old, but can be super fun because you get to shoot aliens and get scored on how many aliens you shoot, so you can compete against your companion and make wagers for whoever wins! 😉  ET is also old, and a little cheesey, but we enjoyed it after margaritas at the pool 😉
I am not a huge fan of rides like the Minions, Simpsons, etc. because I get motion sickness on the movie-like 3D rides in which what you are feeling doesn't quite match up to what you are seeing, but if you are not prone to motion sickness, check them out!
There are a bunch of other rides on the Universal Studios side at are definitely worth checking out, BUT in keeping with the Harry Potter Theme, which, of course, is crucial, get your butt over to King's Cross Train station to take the Hogwarts Express to school!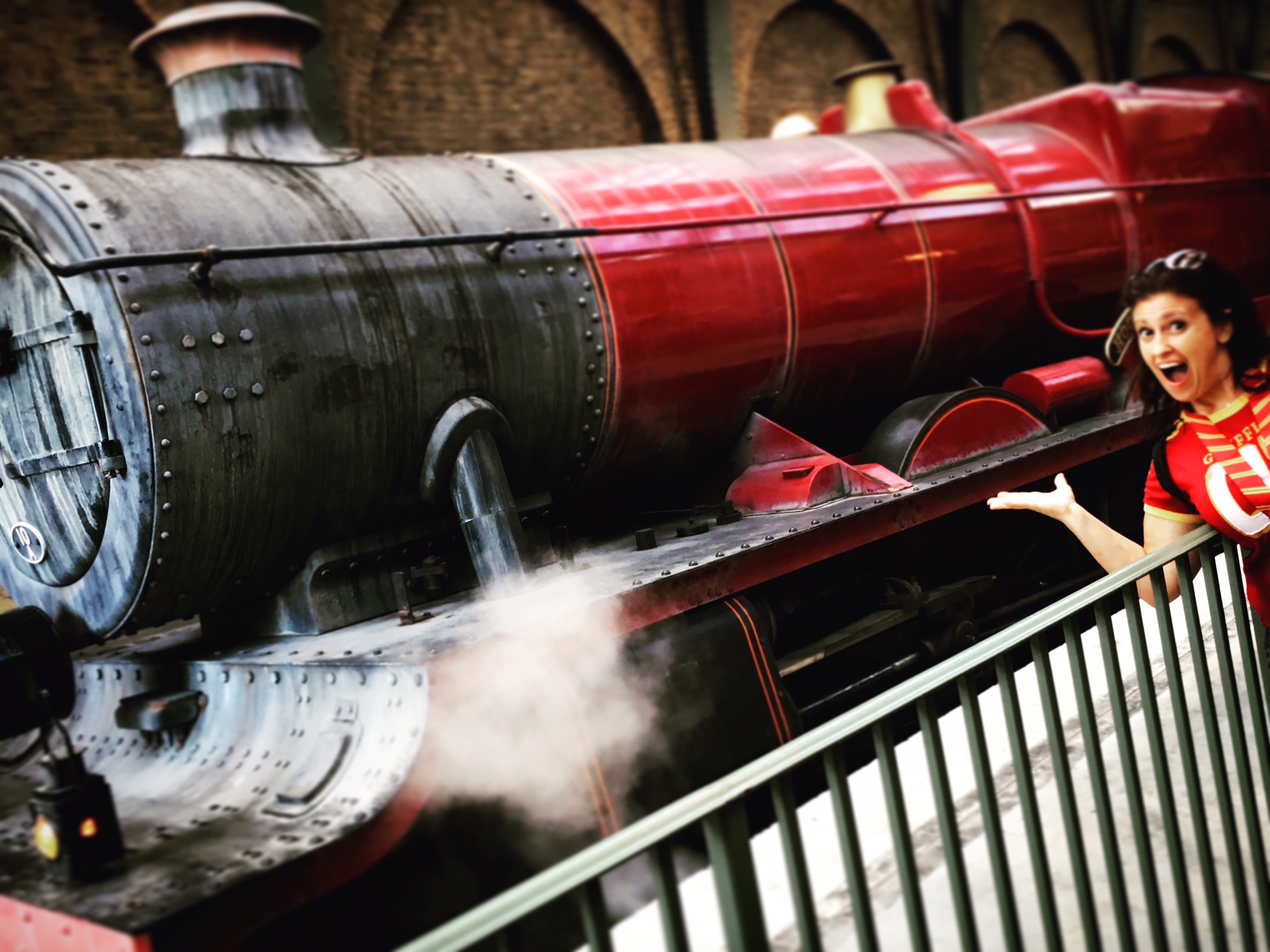 The station is uber authentic, even including live performers, and a notable billboard from the movie!
There's also a little off-license store or (as they say in London) an "offie", where you can buy British Ale or Hard cider for the train ride, as well as many other authentic British snacks !….wth, when in London….and if it's early, remember, London time is 5 hours later than Orlando time, so….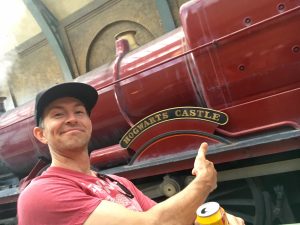 There's an opportunity to go through Platform 9 and 3/4s before you get on the train as well….one person has to stop and take a pic while the other person goes ahead.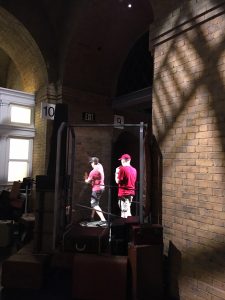 The train is MAGICAL, with a "window" that shows the trip from London to Hogsmeade, with a few extras!!! Tip…when the window makes it look like you are going through a tunnel, turn and look at the door, as scenes are played out in the hallway as well!
The "show" is different going in the other direction, so make sure you ride from Hogsmeade back to London, which is my favorite!
*side note, if you REALLY want to avoid lines, go straight from Gringotts to the train station to get on the Hogwarts Express to Hogsmeade and head straight for Harry Potter and the Forbidden Journey ride inside Hogwarts castle…this will allow you to ride both the train and the Forbidden Journey before the park opens up to general admission.  Waits for all other rides can be shortened using your Express Pass!
HOGSMEADE
Head to the Forbidden Journey (inside the castle) and check out the wait time for the line!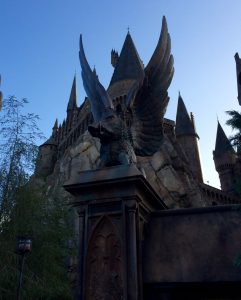 If it's under an hour I'd go for it, as the line is very entertaining as it wanders through the inside of the castle!!  Once in the castle, you may recognize the one-eyed witch statue,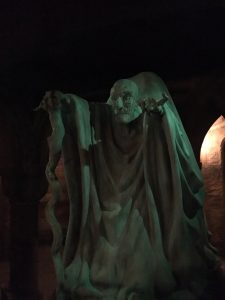 that sits just in front of the secret passageway to Honeydukes (from Prisoner of Azkaban), and a bajillion other details!  It's fun just picking out which movie the props are from as you walk through the line, and who is who in the talking portraits (Helga Hufflepuff, Rowena Ravenclaw, Godric Gryffindor, and Salazar Slytherin to name a few).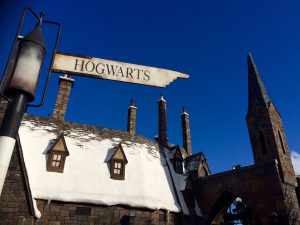 The ride is really cool, you hop on this hanging, rotating 4 person cart, everyone facing the same direction, and go along the track into various areas/scenes.
If you are prone to motion sickness, however, there's a part of this ride that may make you feel pretty nauseous when you get off: the part where you are following Harry on his Broomstick; you go fast and drop and swoop really fast, and the coaster you are in moves, but not in perfect harmony with what you are seeing, so it effs me up every time, and I have to close my eyes during that portion of the ride or I get sick.   Fortunately, there's plenty other cool stuff on the ride!
There are two roller coasters in Hogsmeade—the flight of the Hippogriff, which is for kids, but do it, do it, DO.IT! just for fun, because you get to see all the cute props and they take Express Passes for this ride!
The other one is the Dueling Dragons.  Super fun!
If you want to wait in a ~15 minute line, you can visit Ollivander's, where the wand picks the wizard.  If they don't pick you for the demonstration, don't worry! After it's over, you can go up to the wand master and he'll help your wand choose you.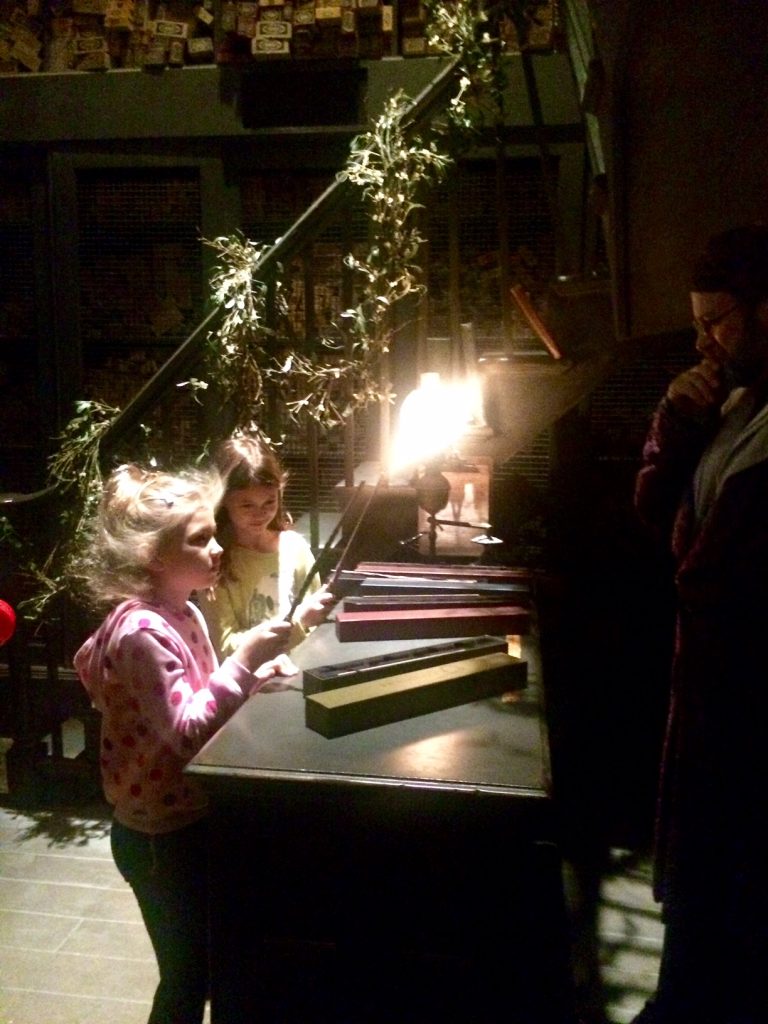 The Hog's Head sells beer and butterbeer (non-alcoholic, butterscotch cream soda, with this heavenly layer of butterscotch cream on top).  You can either get the soda, or a frozen butterbeer, which is the more popular of the two.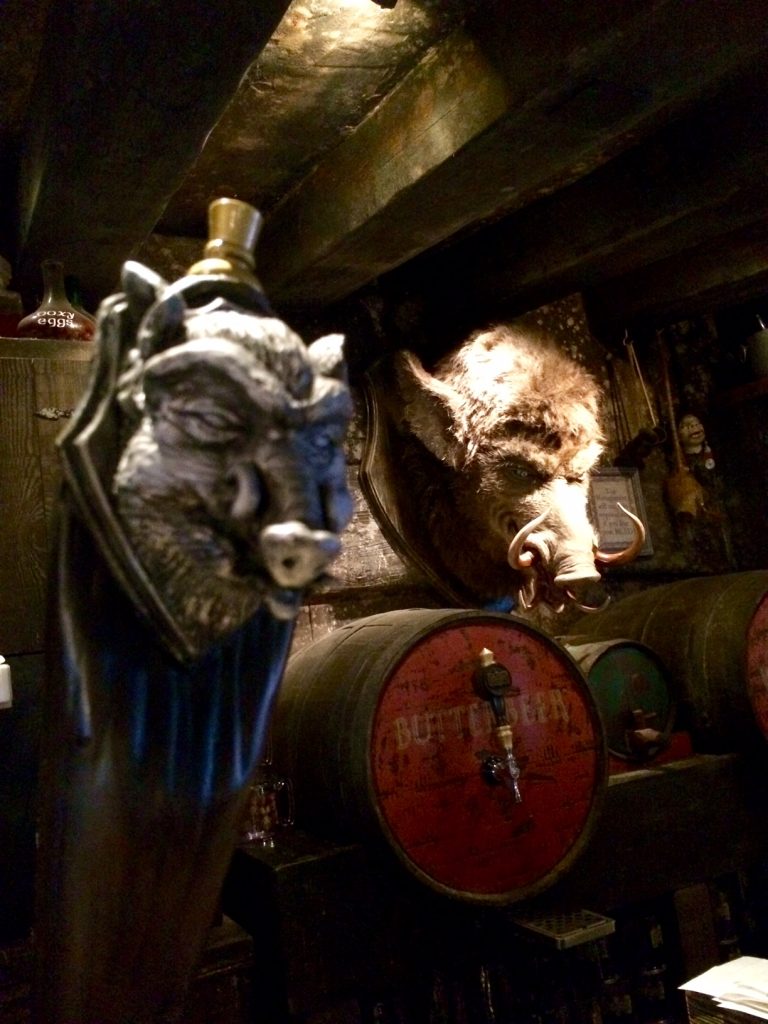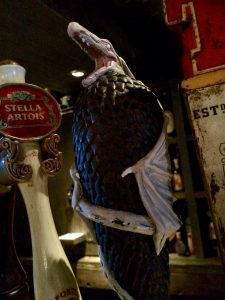 And whether the urge calls, or not, you must go to the bathroom in Hogsmeade and visit Moaning Myrtle!
Also in Hogsmeade are a bunch of cool shops and opportunities for spells, and tons of little details.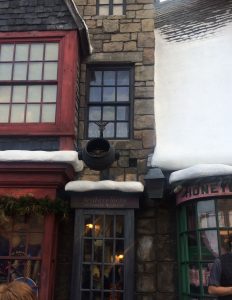 One of the spells dumps a cauldron of Cornish pixies!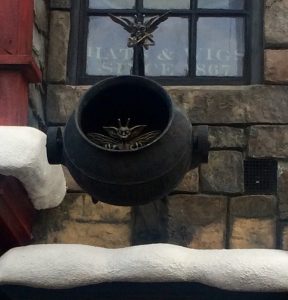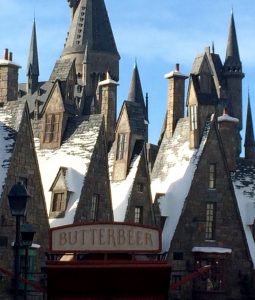 Leaving the Wizarding World…
To the left of the castle is a bridge leading out of Hogsmeade and into Jurrasic Park, home of Universal's newest cool ride: Skull Island, Reign of Kong.  It's a must check out, and the line is AWESOME!  I won't spoil the surprise that ~80% get to enjoy in line, but I hope you love it!
Oh, and the line moves QUICKLY for this one because the vehicles fit TONS of people!
If it's hot, Adventure Island has tons of shade, and WATER rides!!! (3 to be exact, including the Jurrasic park ride).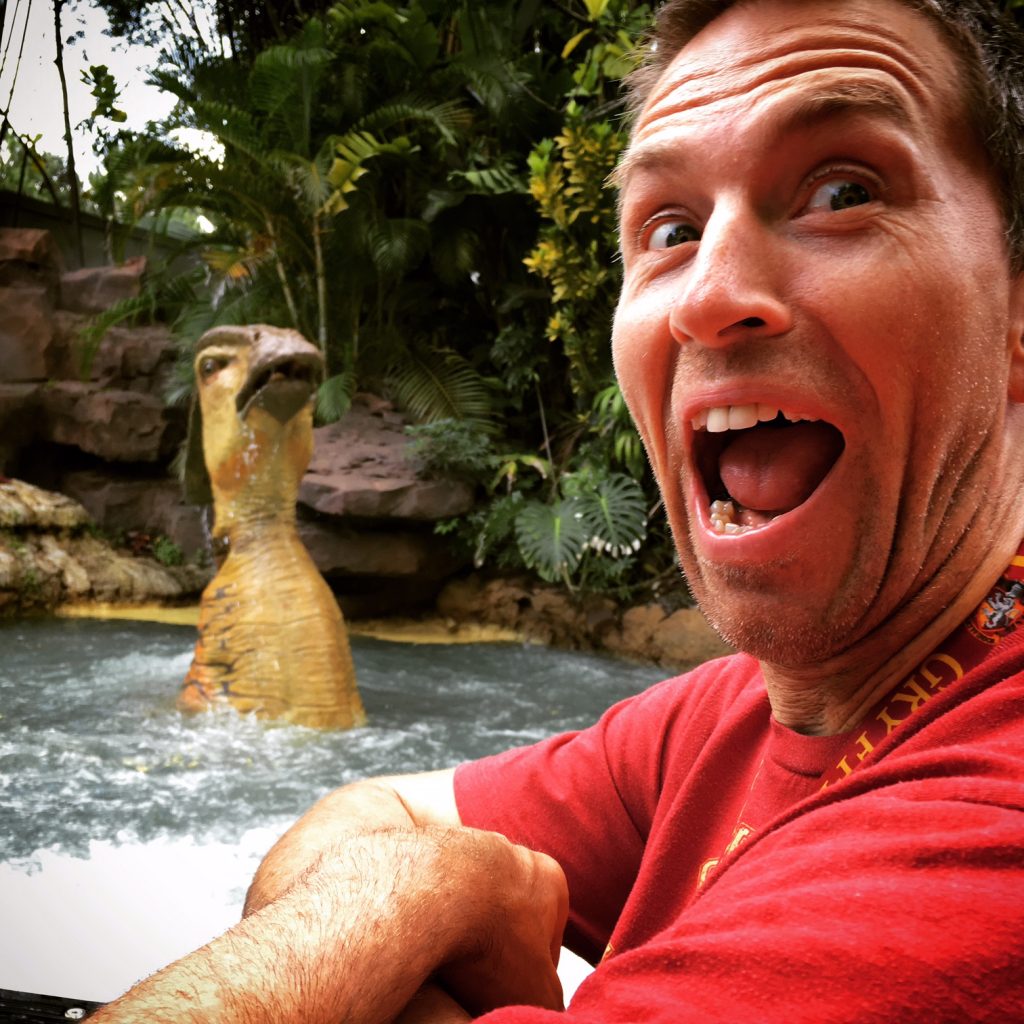 There's also a very cool, very good restaurant called "Mythos" that wins awards every year for being the best theme park restaurant, so that's a must try if you can (wait times can be uber long during peak hours though, so shoot for a late lunch maybe?).
This is Mythos at night: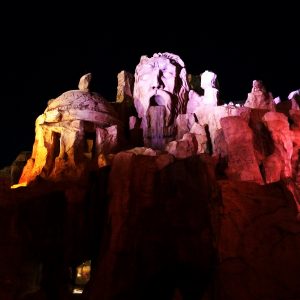 Another pic of Mythos from the backside of the restaurant…and OMG, you MUST see the interior of this place! coolest restaurant interior EVER!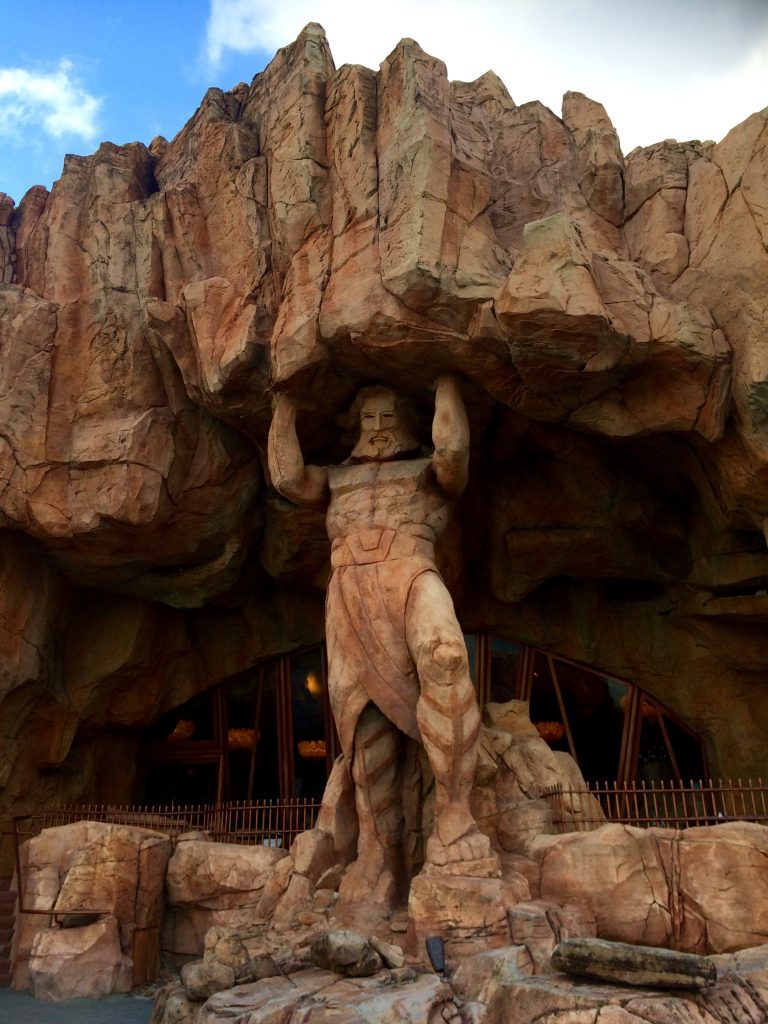 There are tons of other awesome rides, etc. like Spider-Man (probably my third favorite—it really is an EXCELLENT ride, similar to Transformers, and another MUST DO) AND the Incredible Hulk!
Another popular treat is the Lard Donut.  This HUGE Homer Simpson donut, that we wanted to try so badly, but decided to good.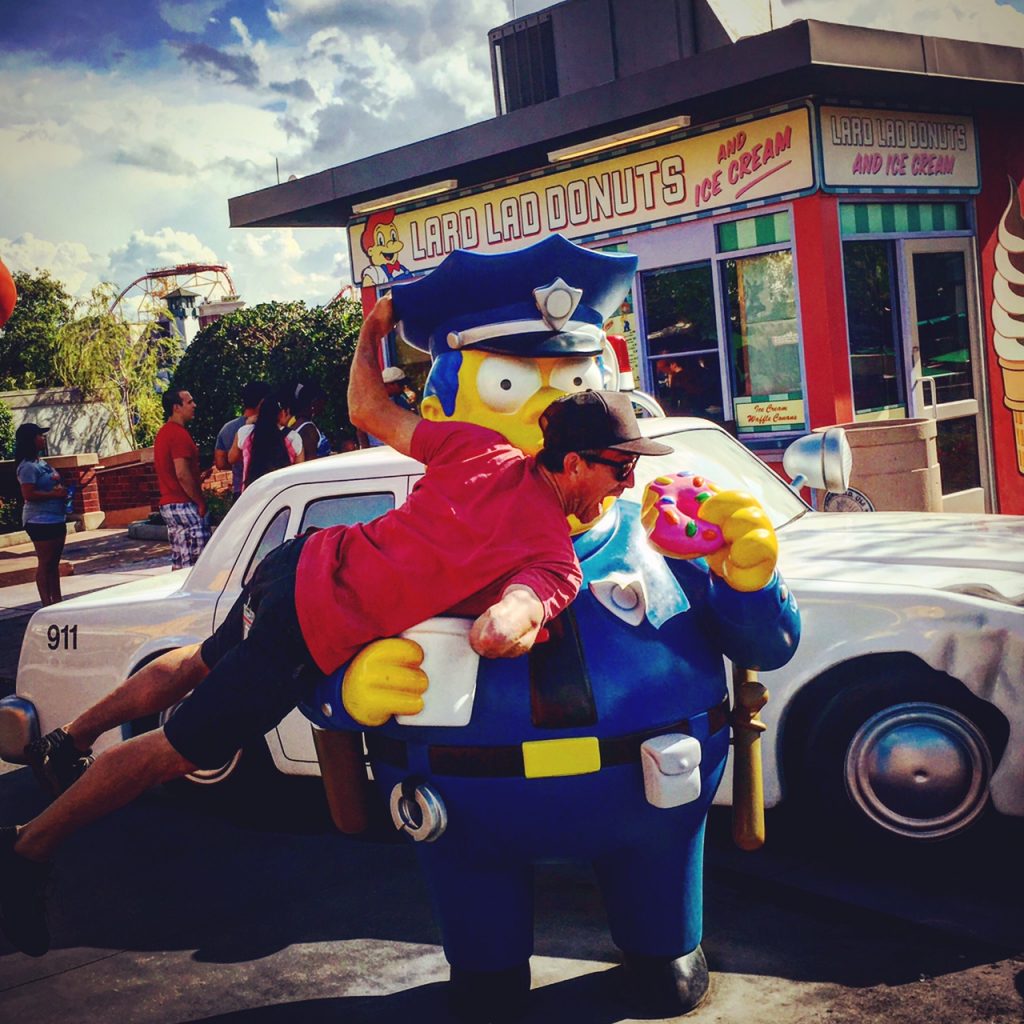 There are just SO MANY excellent state-of-the-art rides, in both parks, and so much to do, and the Wizarding World of Harry Potter is SO amazing that you definitely want a TWO day park-to-park pass!!!  And… take me with you, tooooooo! 🙂