As this blog is about 1sts, trying new things (50 before I'm 50), I have to mention this was a BIG first.
First time using an mountain biking (mtb) tour group, first time mtb in France, Italy and Switzerland, so many, many firsts, I think this trip should count as 5 new things at least!
Was it hard? YES…at times…I remember digging deeper than I ever have, to muster up all the mental & physical strength, on the hardest day of the trip; hiking my bike up SUPER steep, muddy terrain in the freezing rain, knowing that everyone on the windy top, at the peak of the Italian border, was FREEZING also, and extremely patiently waiting for me.
Although I was a fairly experienced, technically, mountain biker, easily at the intermediate level, I was ~25 pounds overweight, so climbing was really tough and I was often the last person.
Here is an example of some of the hike a bike sections, though I'm sure the pictures don't do them justice: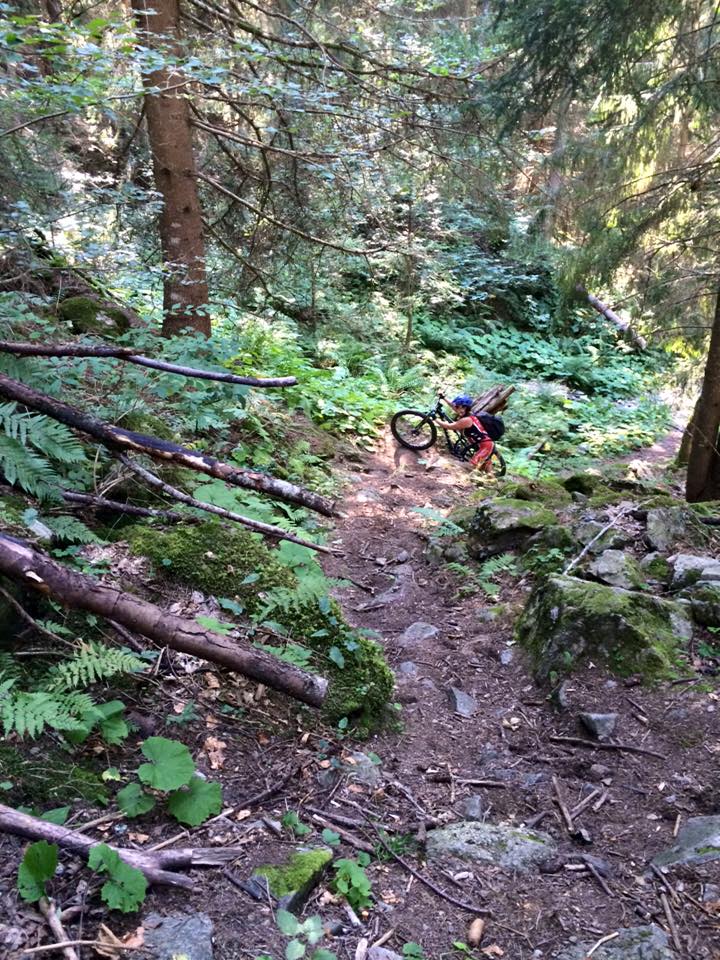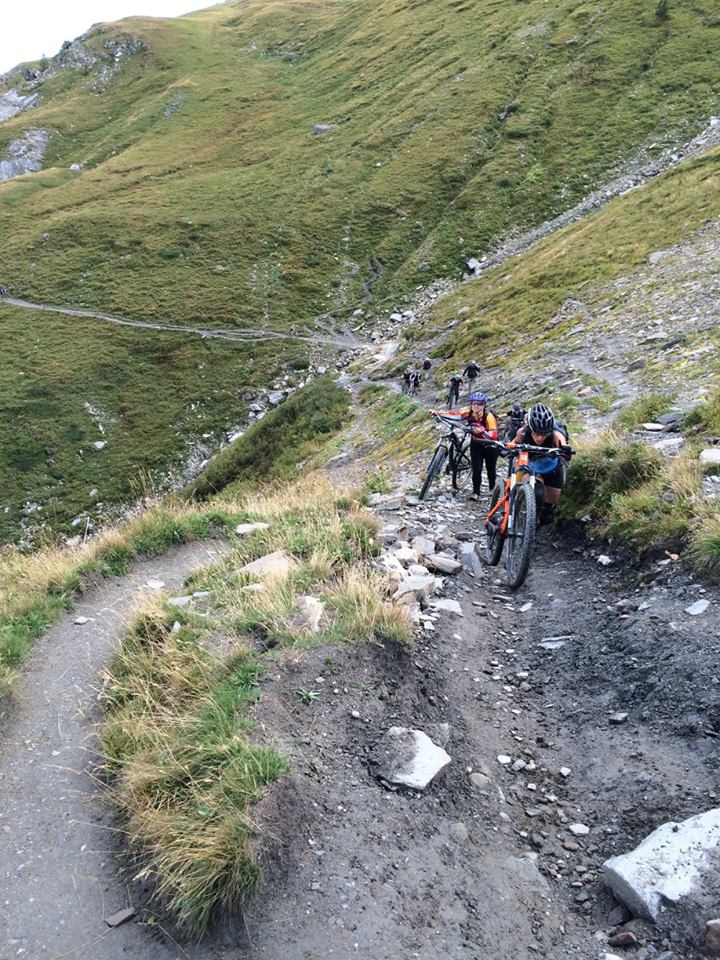 and, sorry for the quality of this picture, but this is an example of some of the loooong climbs on the route–see that doubletrack zig-zagging back and forth up the mountain in the picture below? :-O! (we just don't have those kinds of climbs in Raleigh, that's for sure!!!! hard to train for this back home):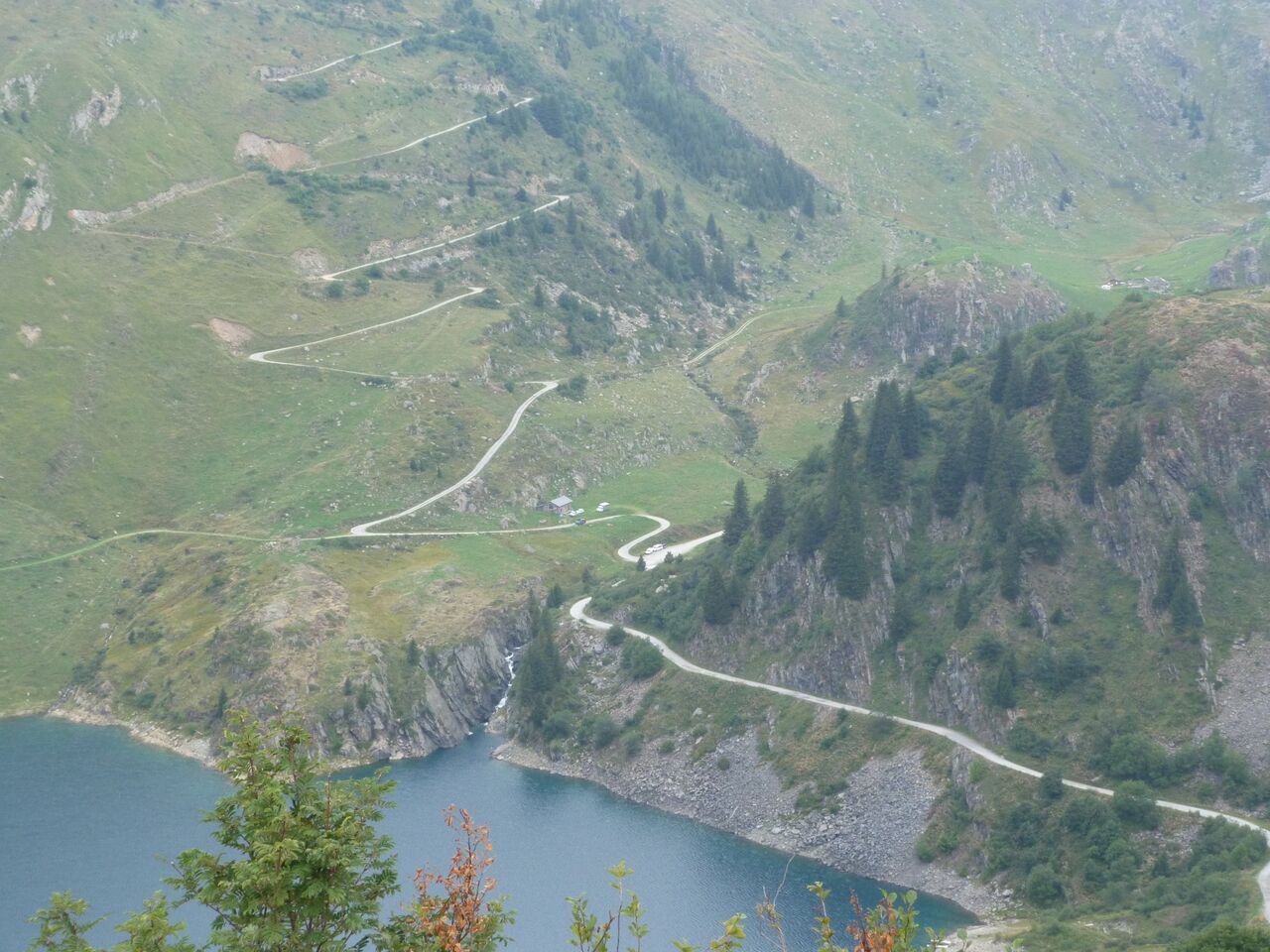 But there were also SUPER fun downhills, amazing scenery, amazing people, and places that MORE than made up for the climbing!
Also, there was a HUGE variety of trail, some technical singletrack uphill and downhill, some not-so-technical singletrack, as well as doubletrack (super fun downhill doubletrack also), and a little bit of road when we got into town, and left town each day!
Was it scary? YES…on the first day, my friend slid in a rockslide and basically went off the edge of a ~70 degree drop…she managed to unclip from the bike and hang on,but her bike went down 100 yards!!! :-O
Here  are a couple of pictures from different angles/spots on the trail of where the bike went down, but even better is the video of day 1 (see below) which ends with the hike down to retrieve her bike–suuuuper steep, ya'll!!!!.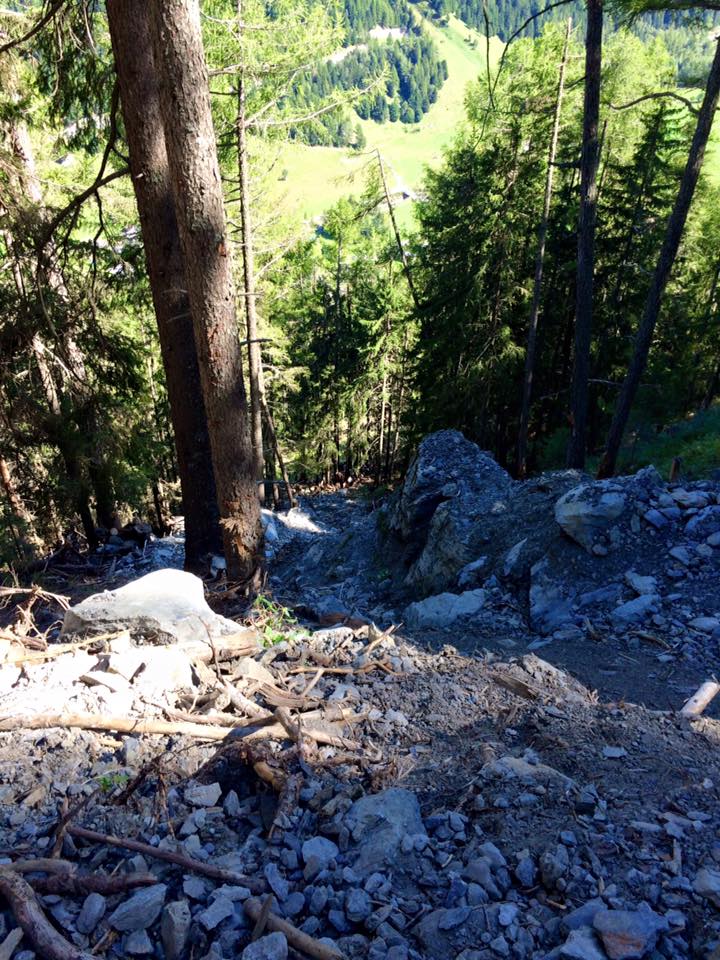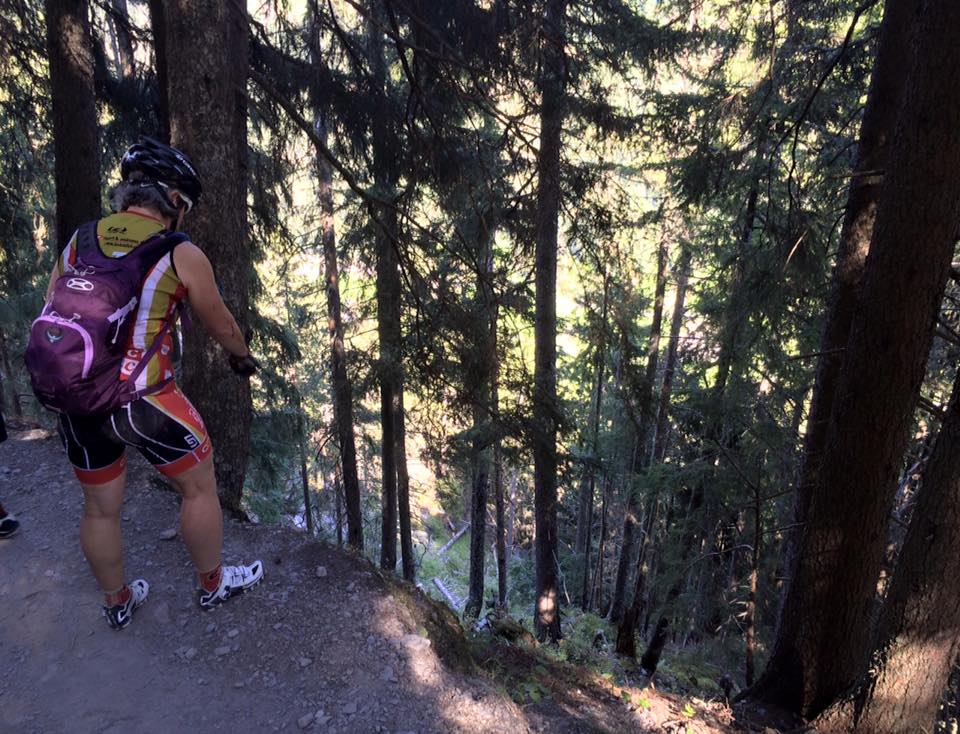 Also, quite a few sections of the trail (at LEAST 3 big sections) had some major "exposure" as the guides called it, demonstrated by some of the pix below: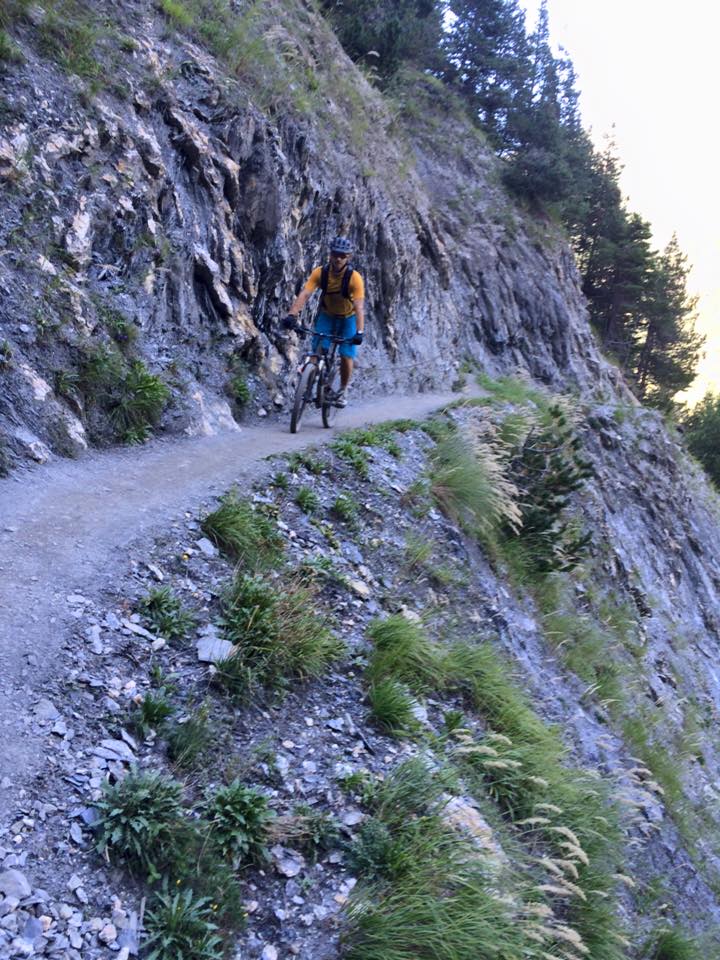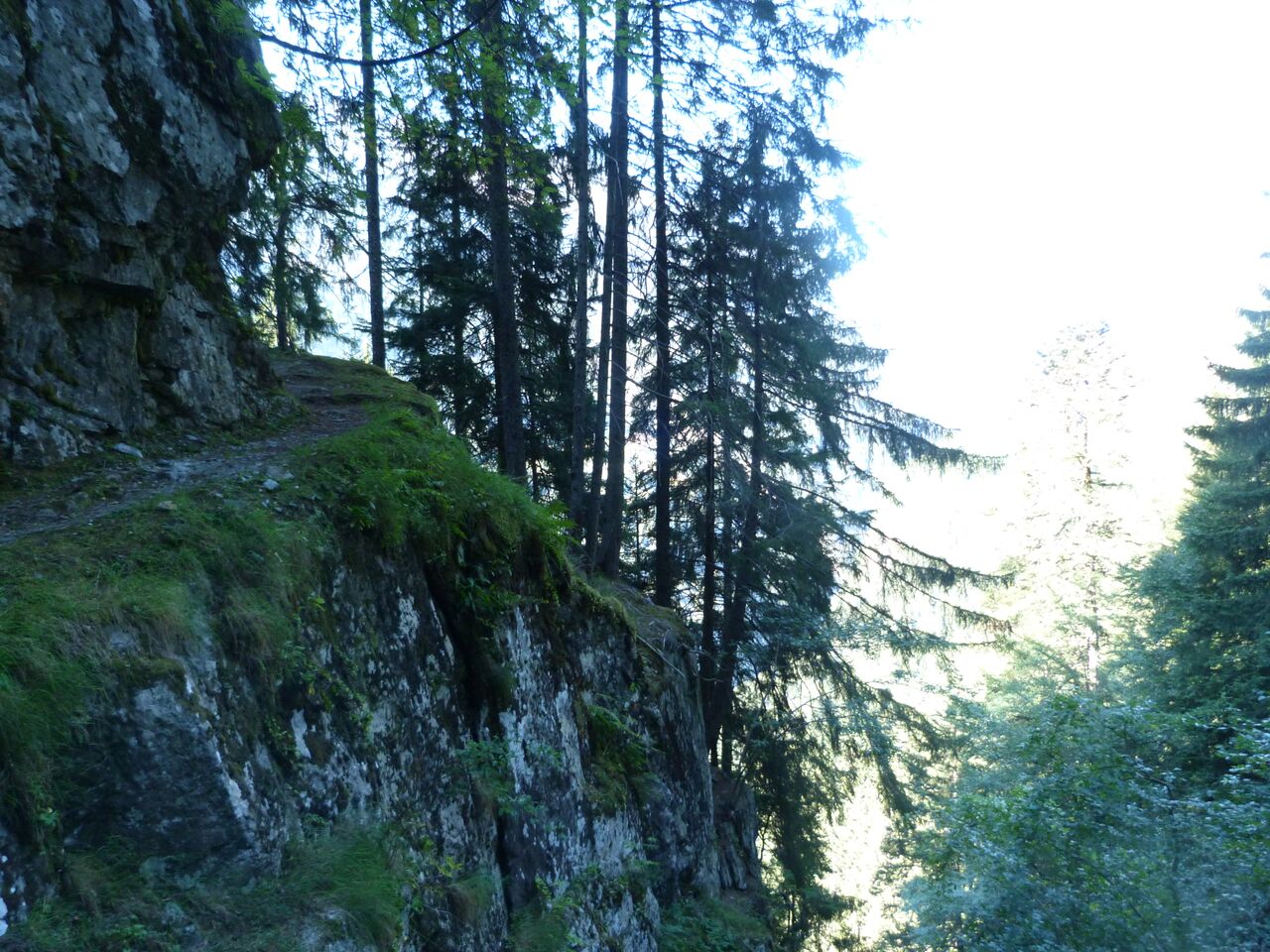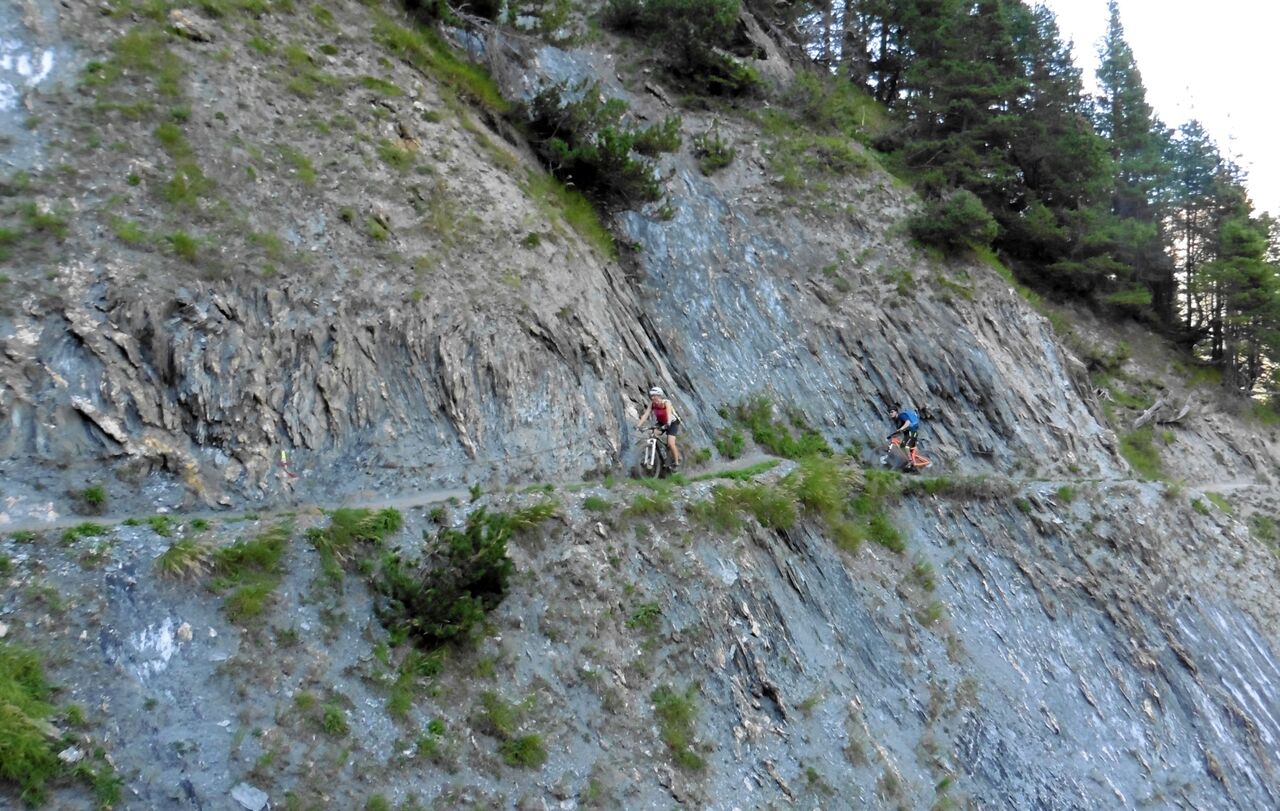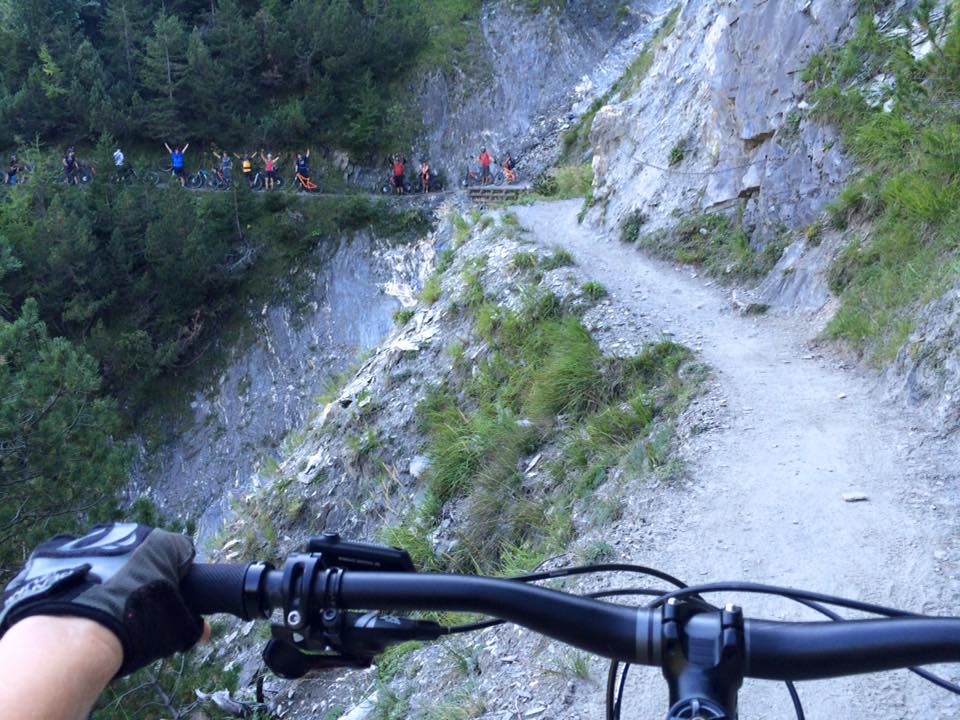 Was it worth it?   without a single shred of a doubt, ABSOLUTELY!!!!!!!!!
The people on the tour and leading the tour were AMAZING, every single one of them, and they were from all over globe, so it was really cool meeting and biking with such interesting, and also patient, 😉  people!   The scenery was jaw-dropping, food was perfect, it was one of THEE BEST lifetime experiences!!!  My words just can't do the experience justice, I HIGHLY recommend for any mountain biker to take this trip!!!!!
(I also highly recommend training on long hill climbs for it!)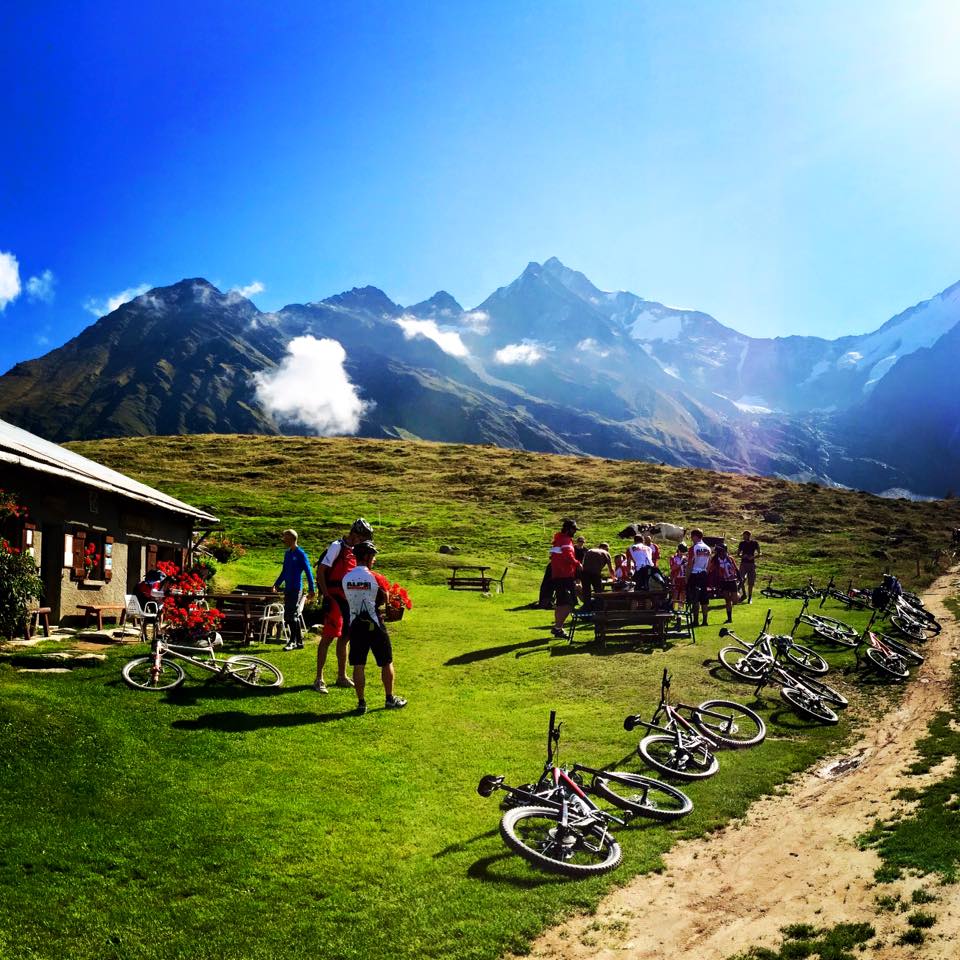 So here's a quick overview of the trip, with video links:
We booked the "Tour de Mont Blanc" tour through www.alpsmountainbike.com, an excellent tour, at an excellent price!  The tour was all inclusive except for alcohol, so our lodging, meals, transfers, lift tickets for the one area, and daily luggage transfers were all included.  Bike Rentals were not included, however rentals were arranged by Alps Mountain Bike.
I must shout out to our tour guides, Anthony and Arno, who were excellent!  I also loved our luggage transfer driver, Jo, who made our most delicious lunches, and was great company, as well!
We flew over night, leaving Raleigh at roughly 8PM Friday night and arriving at Geneva (through way of Heathrow) at lunch time. After catching a shuttle to the picturesque town of Chamonix, we settled in our hotel, then navigated the streets by foot to get our rental bikes (which, by the way, were in great condition the entire trip!!).
Chamonix was the site of an amazing ultramarathon that weekend, which had already started Friday evening, and included 5 courses, the longest of which was 292 miles long, up and down steep mountains. Here is a shot of the finish line!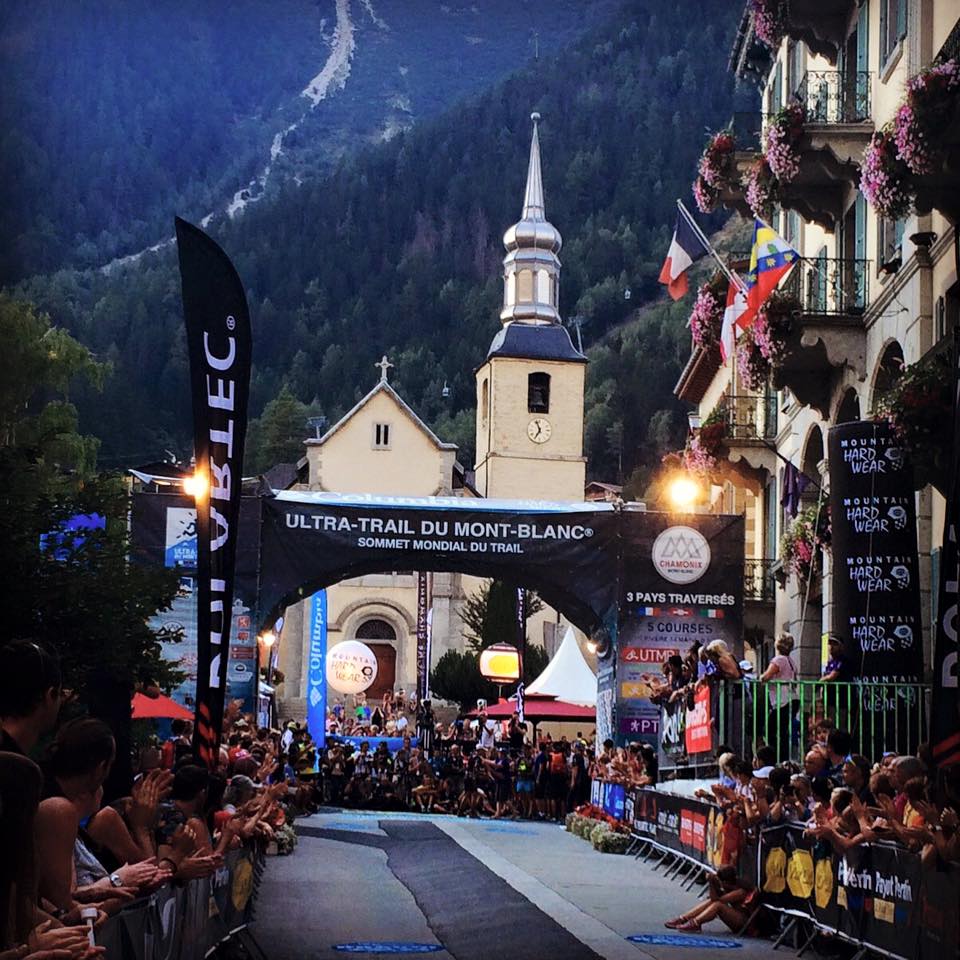 On Day 1, We started off the next morning, Sunday, riding our bikes through town, and among some of the unltramarathoners still trickling in, mostly on double-track and roads (and hills) to get to the first downhill bike park. We did a couple of laps in the park, while we made our way (lift assisted) to the top of Col de Balme…the Swiss border.
The bike park was fairly easy, mostly switchbacks and a bit rocky. No crazy jumps, etc. and a really fun wooden skills section at one of the cafes midway up. View of Mont Blanc from here—extrodinary…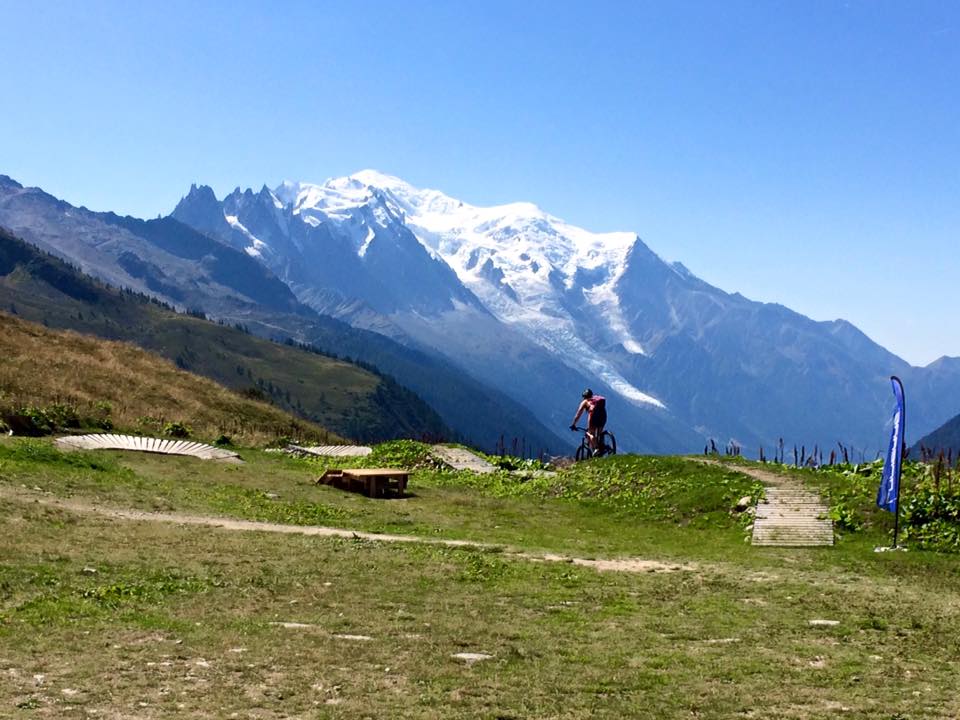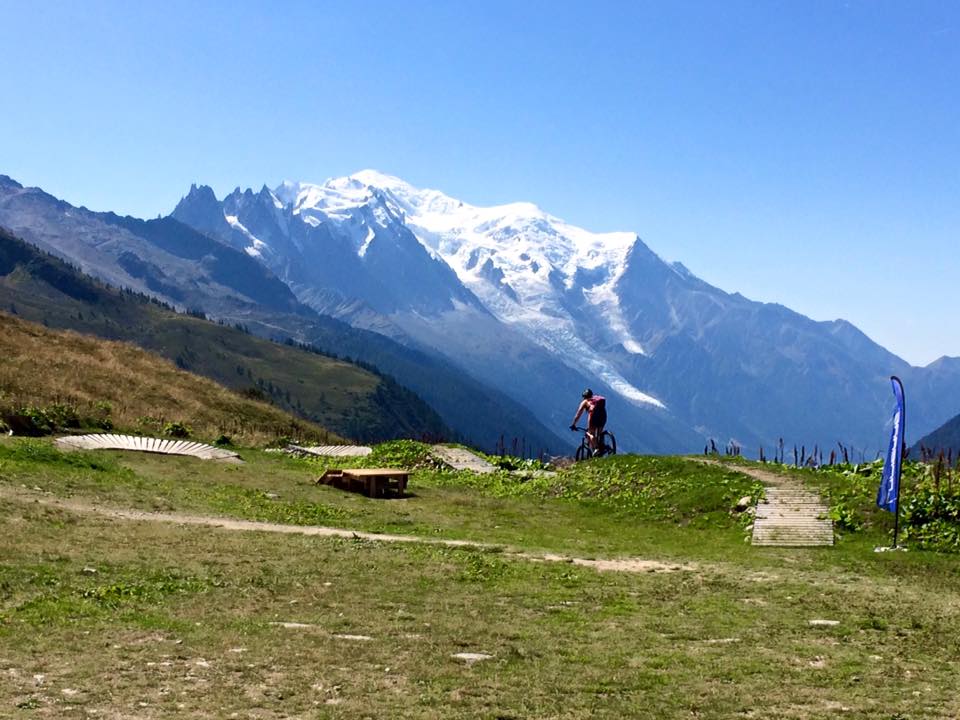 On Day 1 there were already some crazy steep hike a bike spots, and many climbs….this is where we found out everybody's level and we were fairly spread out, so throughout the rest of the trip we usually split up into two groups.  I was in the slower group :-/
On our way to Martigny, where we spent the night, is when Robin's bike went off the edge and down the rockslide.
Here is the awesome place where the group stayed in Martigny, and the delicious pre-dinner salad: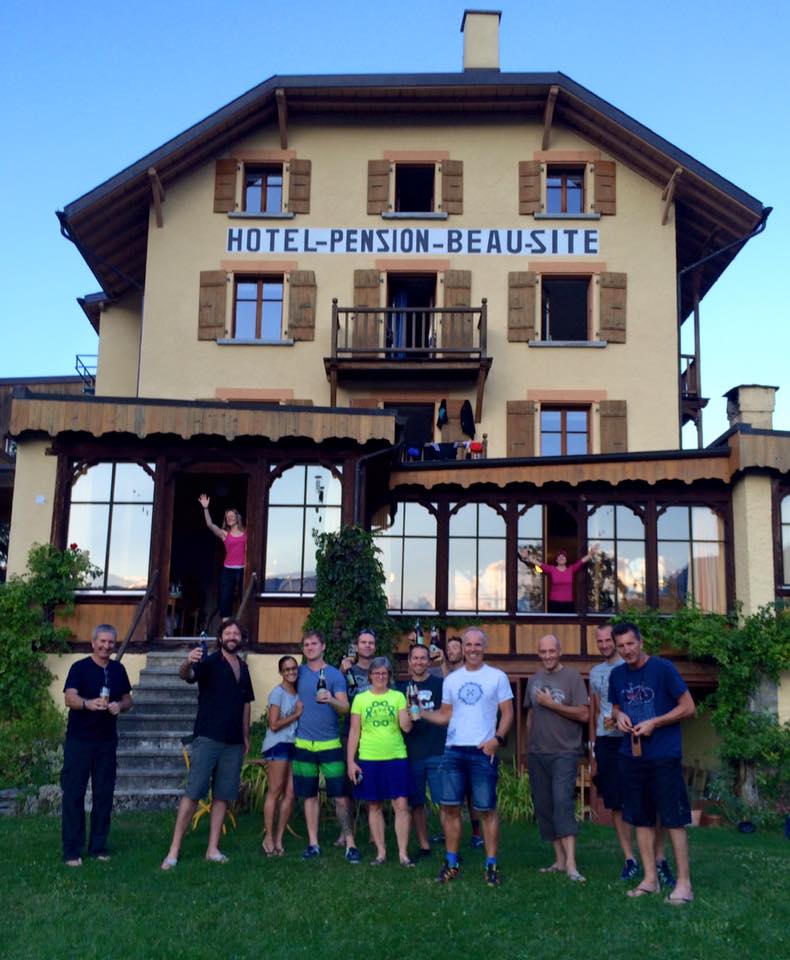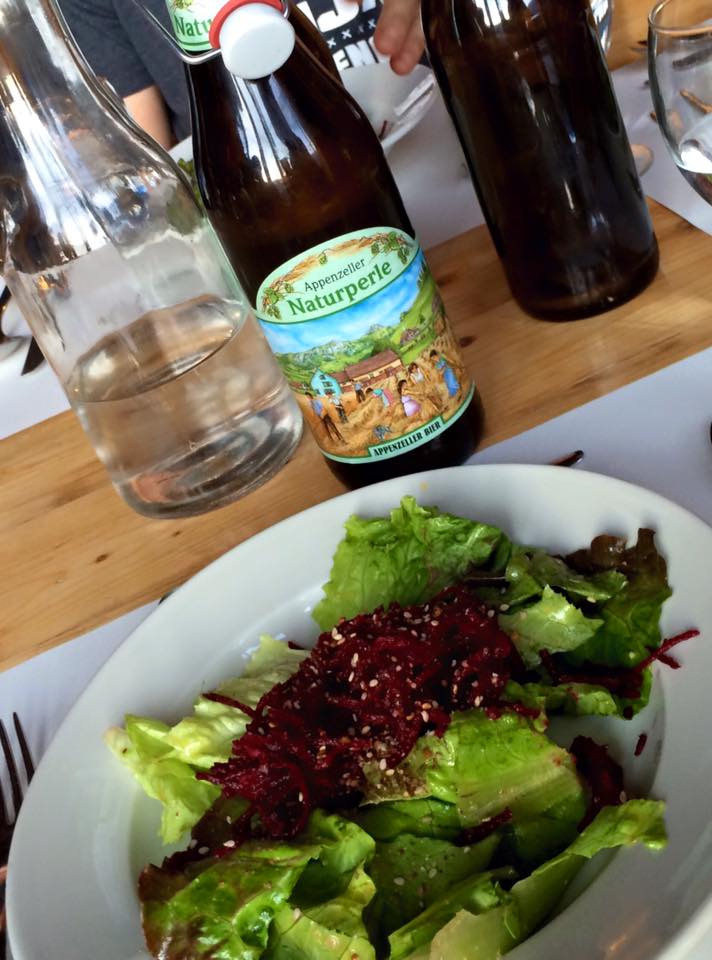 Click here for a great video of DAY 1!!   
This also includes footage of the super steep hike to get Robin's bike!!
Don't let the videos fool you, there was plenty uphill climbing, it just wasn't worth adding to the video!
At the chalet in the picture above, our guides worked on Robin's bike until extremely late in the night to get the wheels trued, while the rest of us slept with visions of cliffs dancing in our heads 😉
On Day 2 we stopped at the ADORABLE Swiss town of Champex for one of Jo's amazingly delicious lunches.  I didn't know sandwiches could taste so good. The French really know how to make a sammy! 😉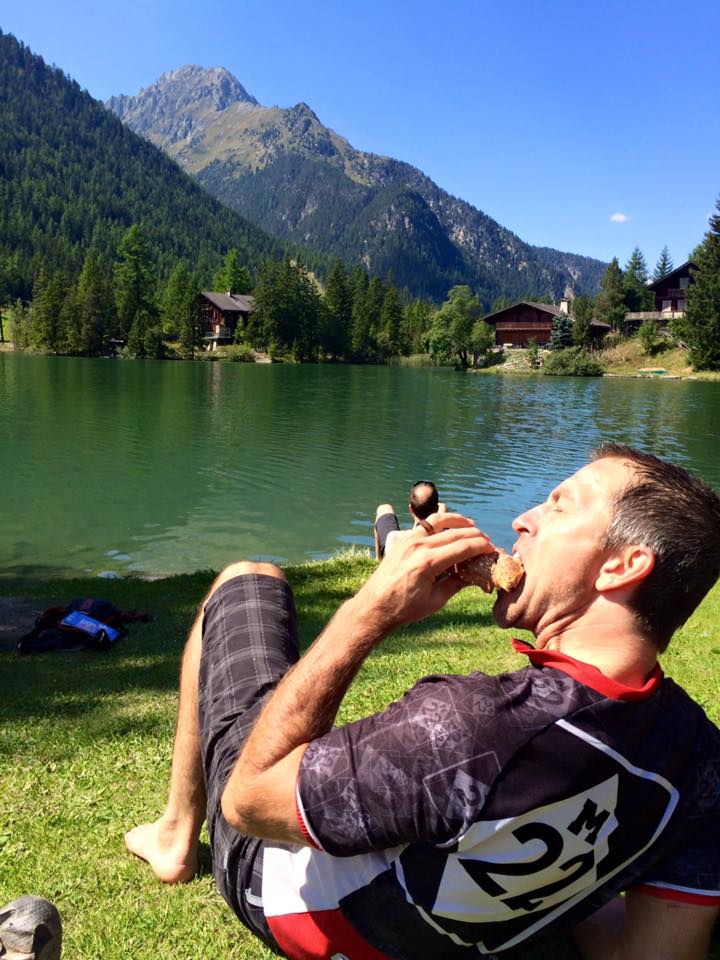 Here are a couple of other pix from day 2: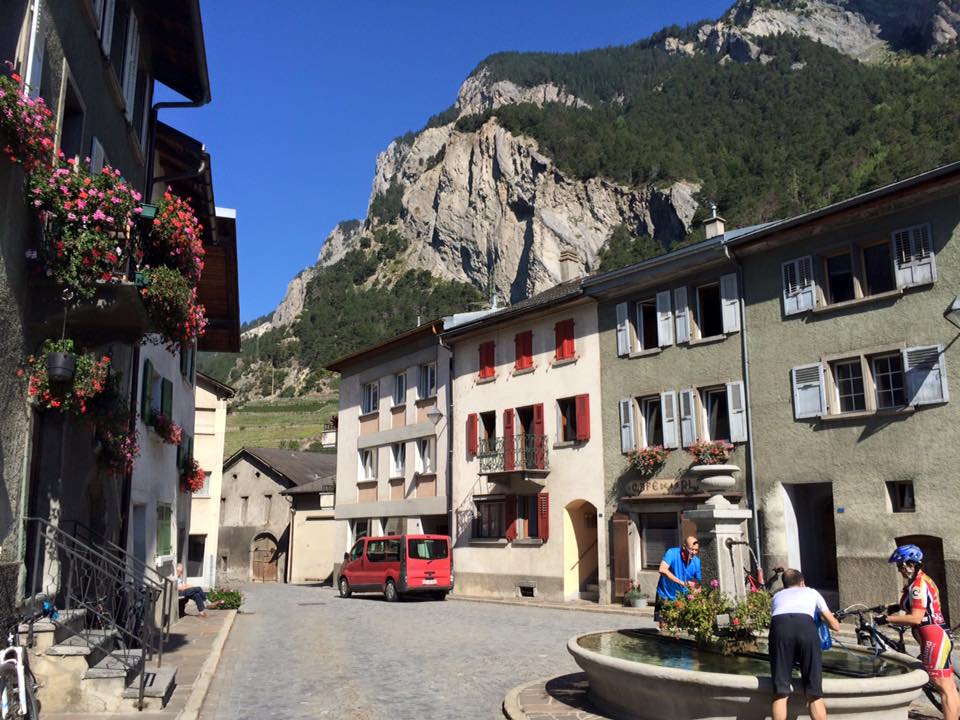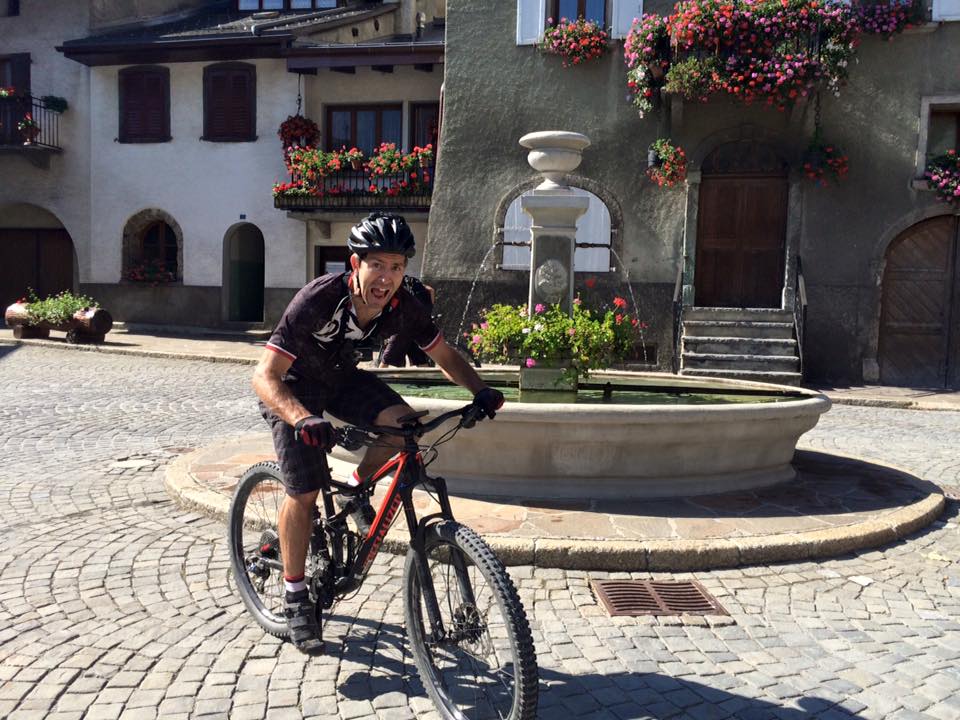 We slept in LaFouly that night, where, I believe it paid off to be a couple!  The single people had to share a bunk room here; there were 7 people in one room sharing bunk beds. 🙂
Click here for my favorite video of Day 2
On Day 3 was the Climb the Grand Col Ferret to Italy.  This was a major pass, with stunning scenery, but a tough day due to very wet, windy and cold weather, to add to some steep, must-hike-a-bike climbs (this is where i had to dig DEEEPEST!)….but the rewards were great; fun downhill singletrack, and fun downhill doubletrack were on the other side of the pass…as well as an adorable little hiker hut.  Which reminds me, i forgot to mention all the awesome little huts along the way!!! We usually stopped at a hut once a day, for coffee, extra food, warmth, even some vin chaud! 😉
here are some pix from Day 3: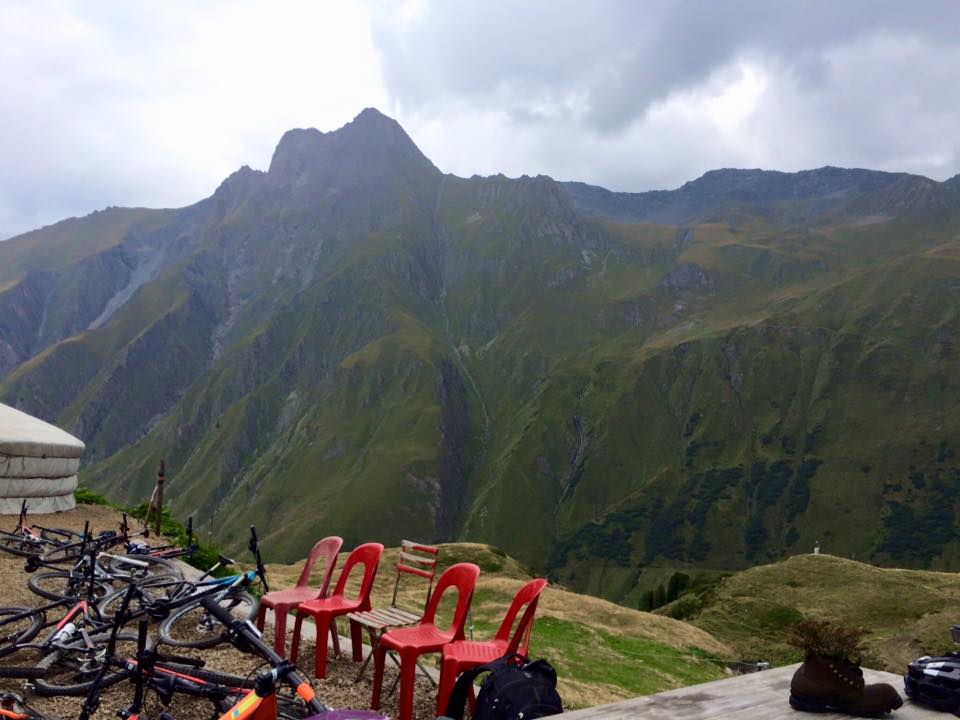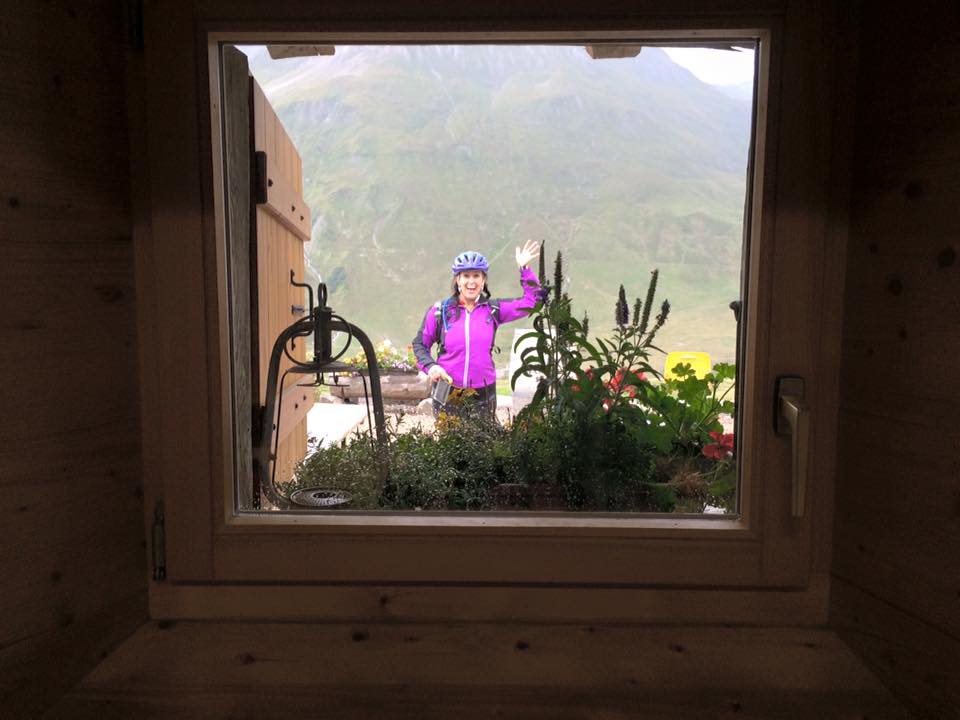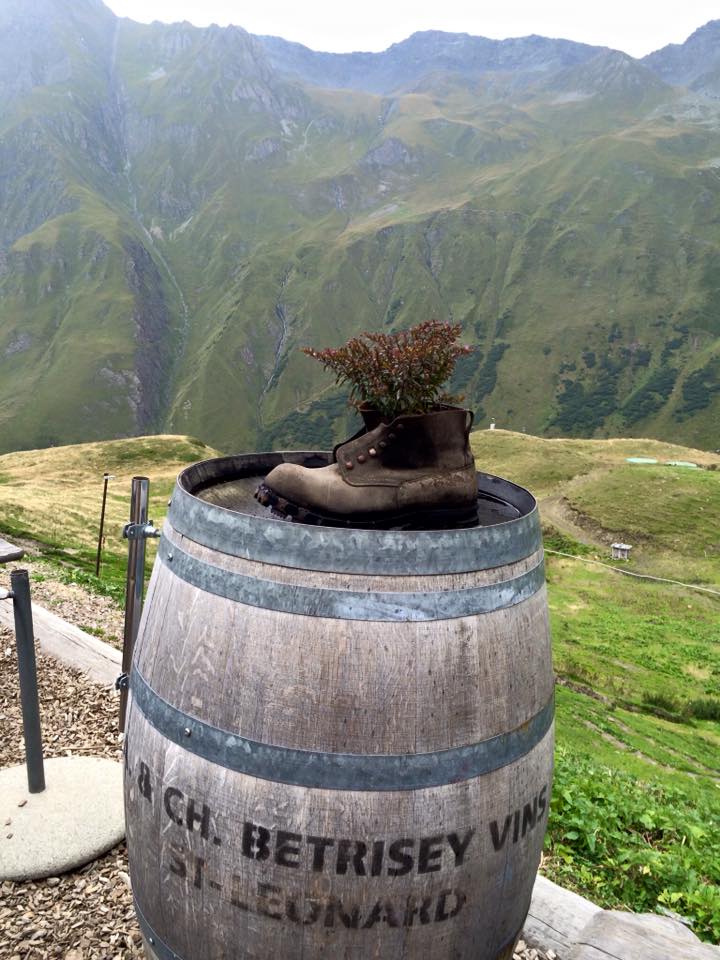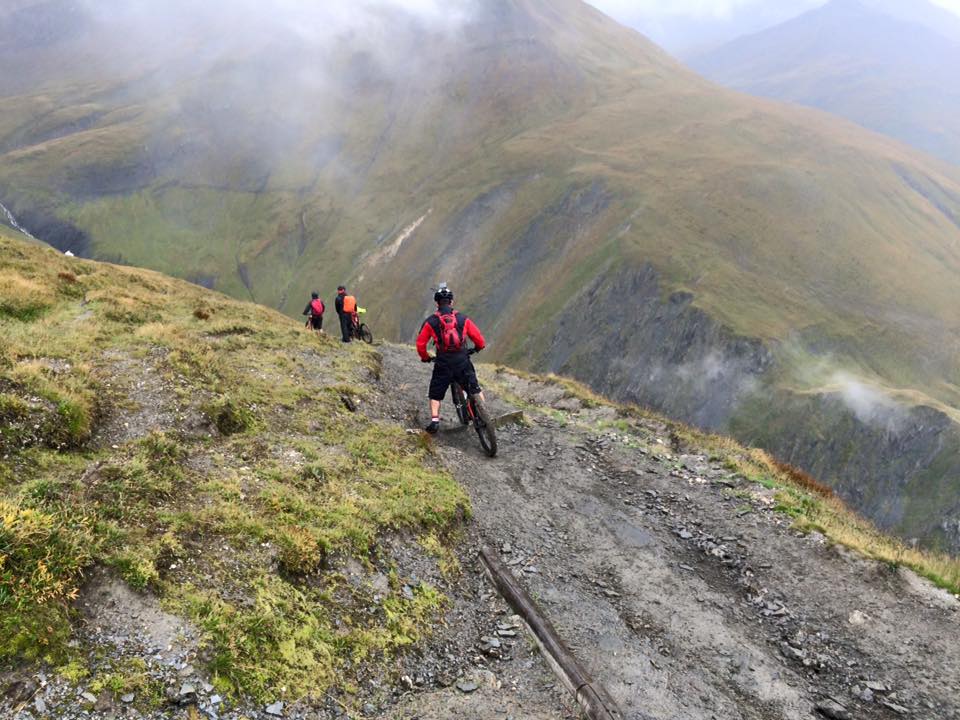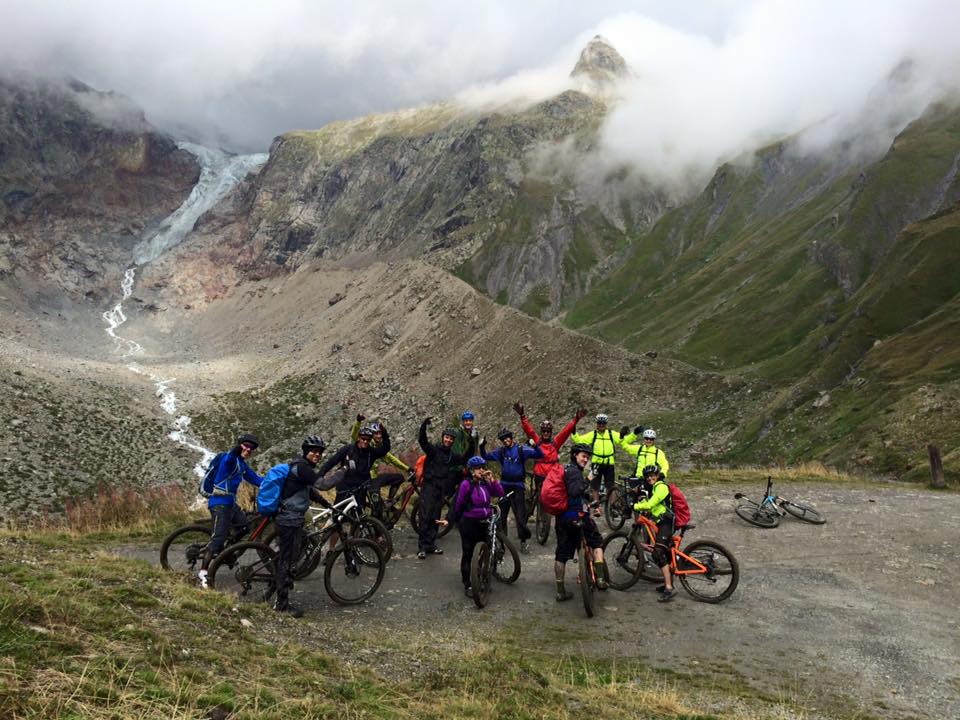 Downhill from here took us to  the "Gucci" town of Courmayer….(whereas Chamonix is "Goretex" town of Mont Blanc). This was definitely my favorite dinner…the food was amazing!… and WOW, it kept coming, too!
We started off with one of the BEST crepe dishes I've ever had; it was made of layers of crepes—like a lasagna–with spinach and ricotta in between), then had a pasta dish, which everyone thought was the main meal, so some people had seconds, but it wasn't!  The main meal consisted of a delicious chicken dish with green beans…it was hard to find room for dessert!
Shopping in the town was also great, and we had some great gellato while shopping.
Click here for the video of Day 3
on Day 4, we left via the road, as with most days, to hit trail to arrive at lake Checroui facing the Italian side of Mont Blanc.
Again, we were faced with lots of beautiful scenery…and lots of tough climbing—I remember lots of grass, and at one point it almost felt like we were in Scottland!!! I was telling myself I was going to Hogwarts, which made the tough climbs more doable. 🙂
There was more hike a bike here…..the climb of "Col de la Seigne (French border)" mostly rideable, but everybody, had to push bike at the top, it was so steep….
BUT, once we got to the top, then downhill down to Les Mottets hut was RIDICULOUSLY fun, I think it was my absolute favorite!  And, as usual, it made the tough climb all worth it—sooooooo fun!!!!  here's a pic of my favorite downhill! and a pic of the hut: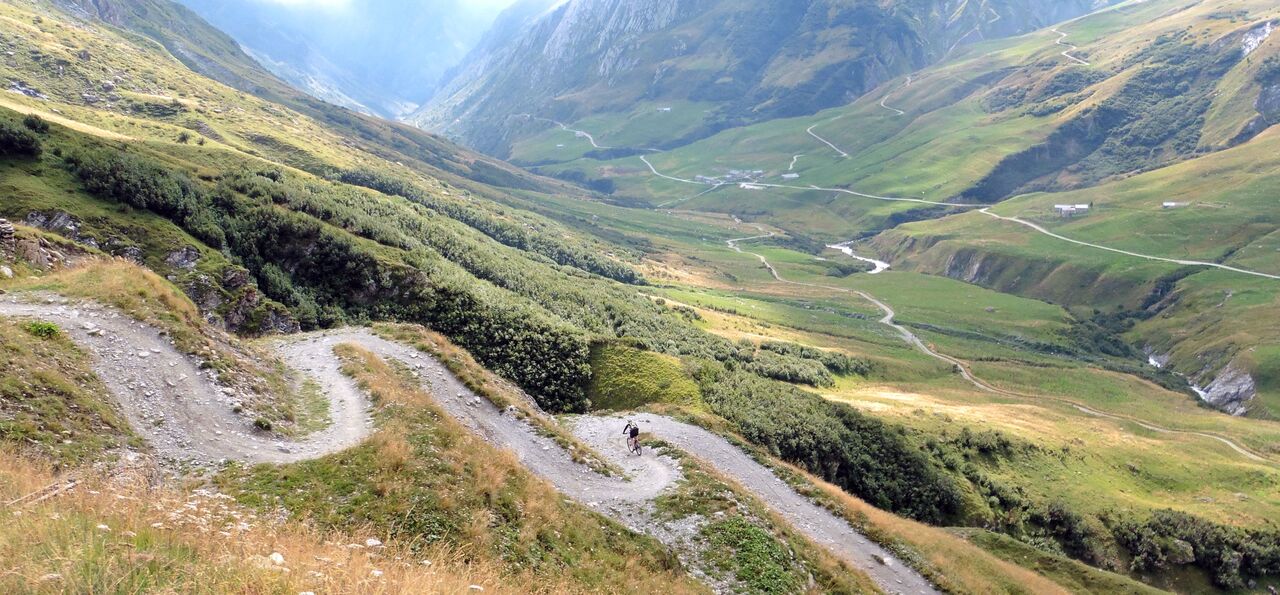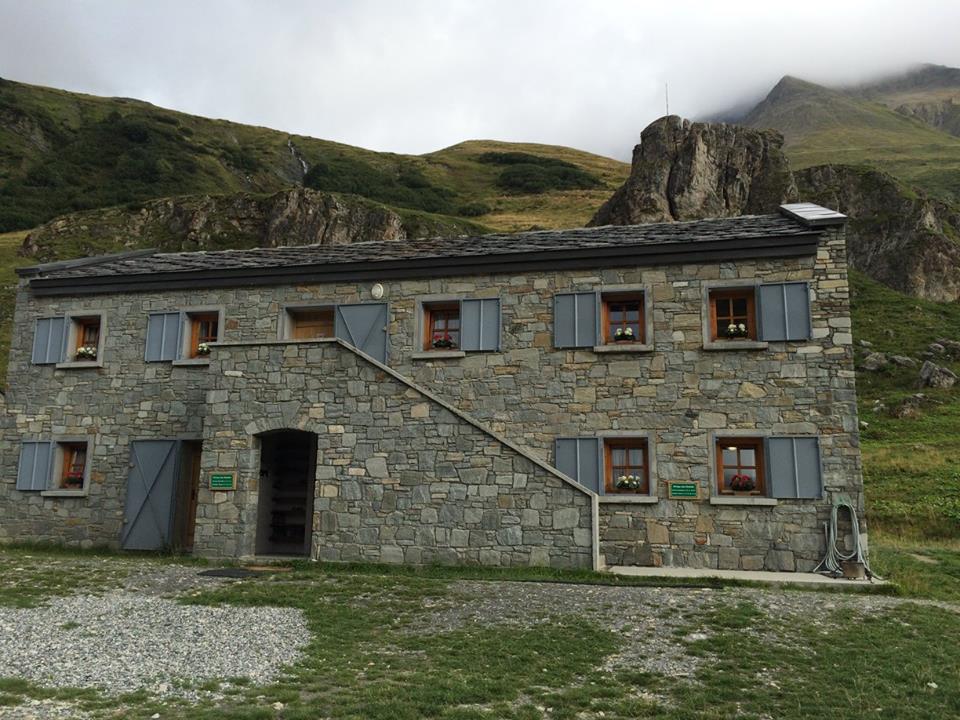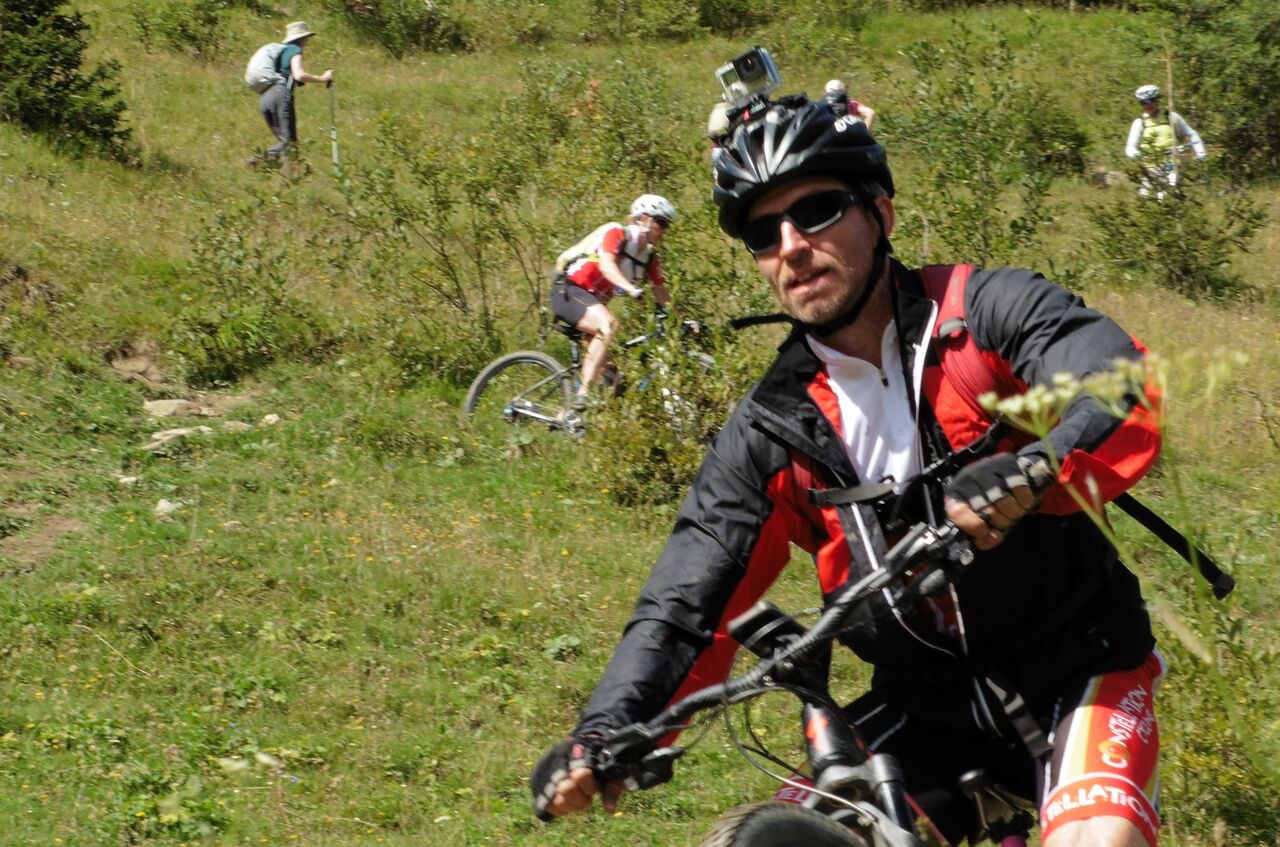 Once again, it paid to be married/a couple—We shared a small bunk room with another couple, Kelly and Robert, while the rest of the singles had to sleep outside in another hut, which was cold, too. And we all had to share a bathroom down the hall in the main hut. There were lots of Mont Blanc hikers staying here.
Also–a WONDERFUL treat was in store for us as Arno hooked us up with a massage therapist who drove out to the hut to give some of us massages! She was REALLY good & it was necessary after 4 days, imo!!!!
Dinner at the hut was fun with entertainment including singing and some type of musical instrument that was like a "player piano" which played music while the singer cranked out the song …. That night I was soooo sore that I truly didn't think I could survive riding the next day!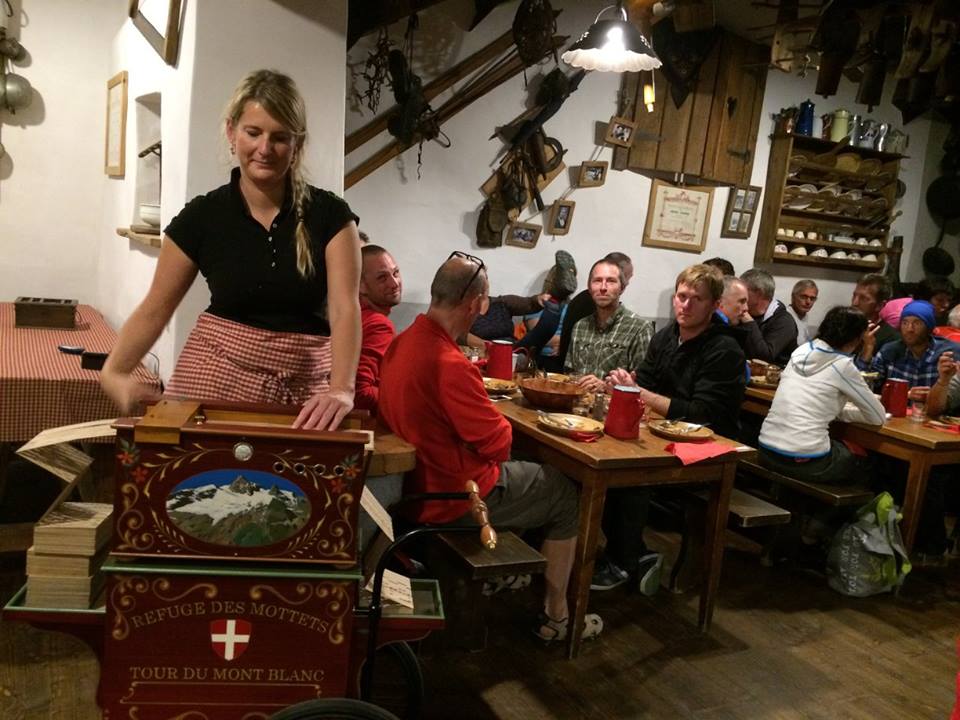 There wasn't as much electric outlets at the huts, so Dave took the day off of videotaping for Day 5, but click here for day 4 video!
On Day 5, miraculously woke up feeling great! All aches and pains gone and ready to ride again!!!! We took the van to go get some incredibly delicious Beaufort cheese then met up with the rest of the group who had ridden the first tough climb.  It was a great day, and i finally was starting to feel better climbing…which was a good thing, because there we still had many hills to climb!
Throwing a couple more pictures in!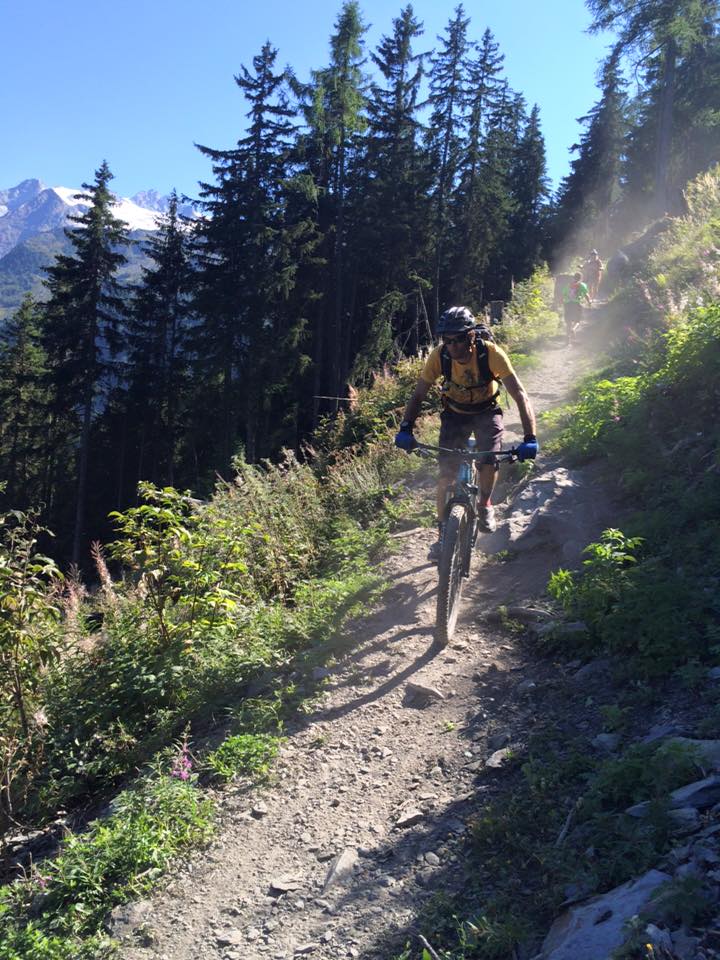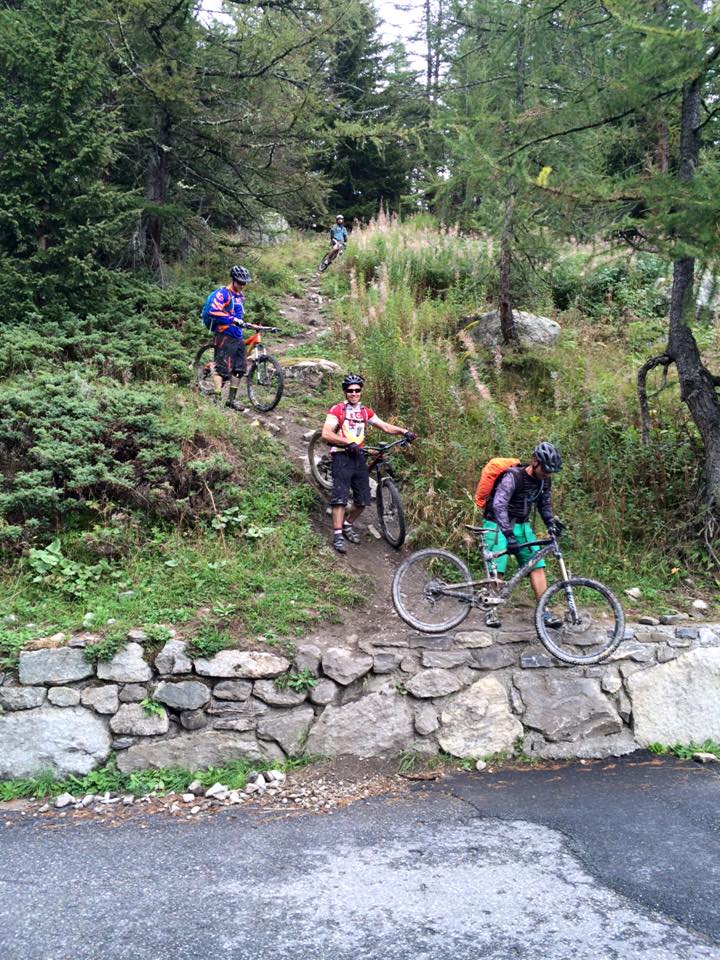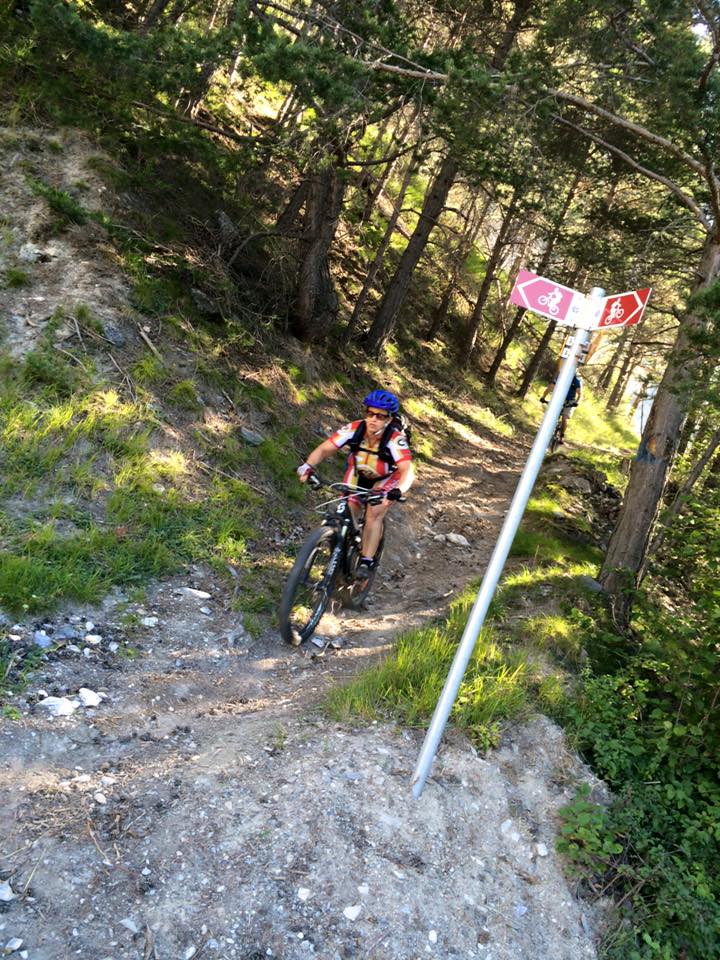 We finished up Day 5 in Contamines Montjoie, and went shopping…..that night we had some of the local specialty, Genepi liquor, which was very nice: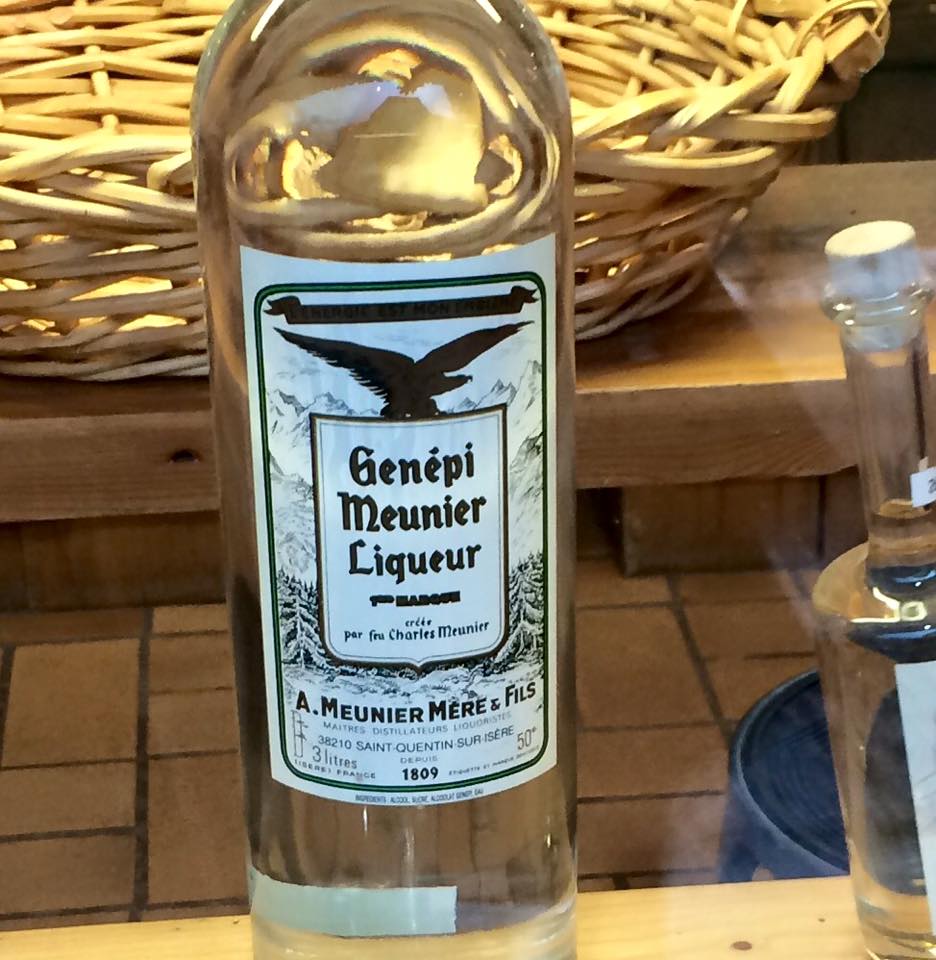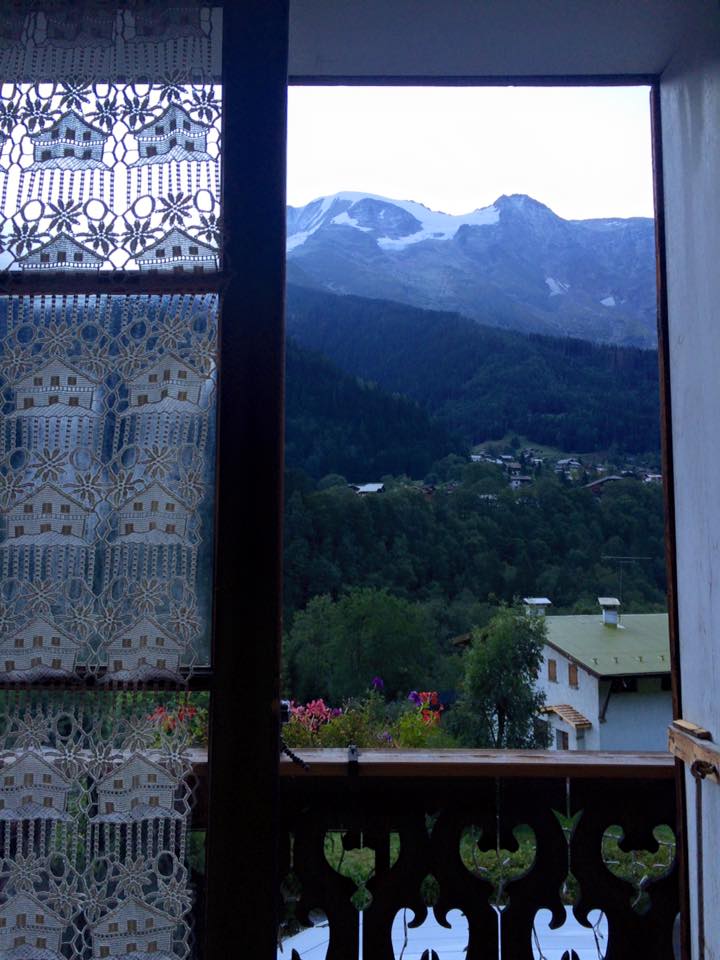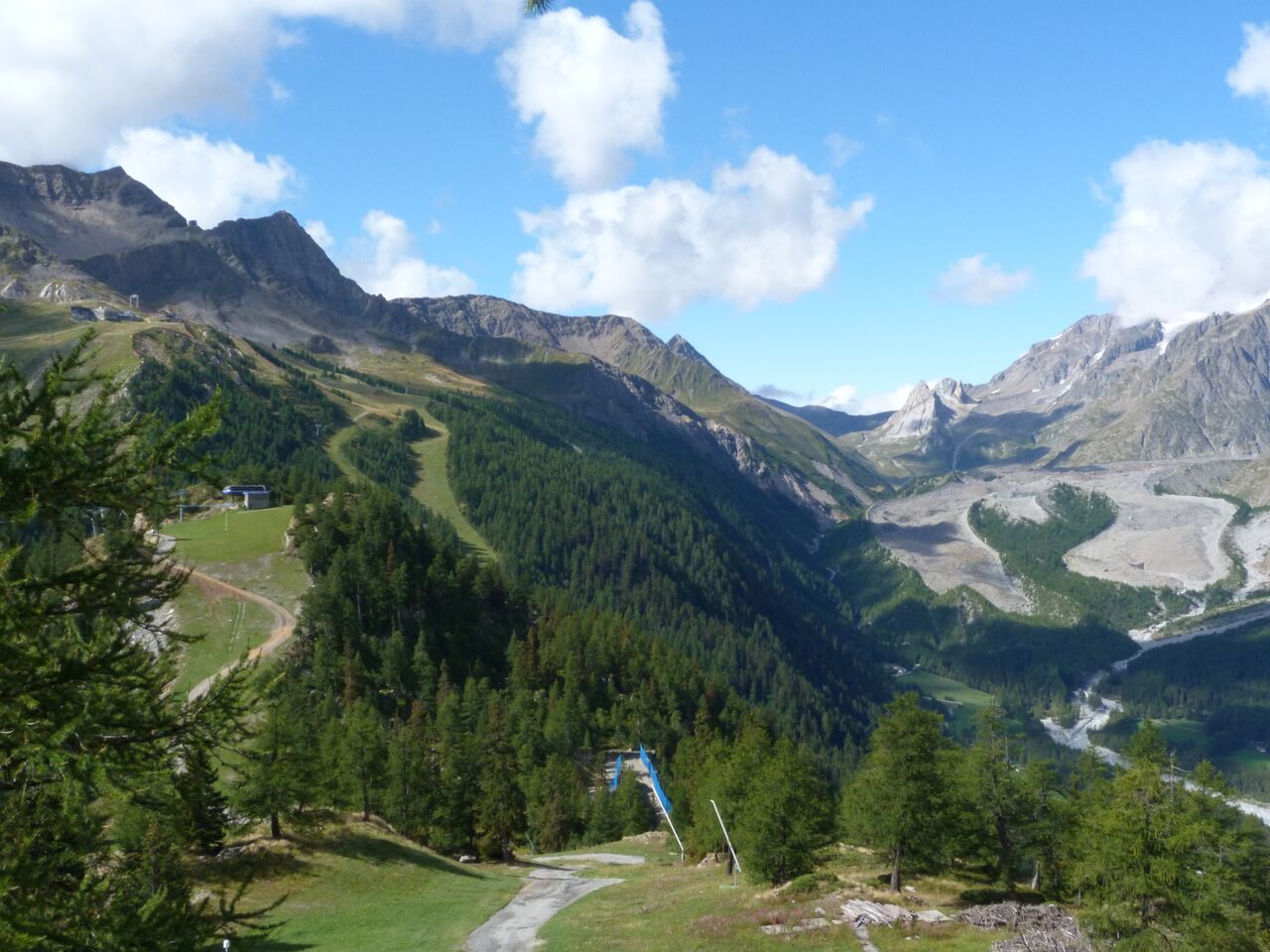 The last day finished up the big circle that we made around the Mont Blanc glacier as we headed back towards Chamonix!
There was a special treat on this day as we climbed Col de Voza to descend through some downhill mountain bike parks in Les Houches!
On the last day, we wore our Alps MTB jerseys that we received during the trip, so that made for some great group photos.  Unfortunately we had one major injury as Tom-Erik, one of the men from Sweden on the tour, broke his collarbone.  Fortunately, we were very close to some roads at the time and it was very easy to call an ambulance to come pick him up right near the trail.  He was well taken care of and at our final dinner on Friday night! 🙂
I wasn't left unscathed, myself…I wish I had taken pix of my bruised and battered legs! OMG—worse set of bruises ever!!!!
More photos of the trip: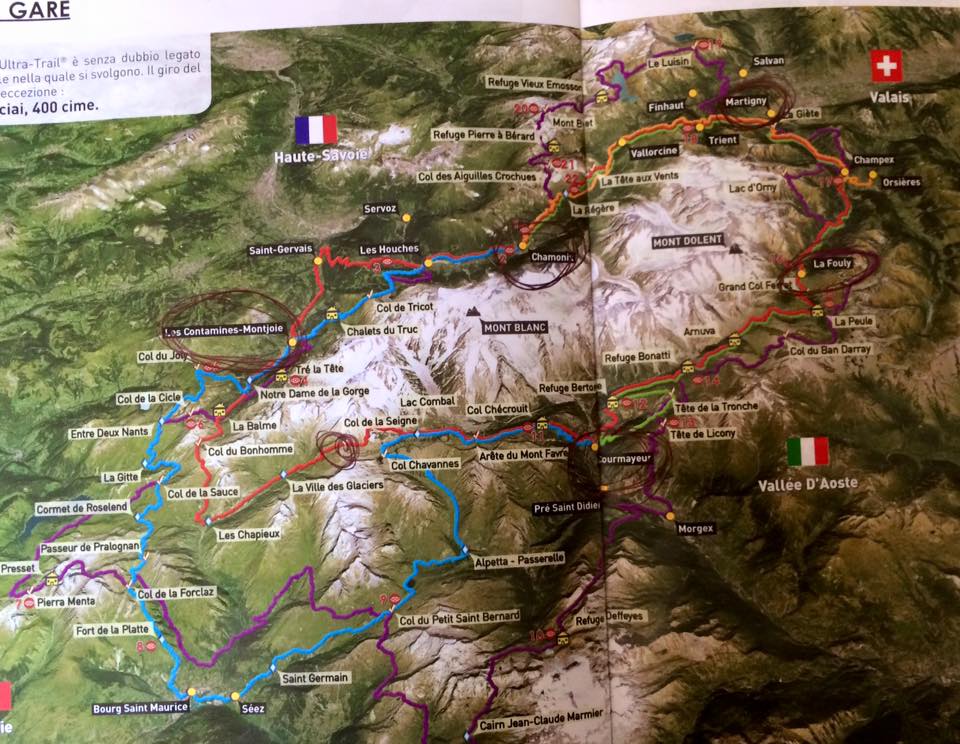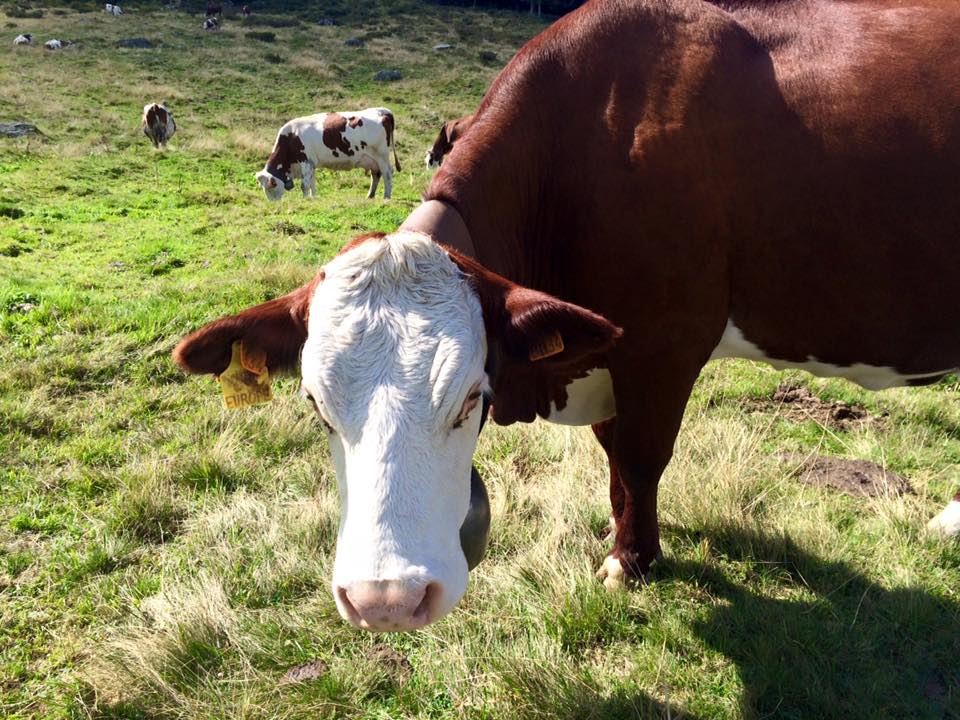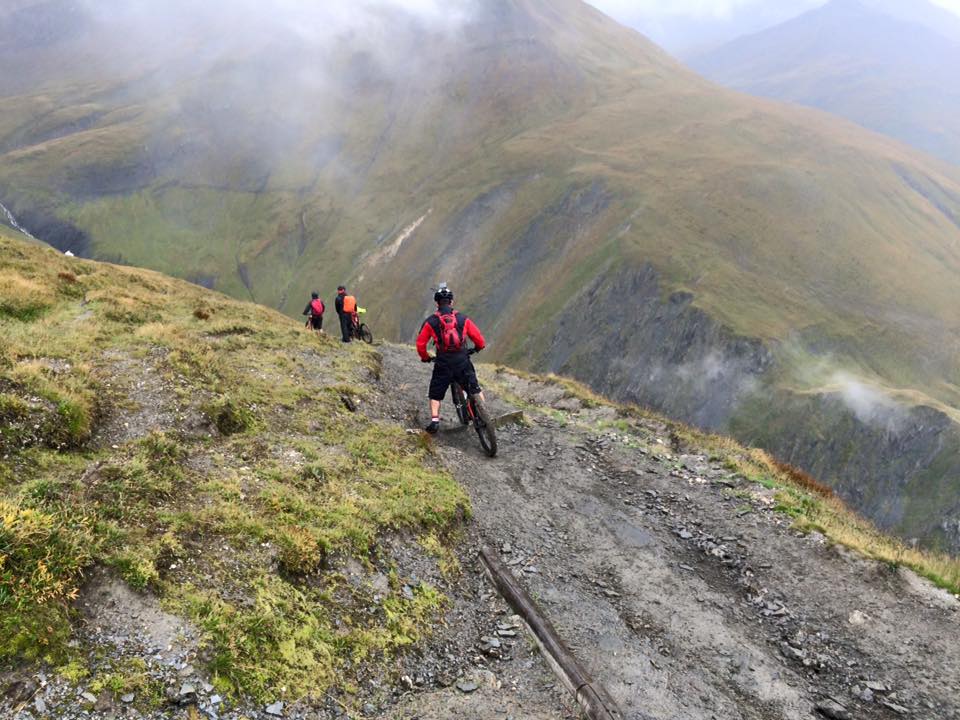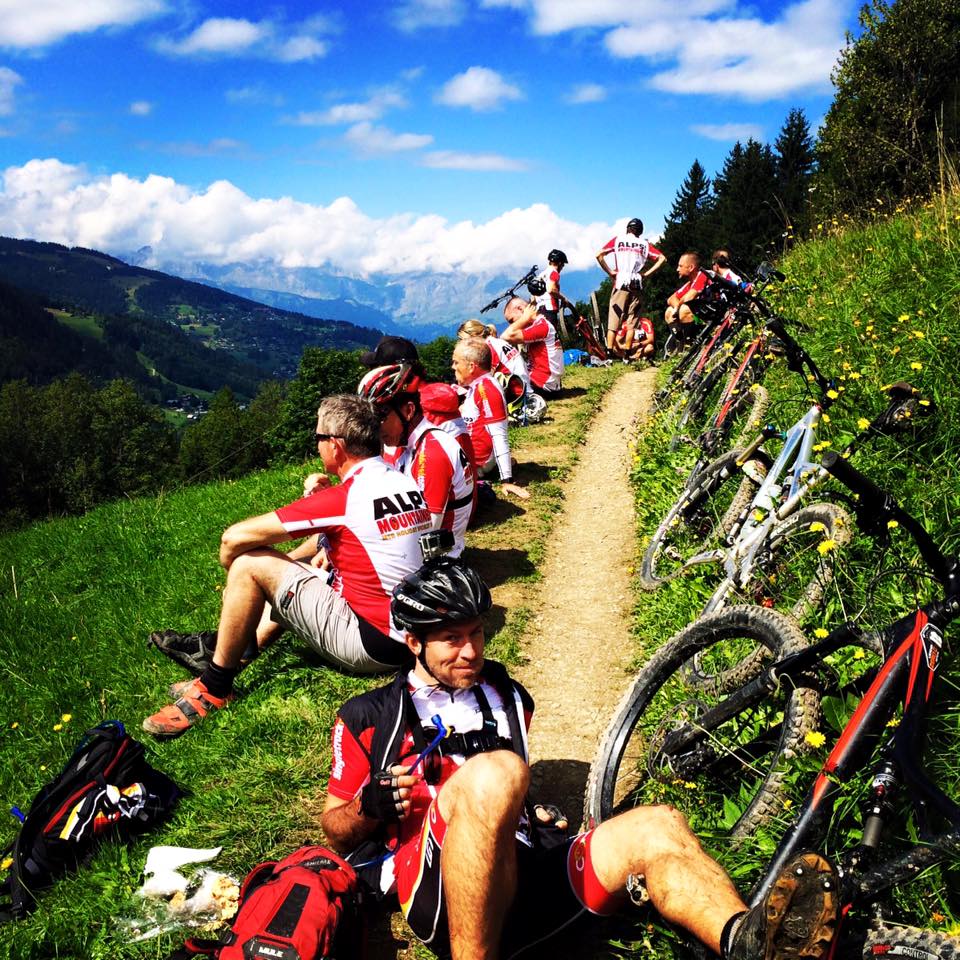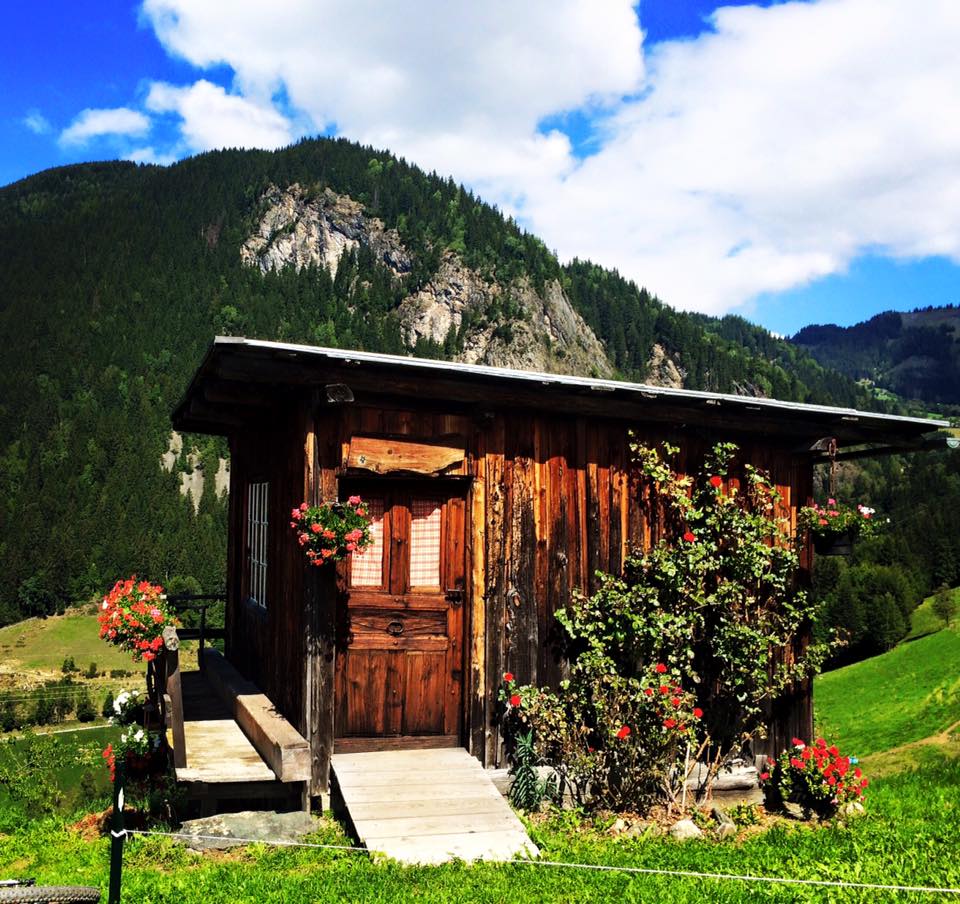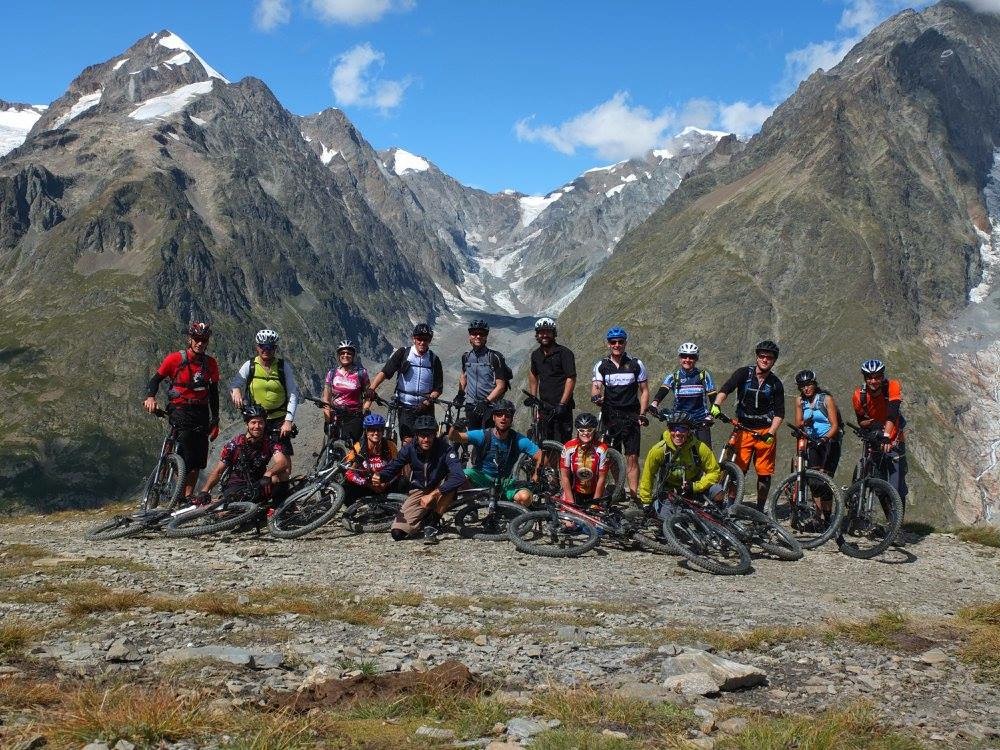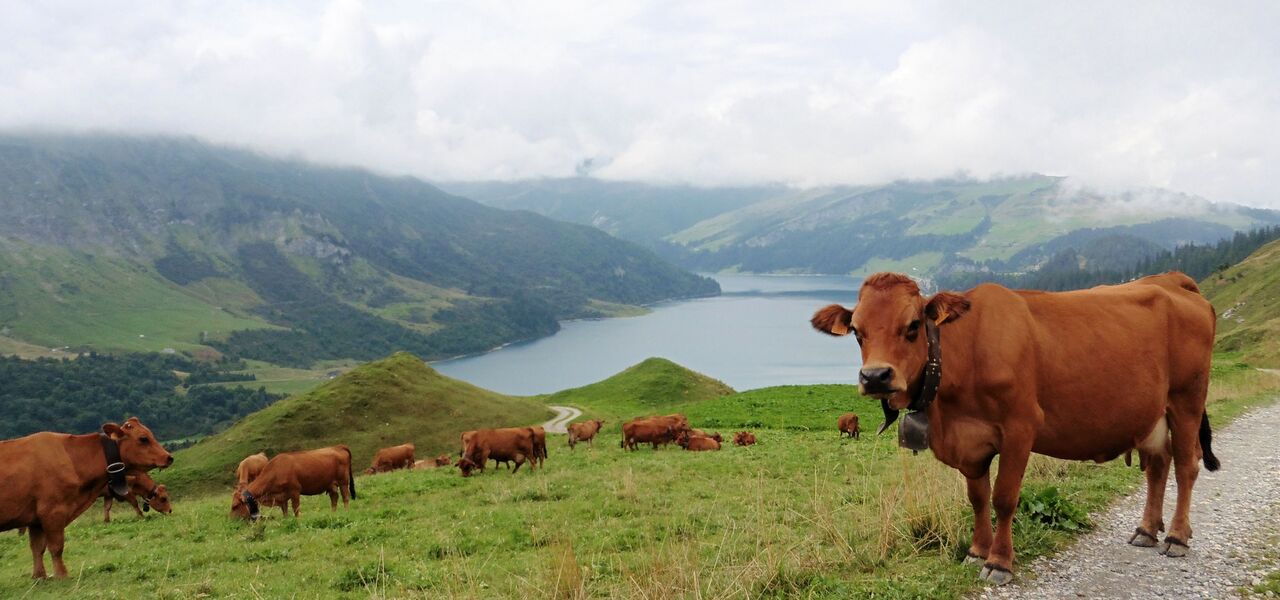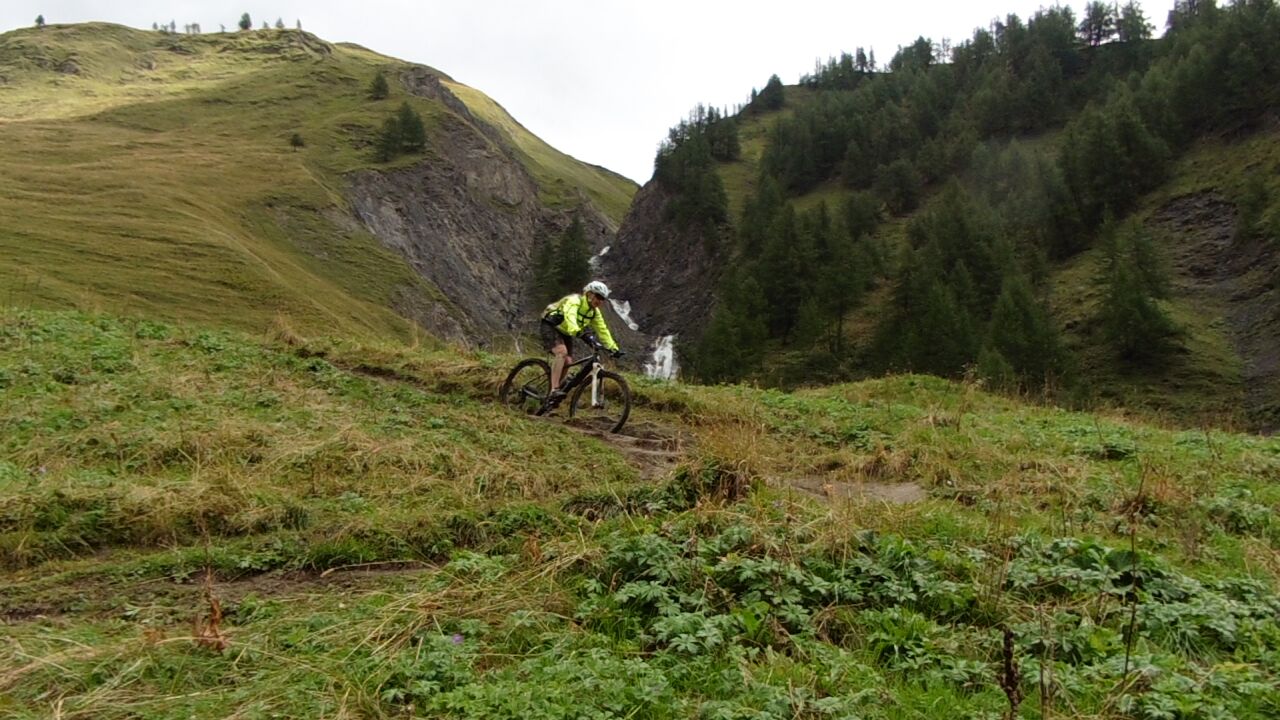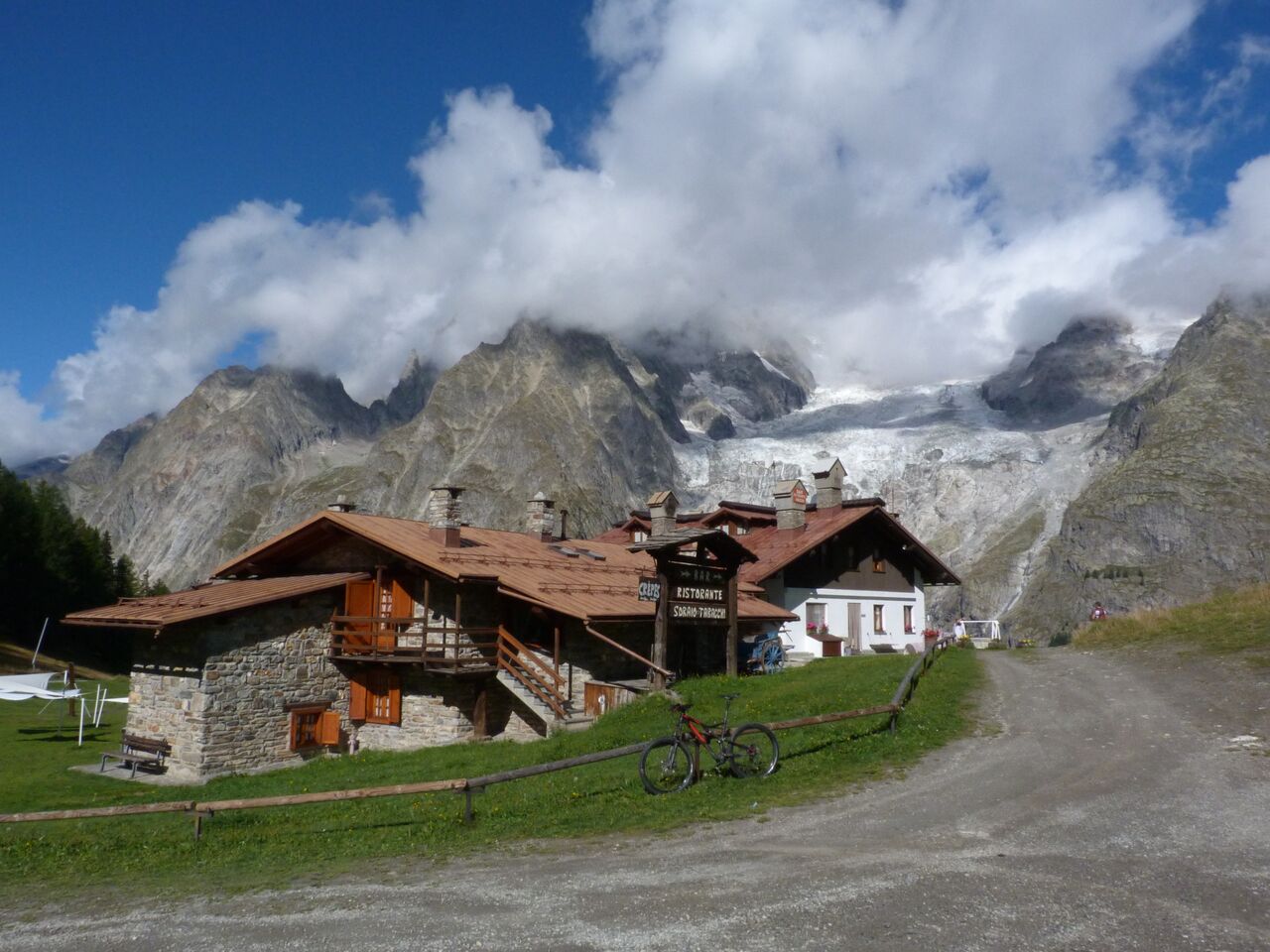 Again, what an AMAZING trip!  I highly recommend!!!!
TIPS: 
Fill your pack with 3 liters of water per day to be on the safe side.  Usually I drank all three liters throughout the day ( a typical rate of hydration is 20-24oz per hour riding).
Make sure you have waterproof & wind proof & warm gear, just in case!
Train on long sustained climbs as much as possible, and train for good downhill technique
I have many more tips, if you are interested in the trip, just ask me!