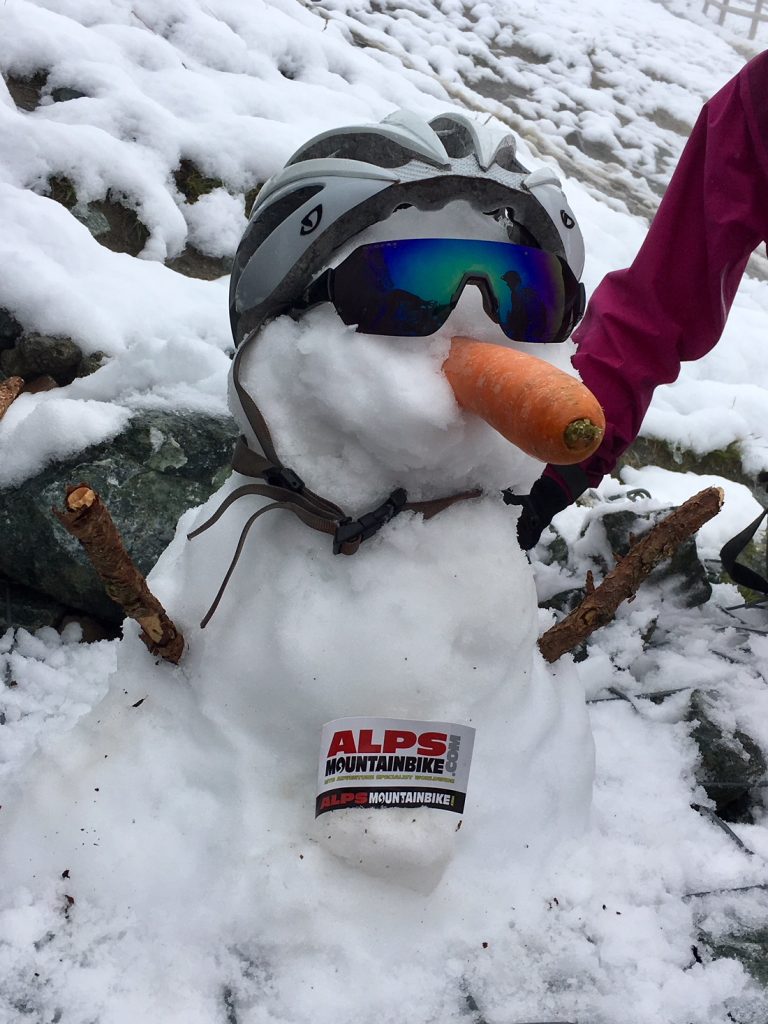 On August 6, 2017, we began a 6 day mountain bike trip with Alps Mountain Bike Guide Company starting in the amazing, adorable, adventure wonderland of Chamonix, France and ending in Zermatt Switzerland.  The trip was tough and included lots of steep climbing and hike-a-bikes and super technical descents, but it was super fun.
The weather not always kind or  forgiving, but the scenery, food and little towns that we would have never visited otherwise were awesome! Apologies as this post is not full of bike porn pics, but mostly scenery, buildings, etc. BUT as soon they're up, I'll add links to Dave's GoPro footage of the mountain biking for the day here:
AND, you can also check out my  super cool "relive" video using this link: https://www.relive.cc/view/1128518849
Day 6 was the final day, in which we rode to Zermatt Switzerland.  Since there are no cars allowed in downtown Zermatt, that meant we would have had to stay in the outskirts of town…and be further from Geneva for the next day's transfer, SO at the end of our ride, we rode back to the same hotel in St. Niklaus to stay for the last night.
This was awesome because, for once, we didn't have to pack our suitcases and load them onto the van before taking off for the day!
It was a sweet little break.
This time we were SO prepared for the cold, wet weather.  We had a complete change of clothes over-stuffed our camelbacks, to the point of bursting seams,  and, of course, a rain fly covering the packs.
We took a shuttle ~halfway between St. Niklaus and Zermatt then rode a semi-flat, just slightly uphill trail towards Zermatt where we went to the train station to view the webcams of the Matterhorn.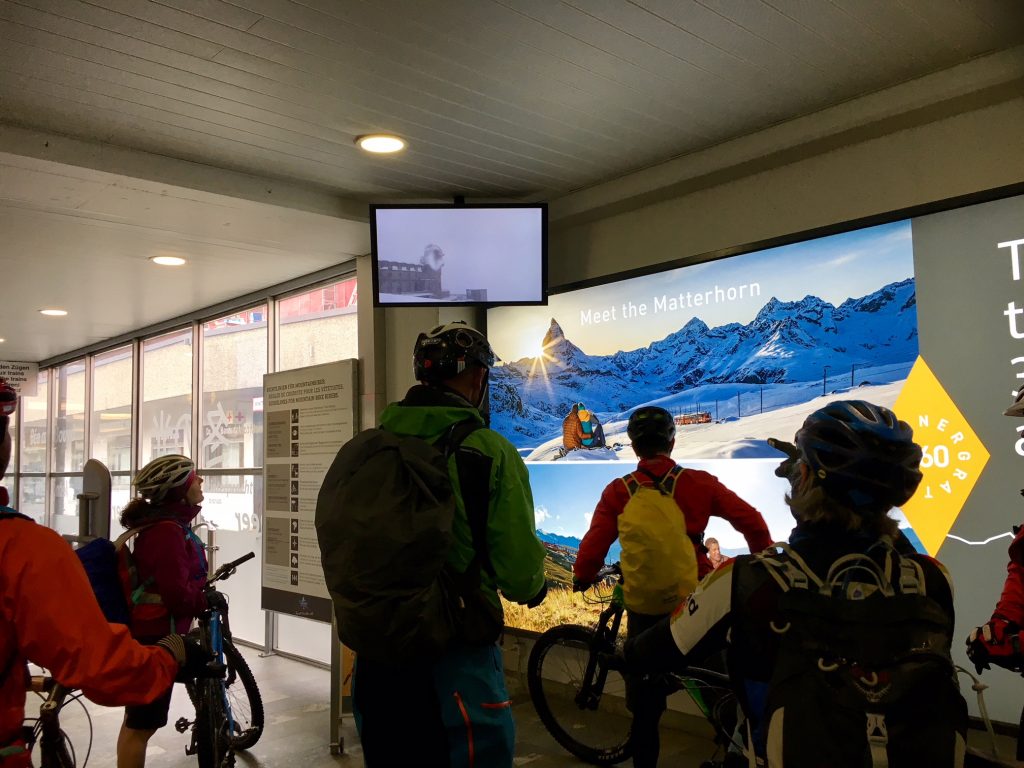 So unfortunately, the weather was super cloudy and overcast and even snowing at the top.   We never did even see the Matterhorn, but I imagine it was up there, being as beautiful and breathtaking as ever.  And we posed in front of a billboard with the Matterhorn on it, so that's close enough, right?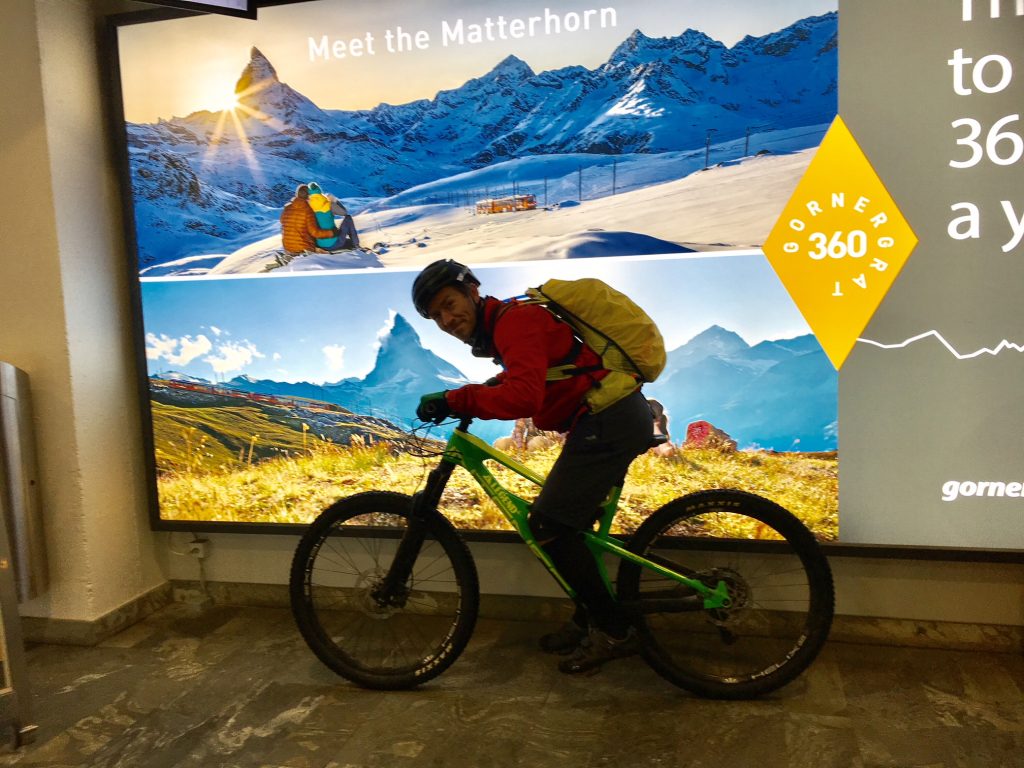 Normally, we would've taken a gondola or funicular up to near the top of the Matterhorn and rode our bikes down, BUT due to the snow, we had to discuss alternate routes.  This snow meant that the trails would be completely covered at the top and very hard to navigate and the rocks would be especially treacherous.
So instead we rode about ~3,000 (elevation gain) up a winding jeep track, into elevations where there was first a light dusting of snow, then complete cover!!!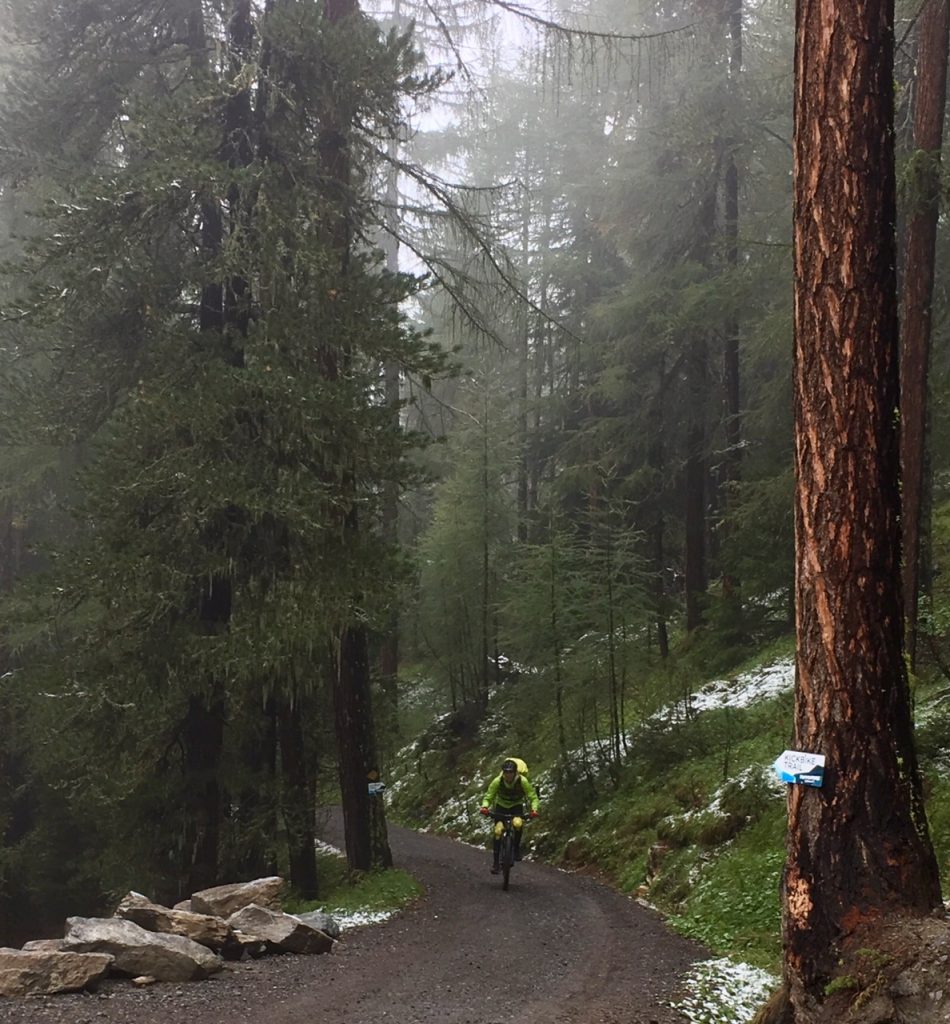 A little snack break and yoga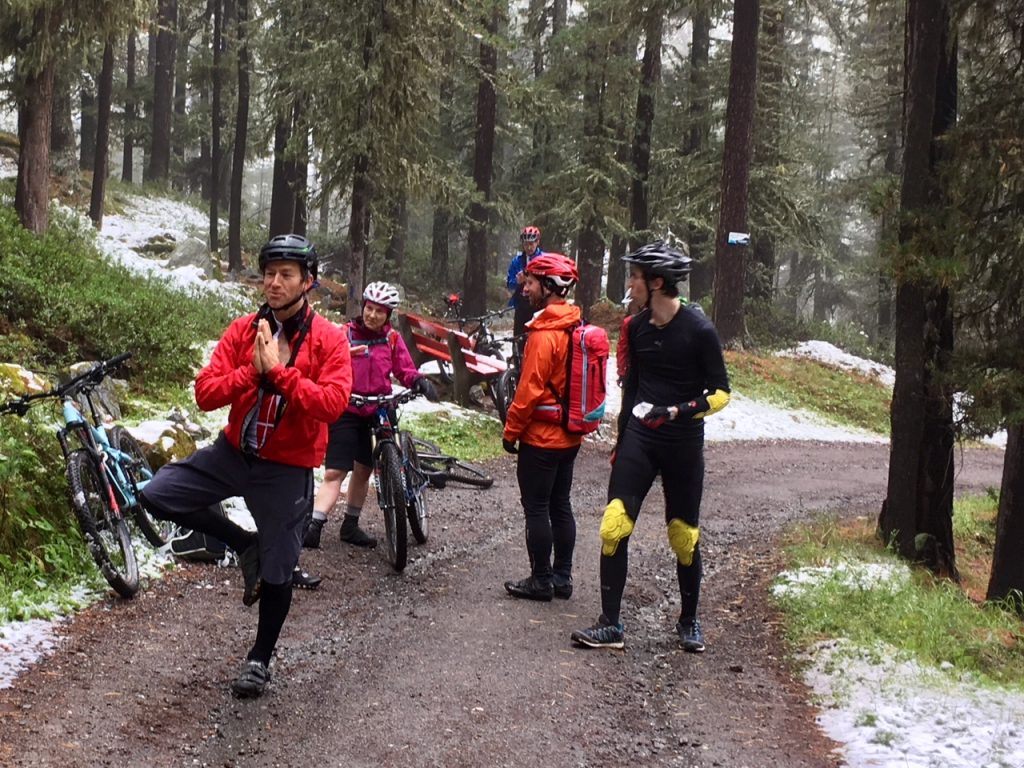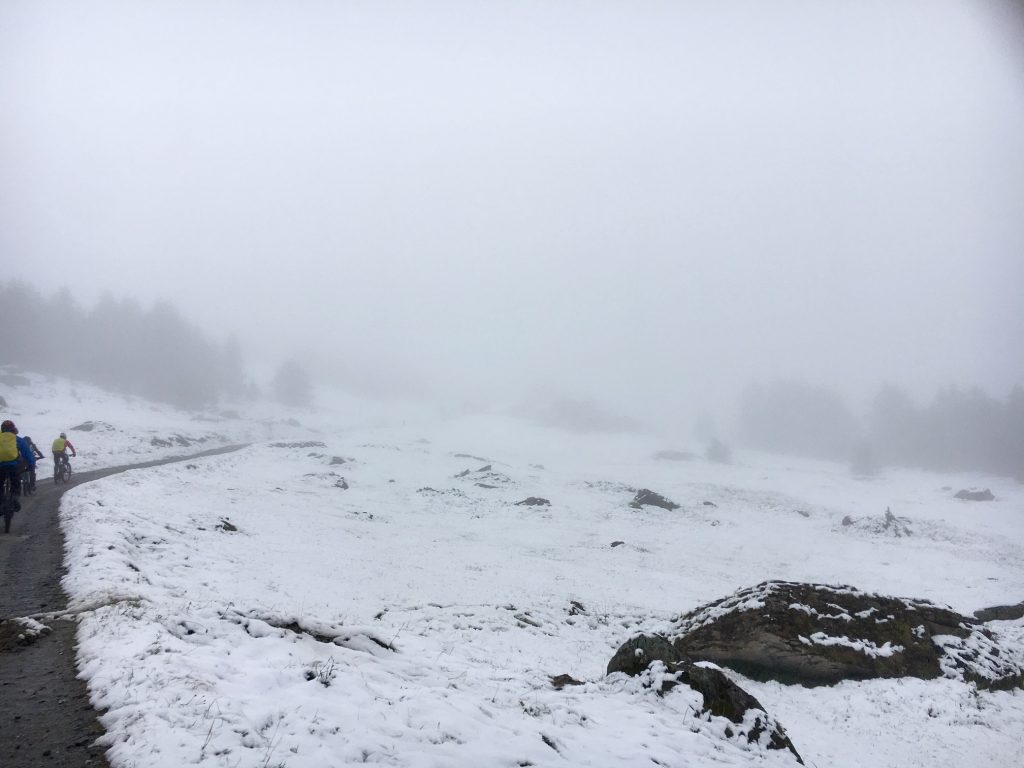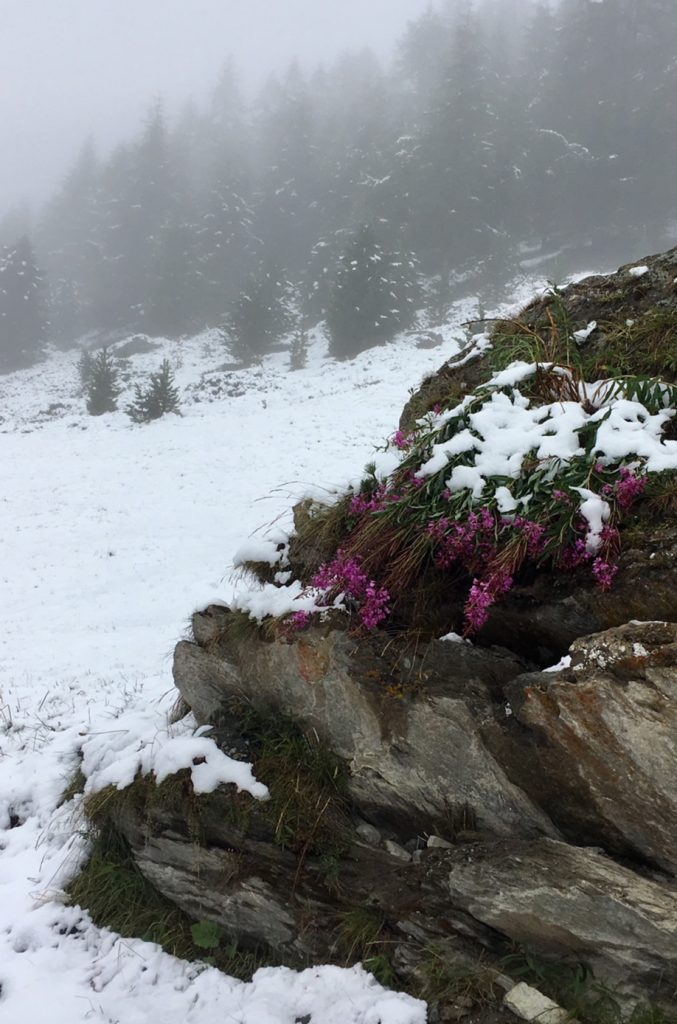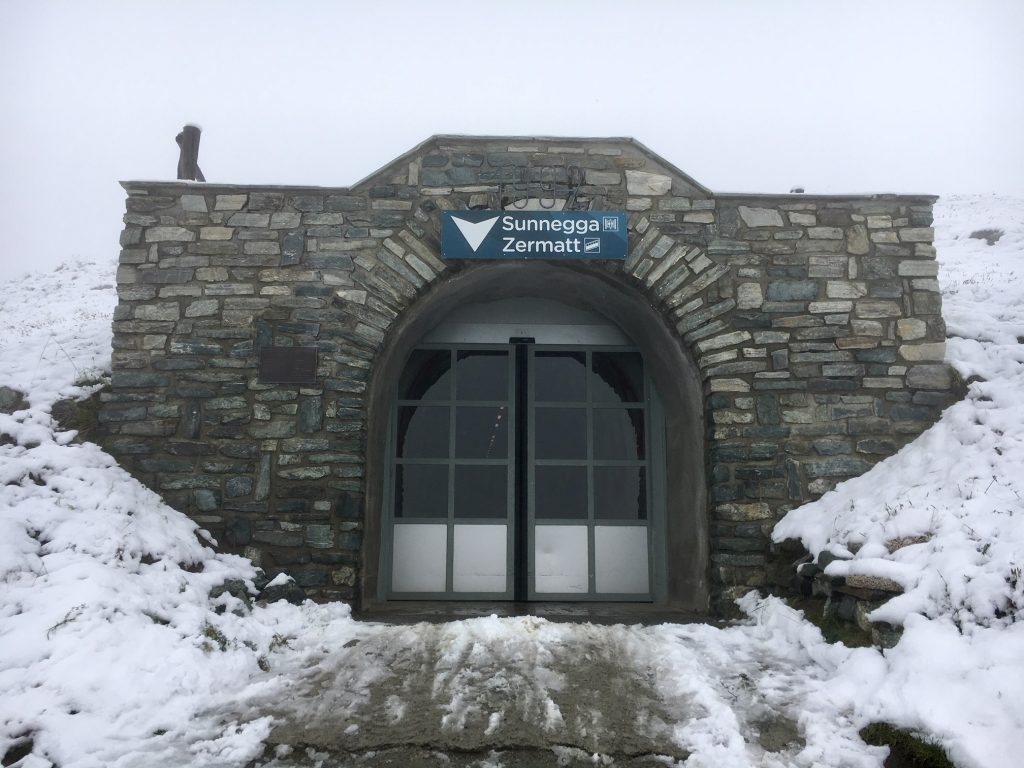 Here is a link from my YouTube channel of a cool little time lapse of the inside of this tunnel :  https://youtu.be/KsUnJQg0fUY
Once we were at Sunnegga, we built a snowman, then bought warm soup and changed into warm dry clothes for our fun, sometimes uber technical, descent in the snow!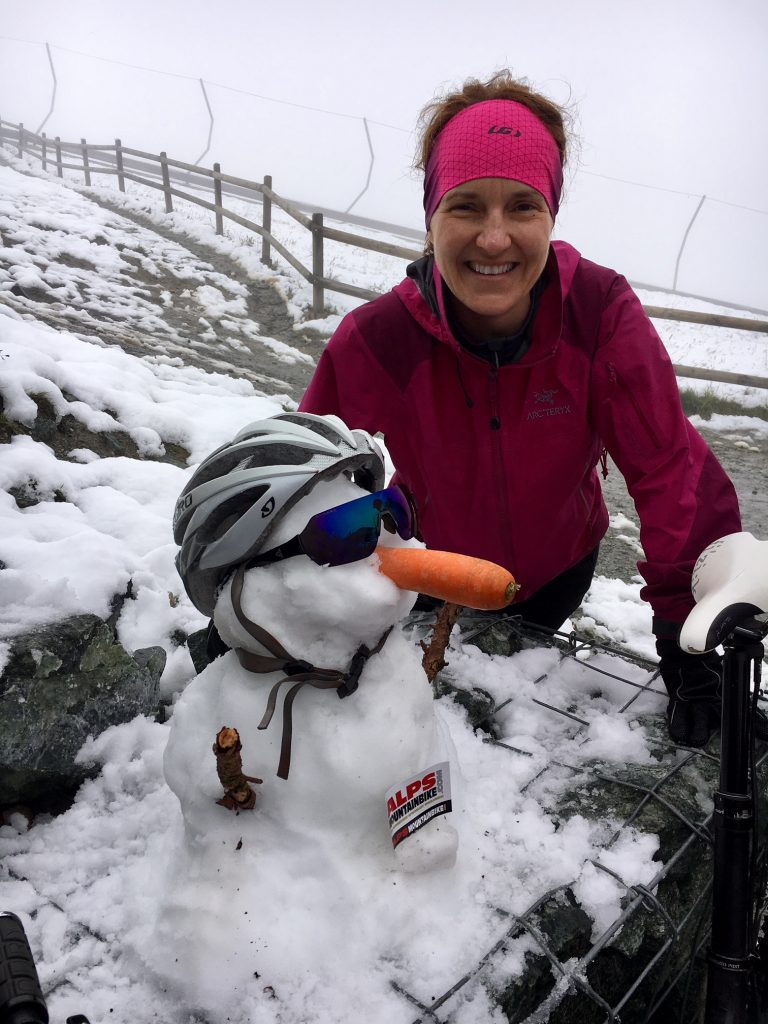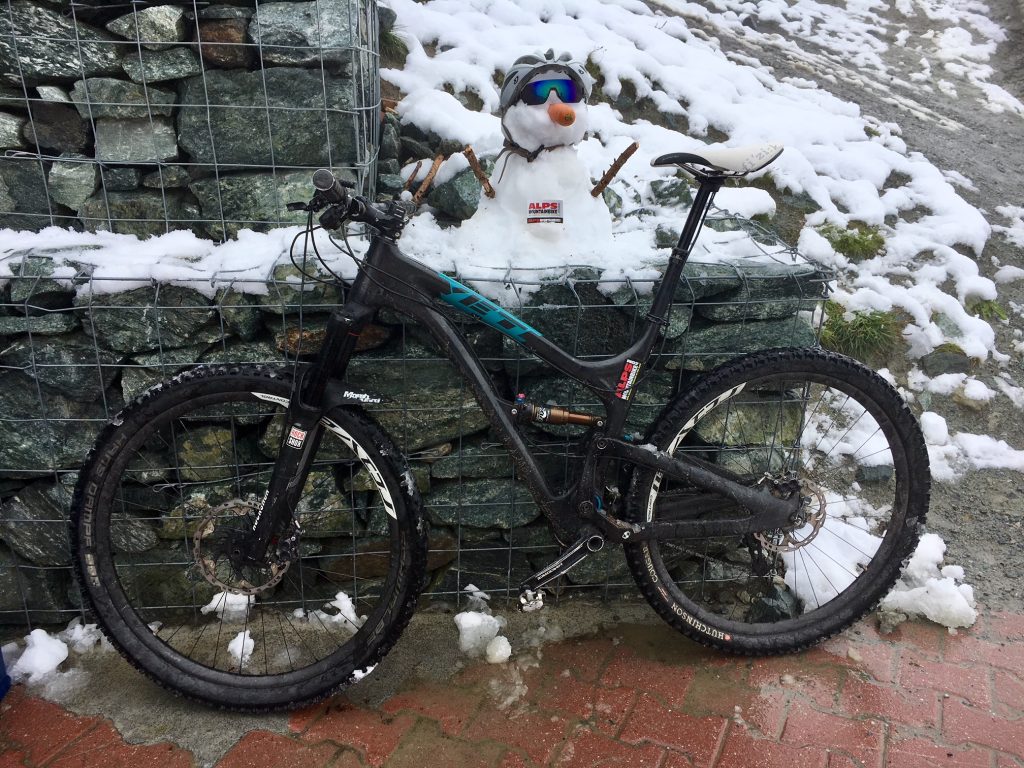 It was the first time that I ever rode in snow!!!!…. so at least THAT was SUPER cool AND could be checked off my 50 before 50 AND my bucket lists!  Bright side, kids, bright side….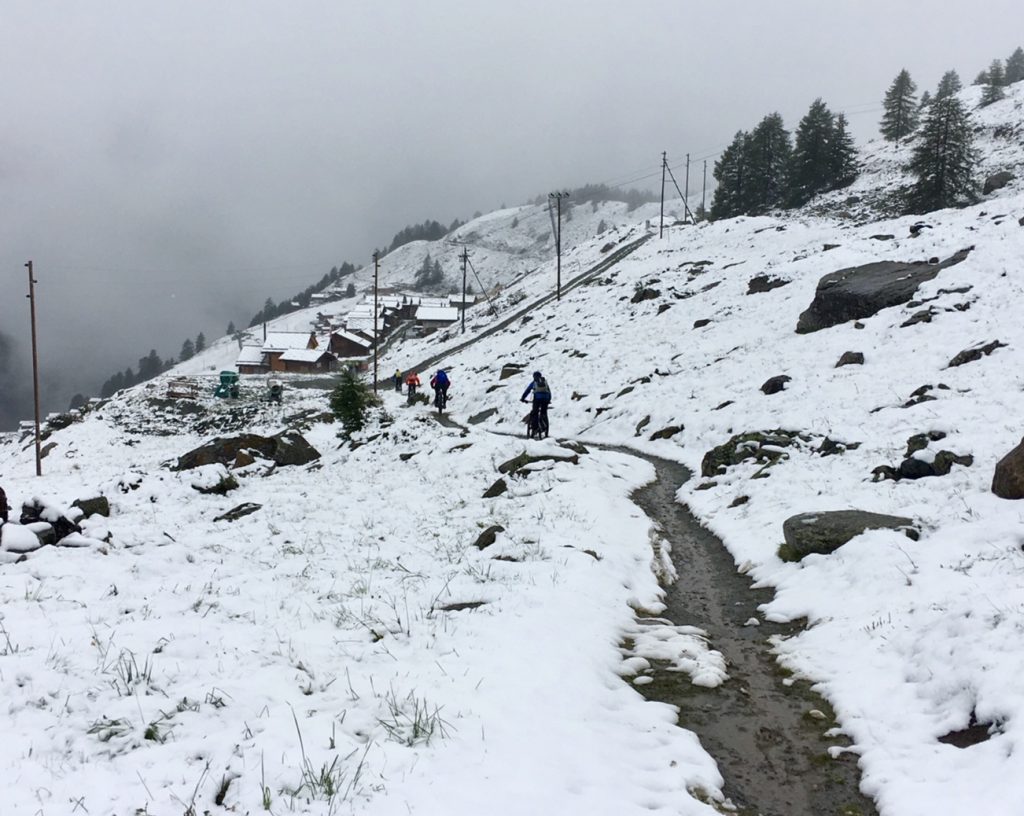 As we rode down the mountain, the snow was gone again, and we stopped for another snack break and cool pix of the little neighborhood below us: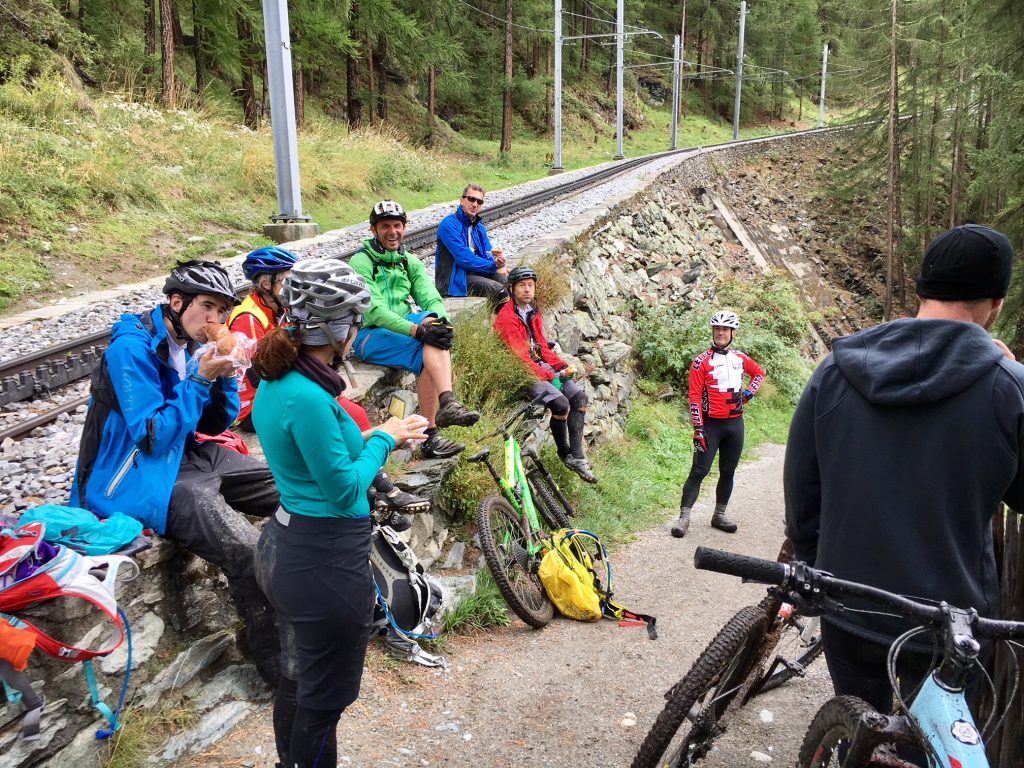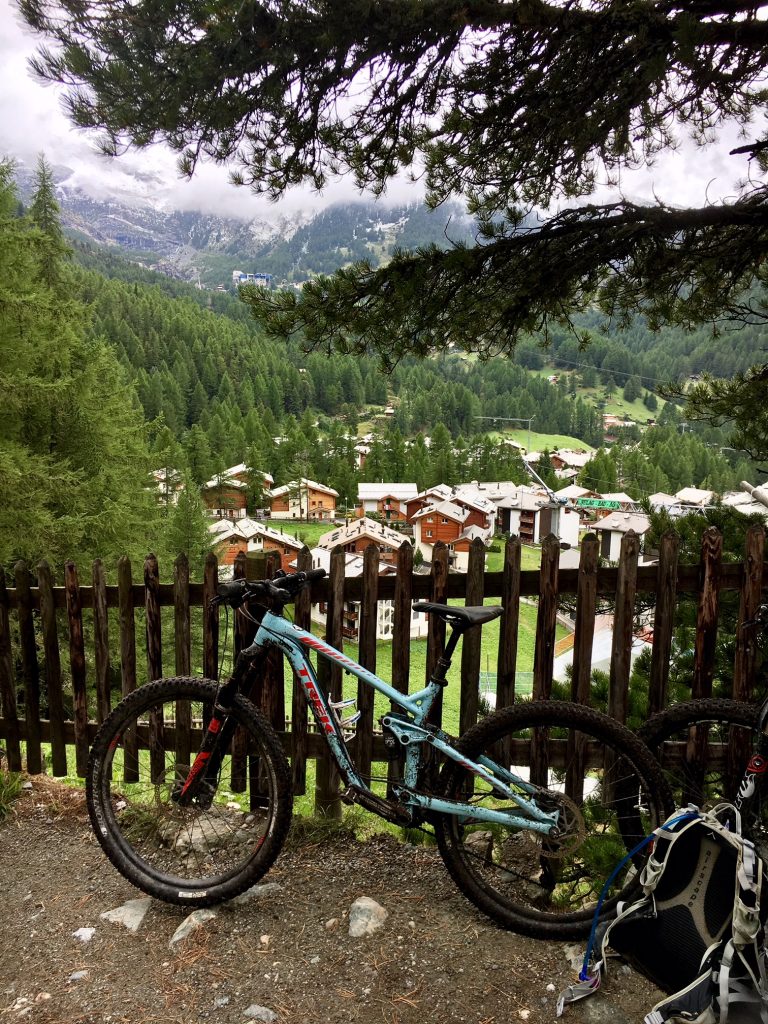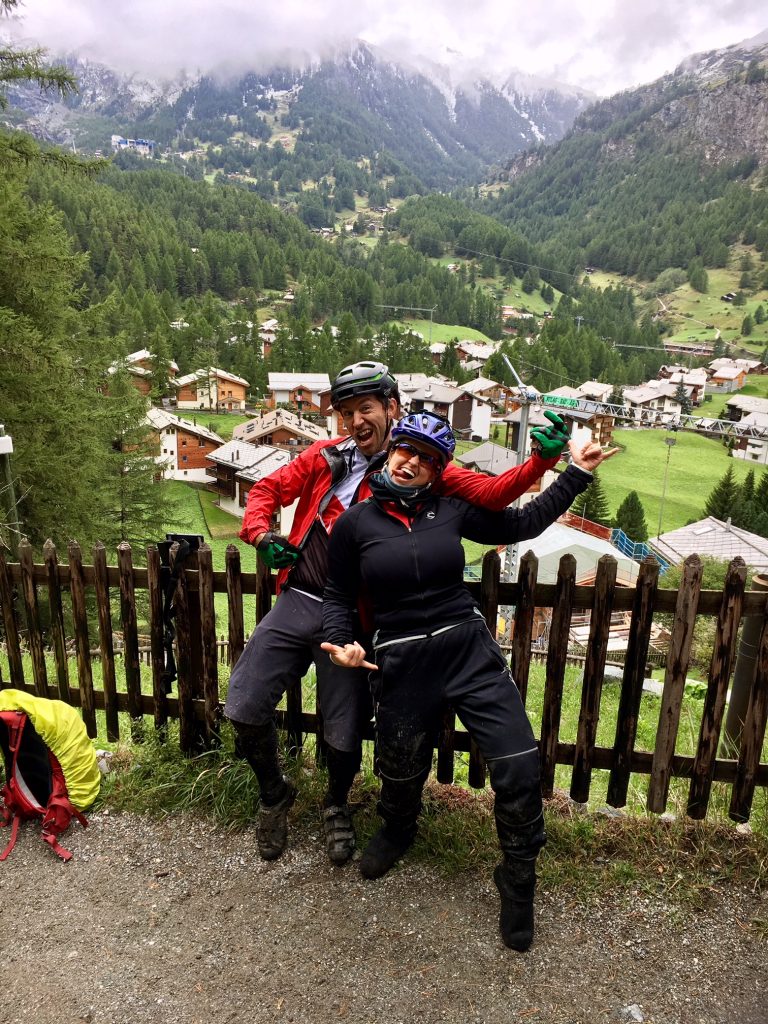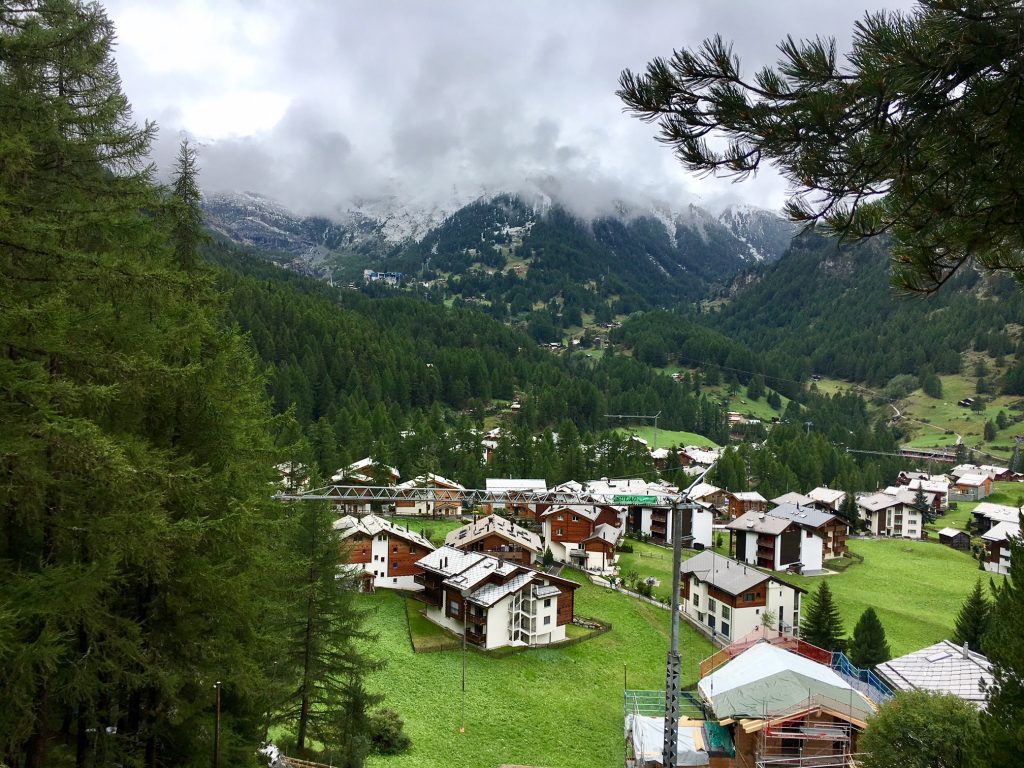 This is our guide, Thierry!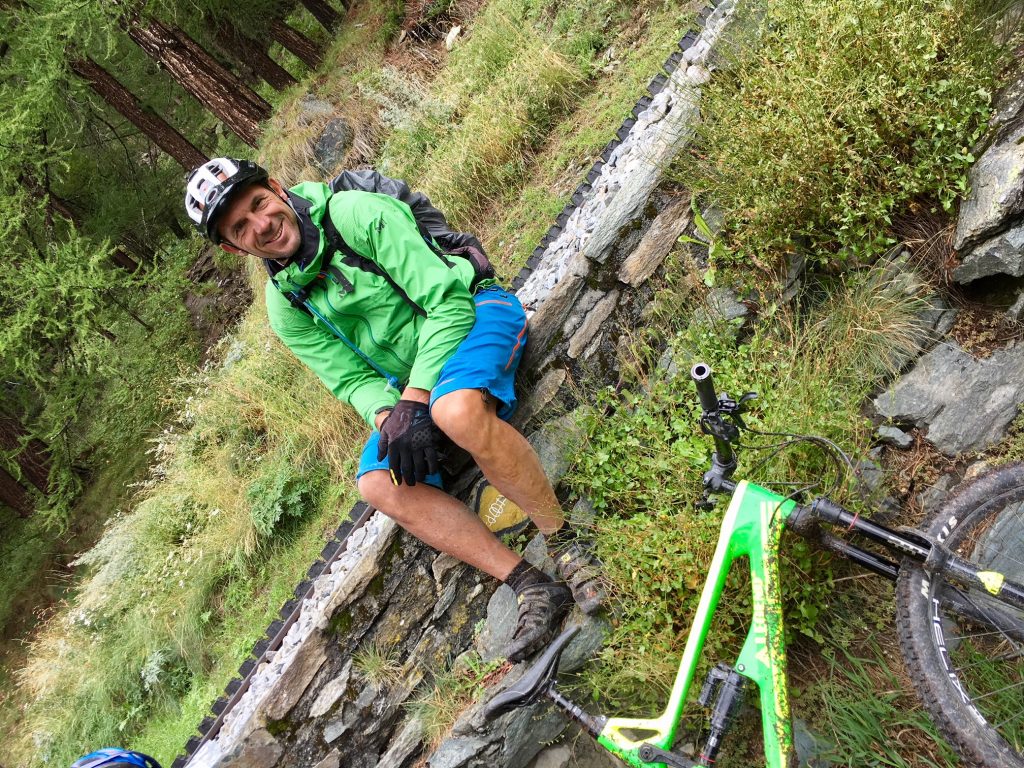 We then rode up another climb for about 1,000 feet elevation gain to this area…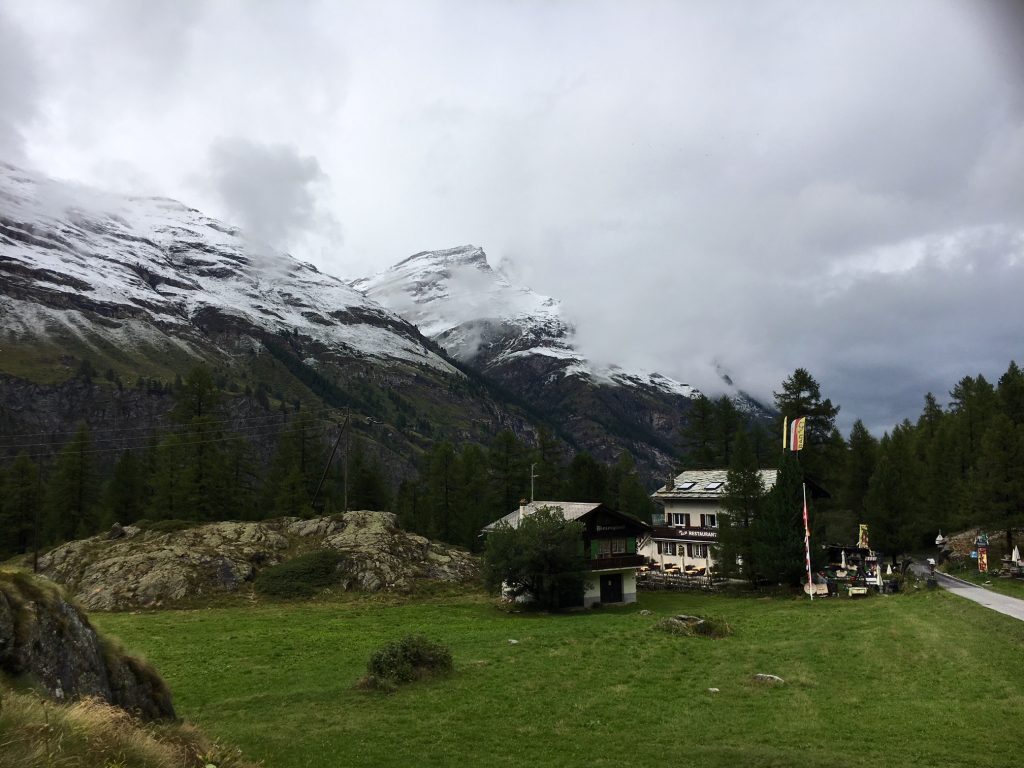 So that we could FLY downhill on a nice SUPER flowy, SUPER fun, bermed and pumped track and then rode into Zermatt!!!
Oh I wish we could've stayed in Zermatt WAY longer! My pictures don't come close to doing it justice!!!! it was an AAAAMAZING town!!!!!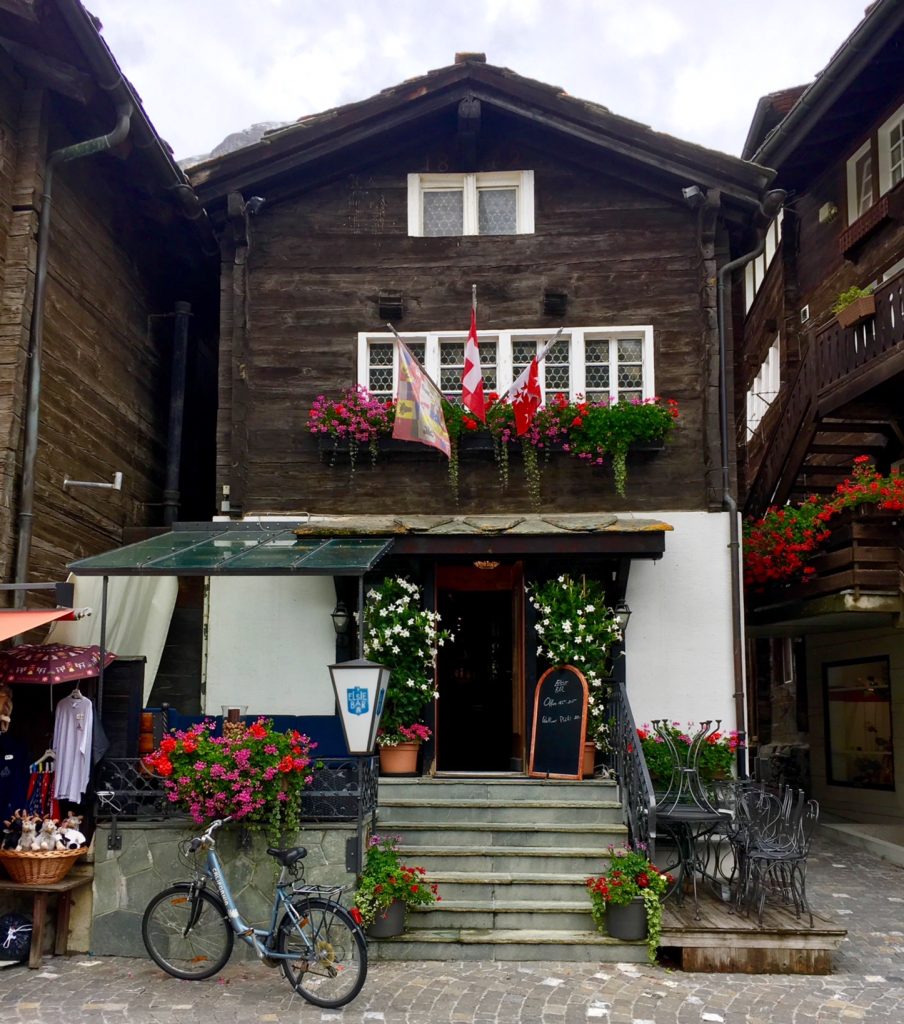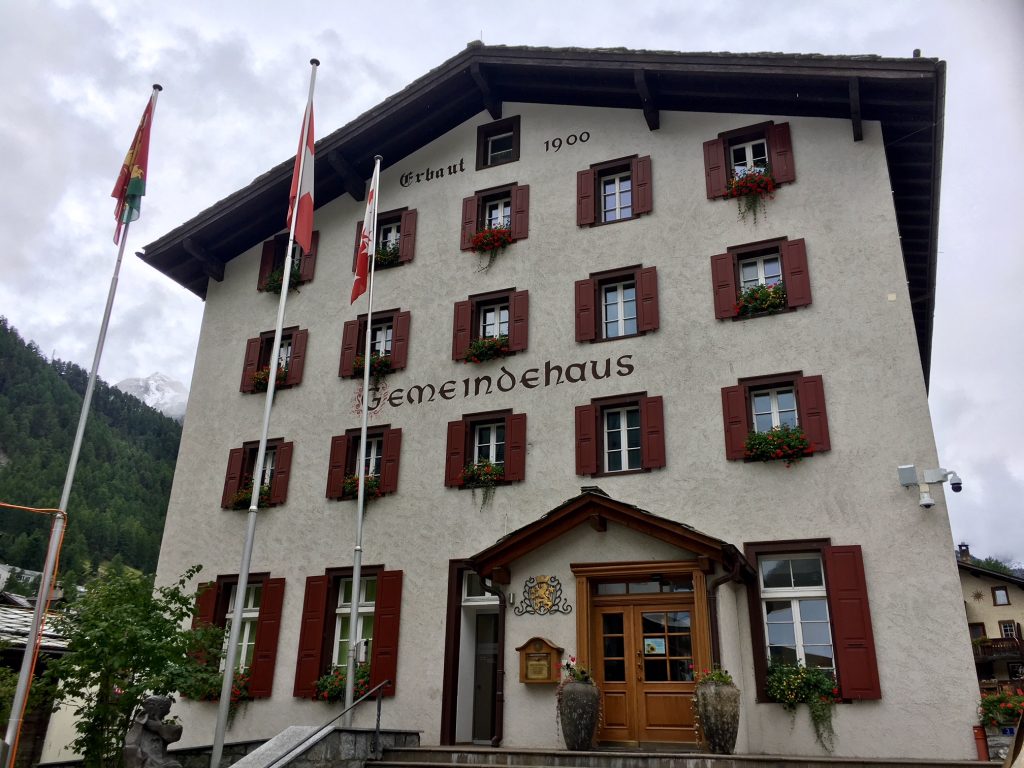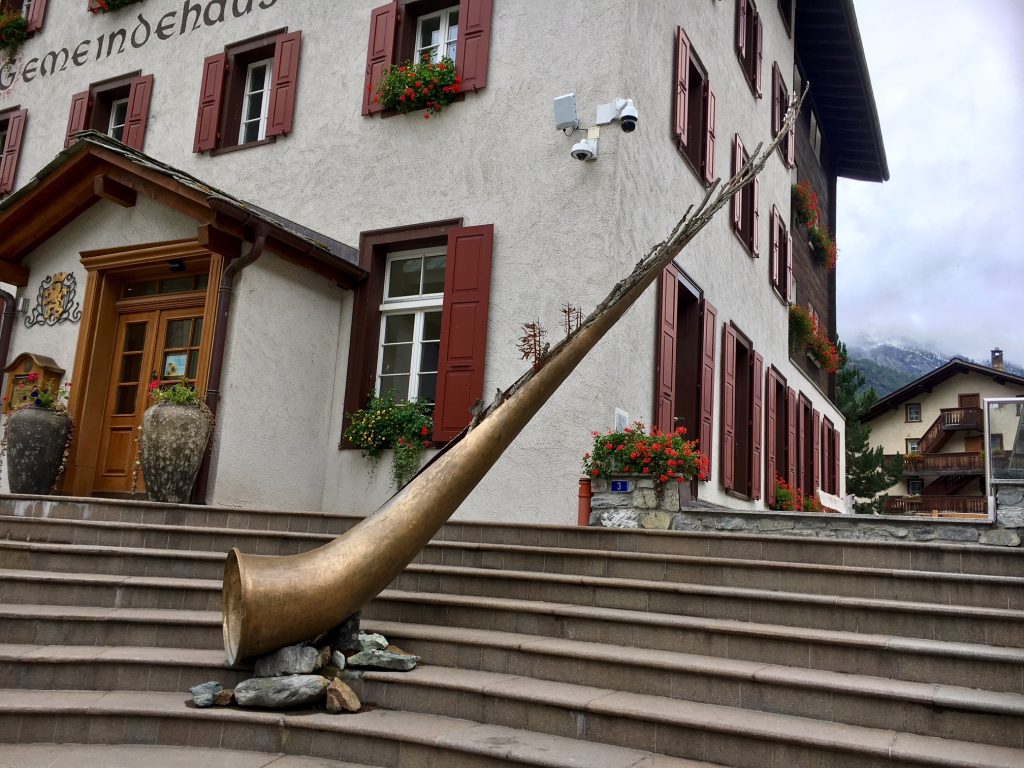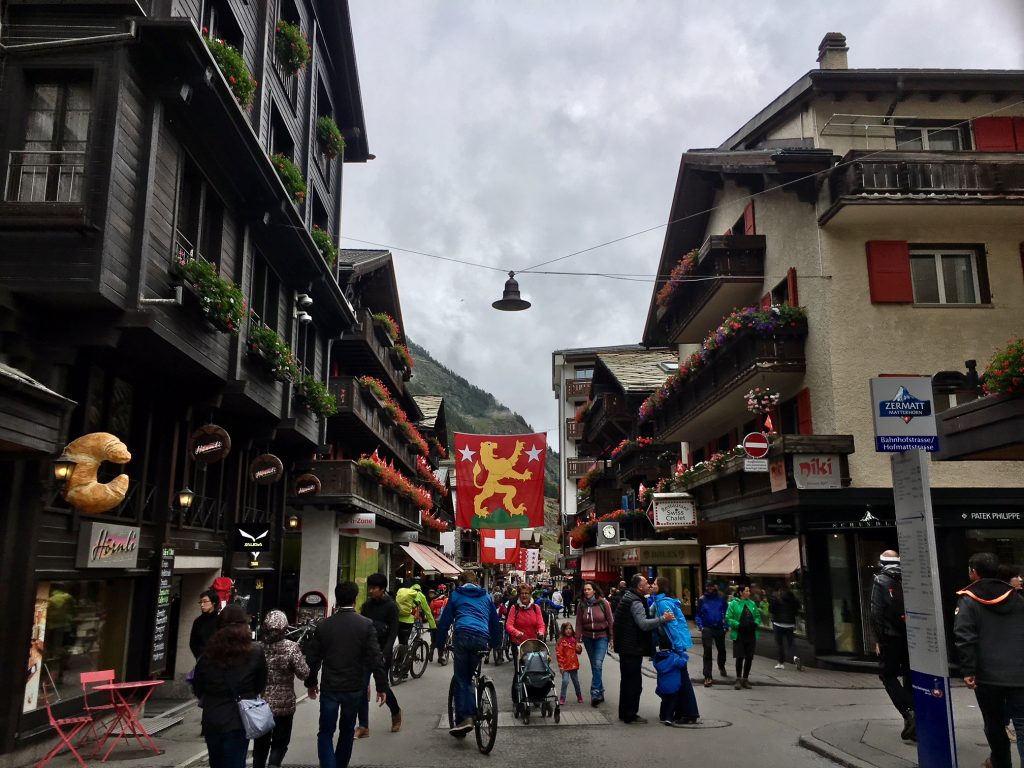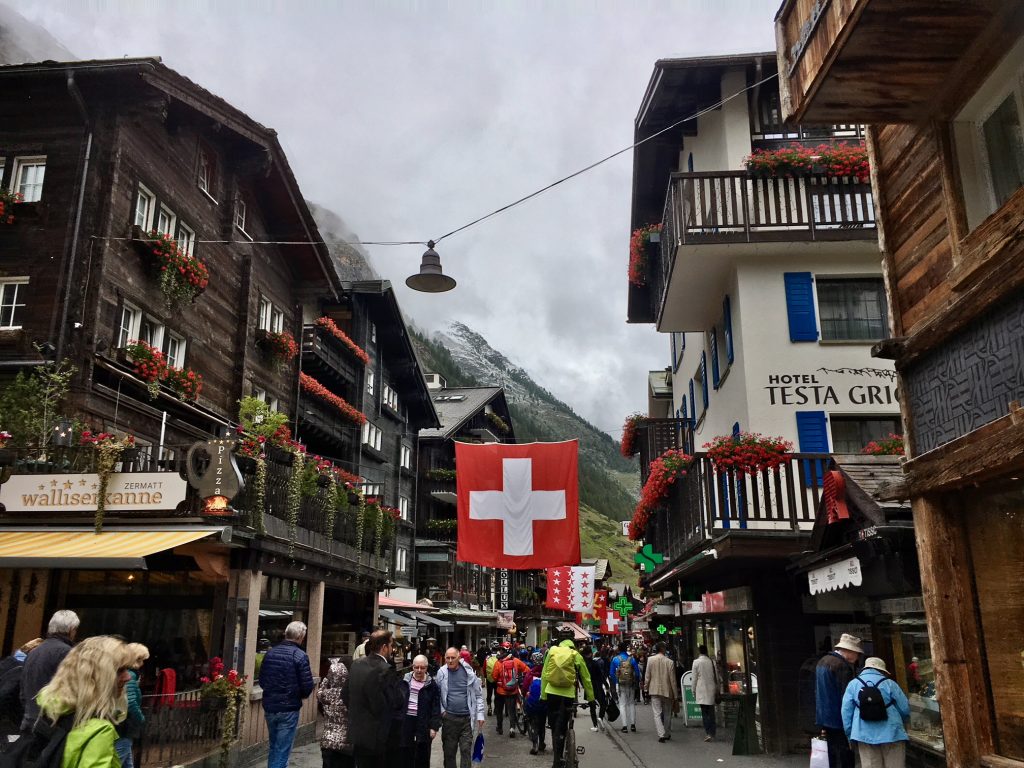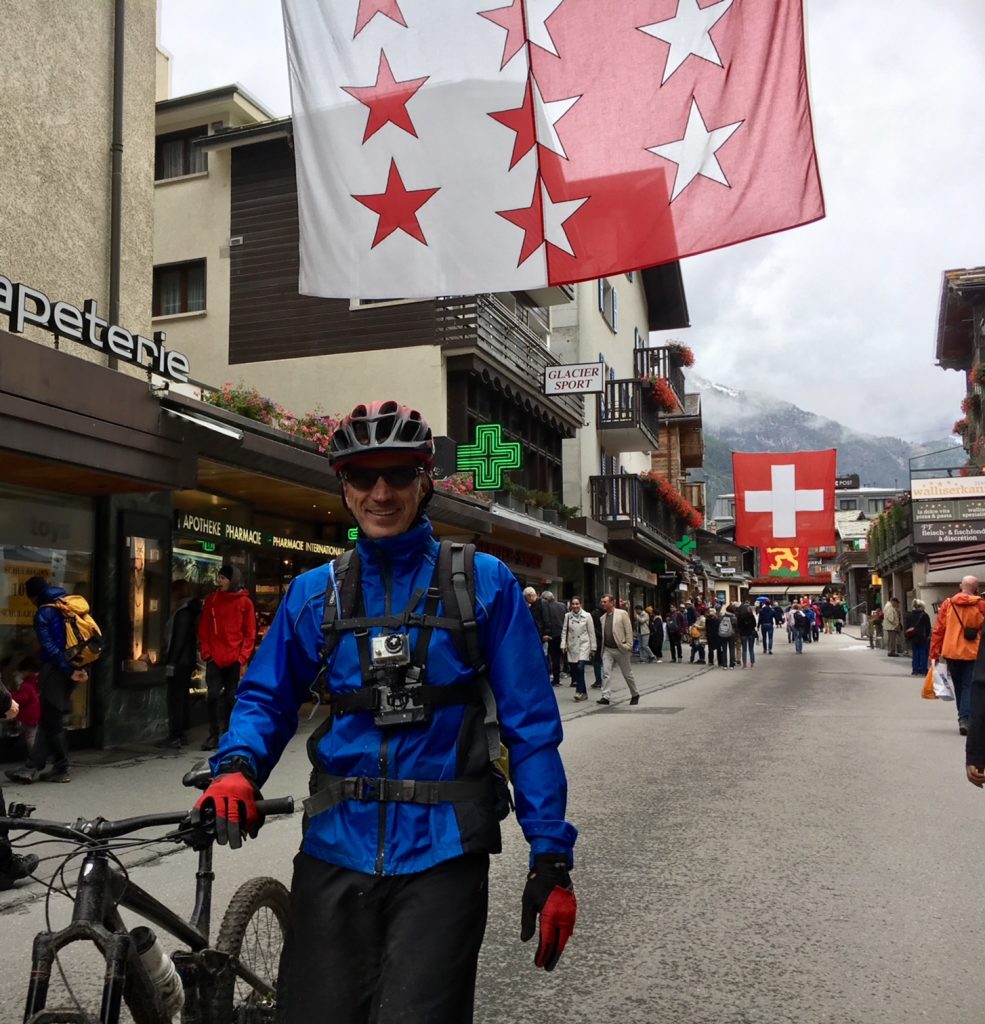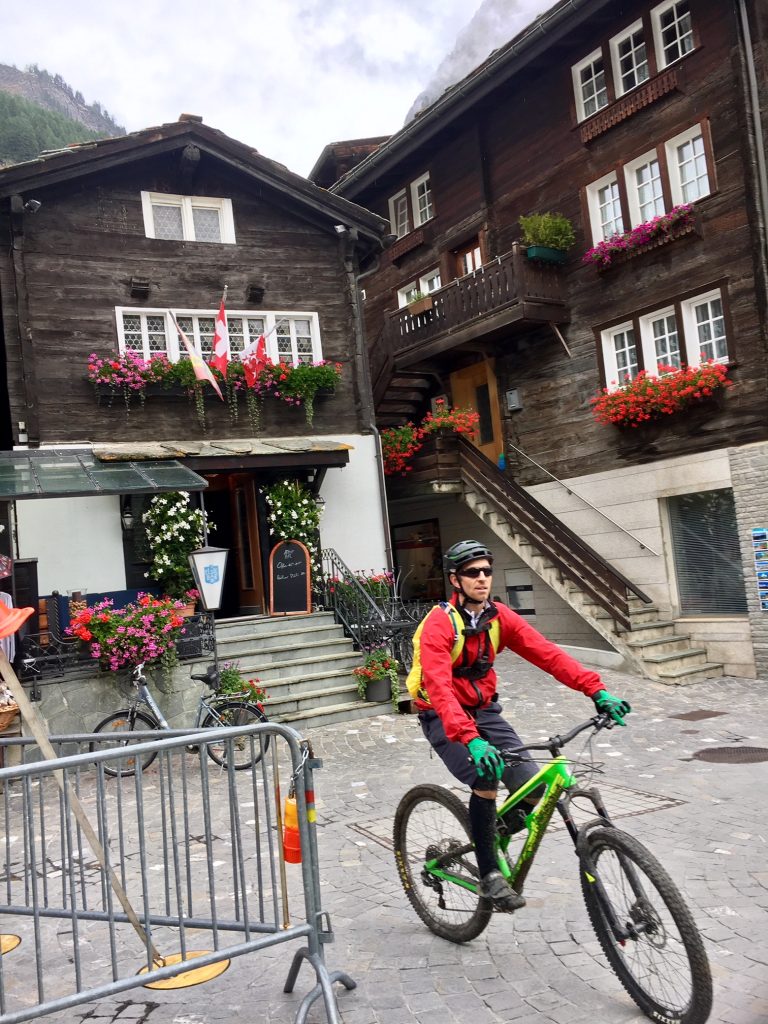 We finished our day, AND our 6 day tour with a ride all the way back to St. Niklaus, where we had dessert…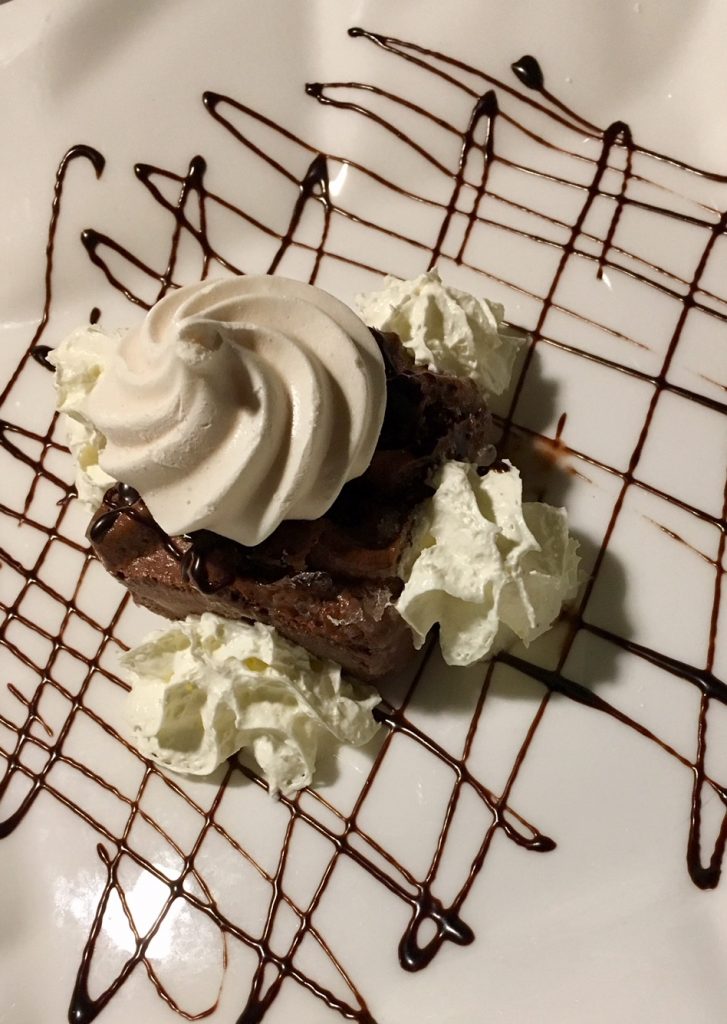 OF COURSE we had dinner first though!!!!
This is a picture of our EXCELLENT group, who were all kind, friendly, fun, super interesting and great riders from Finland, Spain, Quebec, Brazil, and of course, the States!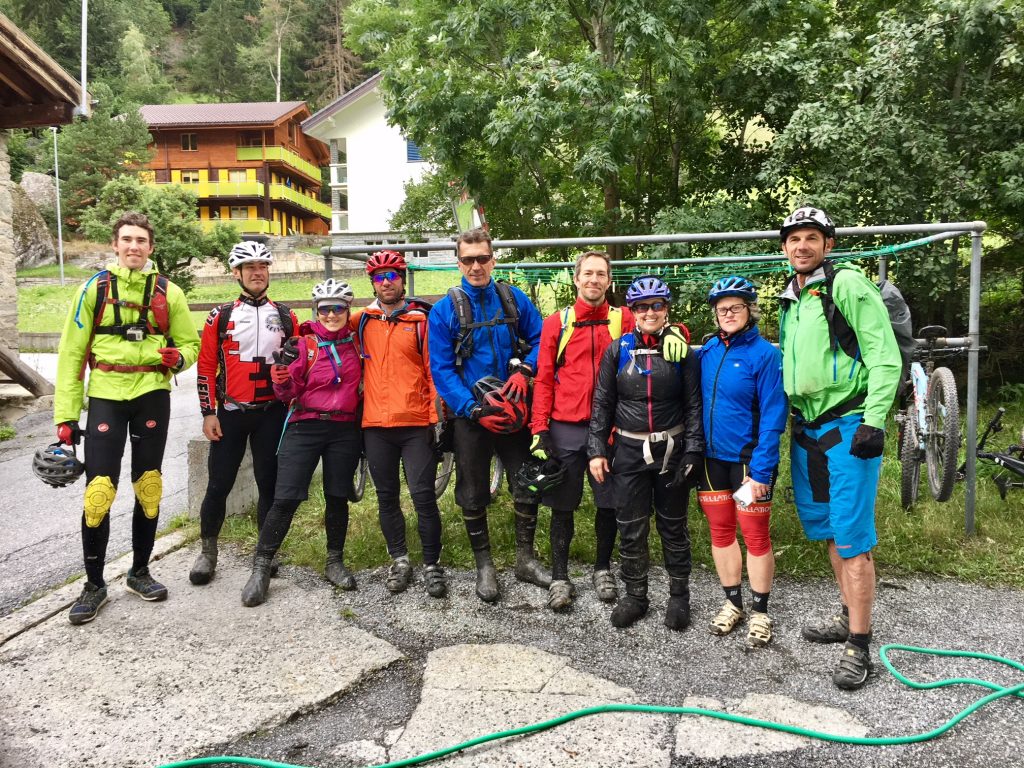 Although I was bummed about the weather, and recovering from an ear and sinus infection, etc. , it was, without a doubt, an AMAZING trip.  I'm so glad that I was able to see these little villages of Switzerland that I would never have seen otherwise!
The food was incredibly delicious, perfectly portioned, and WAY more healthy than typical American meals.
The technical aspect of the trails was an AWESOME and a SUPER FUN, monumental, challenge and although I was slow, I was still proud of myself for all the climbing that I did throughout the week!
The downhills were absolutely epic.
I am sooooo jealous of the people who live in the areas that we rode!!!!!!  I can't believe they get to ride that all the time!!!! aaaaggghhh…so jealous.
I learned so much, not only new biking skills and interesting new ways of teaching and awesome drills, but I learned how to cuss in Finnish (now I can proclaim "Pashka" in front of children and not get into trouble!!!)  and where Game of Thrones Dragonstone castle is (near one of the guys in the groups house!!!) and maybe, just maybe, I learned how to be a little bit tougher in cold, wet, weather!!!!
(i'm a Florida girl, born and raised, and for LIFE when it comes to temperature….if it's below ~75 I'll even ride with long sleeves!)
I'm forever grateful to our group and guides for being so awesome!!!  …and also for the ability to go on this amazing trip!
Here are some pix that I took JUST outside our B&B right before leaving St. Niklaus 🙁 *sniff sniff*