My friend, Lisa, and I took a quick weekend trip to Universal Studios/Adventure Islands/Volcano Bay, arriving Friday evening, June 2nd (a week after Volcano Bay's grand opening), and leaving Monday morning.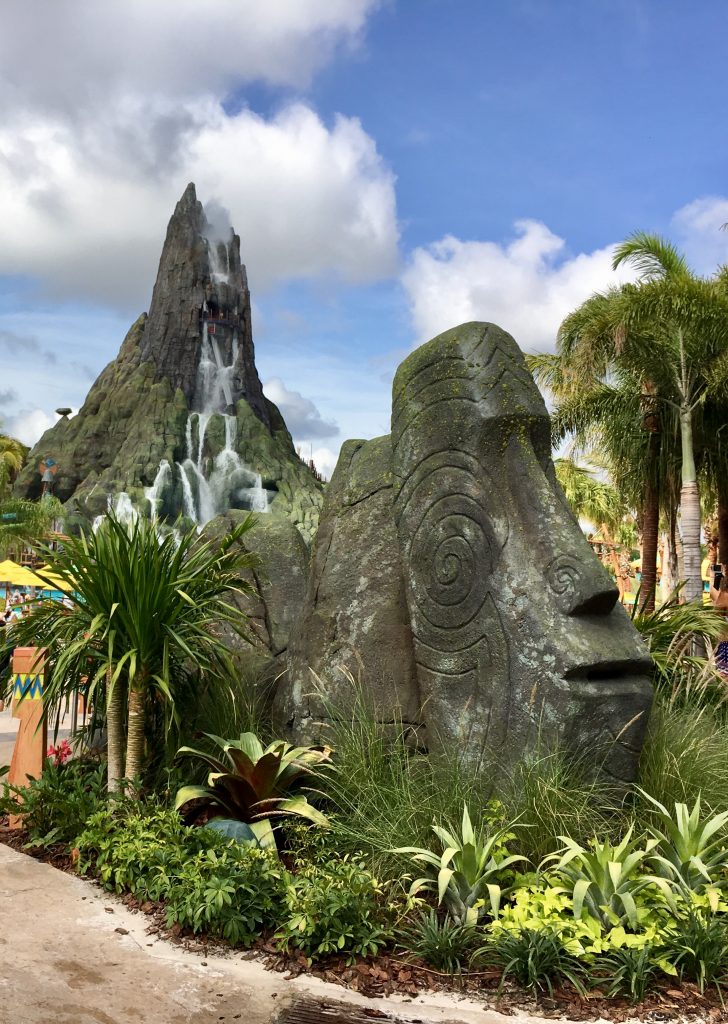 YAY~ for GIRL'S weekend!!!! What a wonderful way to reconnect with a lifelong friend. 🙂
FIRST, a couple of tips specific to Volcano Bay:
Stay onsite and get early admission to Volcano Bay in order to ride Krakatau as early as possible before the wait gets too long (~ over 2 hours, but I've seen it as long as 545 minutes).
Yes, you CAN use your Tapu Tapu to hold your virtual place in line for Krakatau and most of the other slides BUT you can only wait in one virtual line at a time. If you are in line for Krakatau and try to tap into another line it gives you the option to cancel your Krakatau place and get in the other line, or just stay in the Krakatau line (or whatever other virtual line you were initially in).
While in virtual line, there are tons of OTHER things to do: the lazy river, the wild river, the wave pool, Runamukka Reef,  eat or drink beachy cocktails, take pictures at the Tiki photo spots, or go shopping, or just lay out in the sun and work on your tan.
As of June 2017, the park was not completely finished and had quite a few rough spots to smooth out. The employees didn't know where all the padded lounger premium seating was, which wasted time and caused food orders to go to the wrong seating creating as much as a one hour wait for food!!!  There are many kinks to work out, so I imagine that by late summer/ early fall everything will be running much more smoothly.  ALSO, not all slides were open.
You can DEFINITELY enjoy a FULL, ENTIRE day in Volcano Bay, so the NEXT TIME I go, I will plan to stay in Orlando 3 full days, and when I get down there, I will look at the forecast and plan to spend the sunniest, hottest entire day at Volcano Bay and the other two days between Universal Studios and Islands of Adventure.
We had two full days to play at the parks and my work offered a great deal on a 3park 2-day pass, so we took advantage of that.
We stayed at the Royal Pacific Hotel, which is the least expensive on-site hotel that also offers the Unlimited Express Passes for everyone and early admission to the parks. The parks that allow early admission to onsite guests vary, depending on the time of year.
On our trip, Adventure Island and Volcano Bay were open one hour earlier for onsite guests.  During Peak Season, I believe ALL parks open 1 hour early for onsite guests.
The park was AMAZING; absolutely gorgeous landscaping, with so much attention to detail and the theming was on point!   We also got very lucky weather-wise on Saturday morning; Blue skies and almost warm enough to not freeze to death.  I was extremely happy about that, because the forecast was not looking great the entire weekend!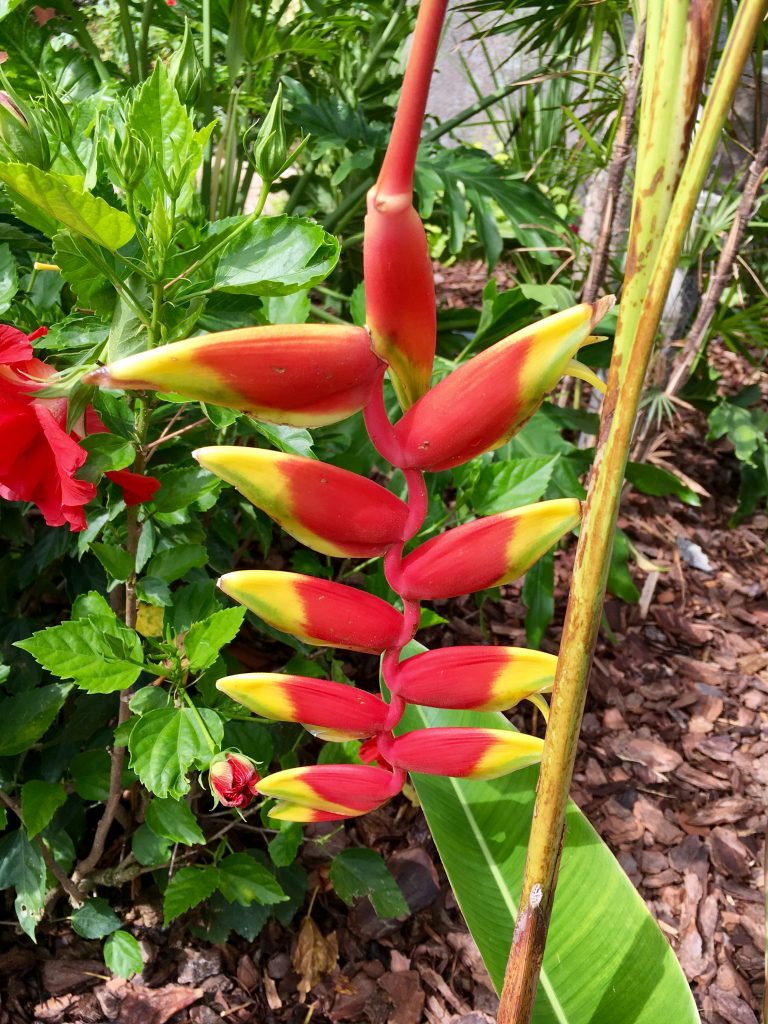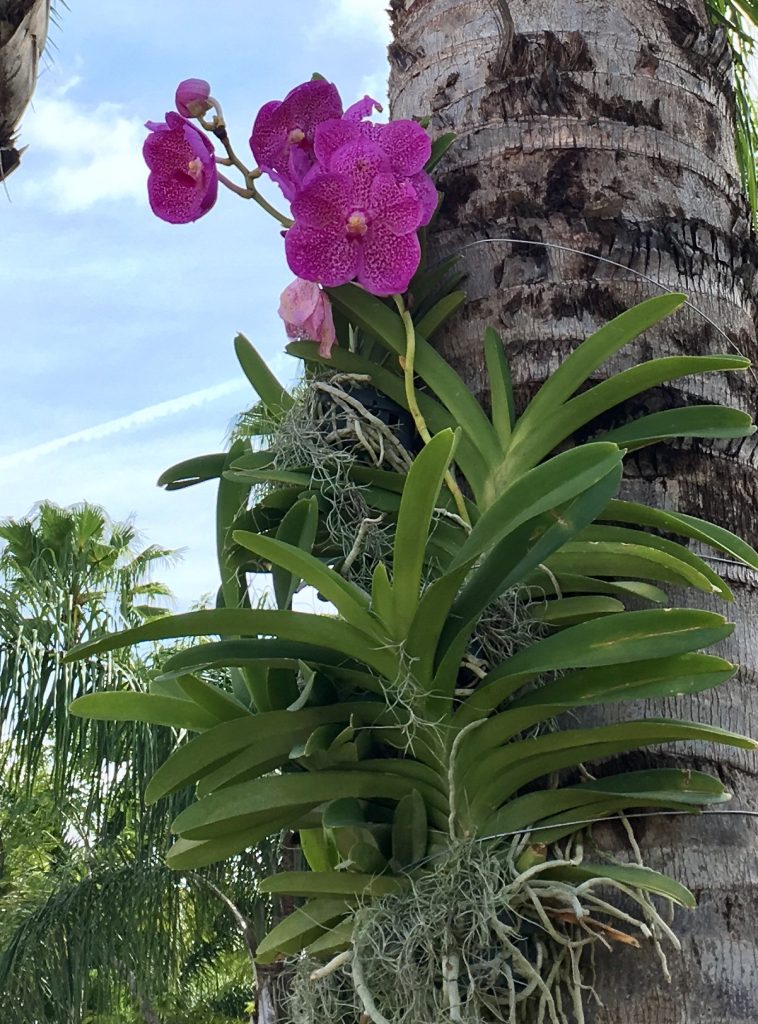 We had reserved premium seating which consisted of a set of padded loungers with a cover, a locker that we could open and close with our Tapu Tapu, and our own server.  We shoved some flip flops and clothes in our locker and immediately took off to eat breakfast at Whakawaiwai Eats, which was healthy and delicious, then we rode Krakatau, which, that early had no wait (we didn't have to use our tapu tapu, but could just get right on in line instead!!!!)
NOTE: if you are vegan or vegetarian, the salad below is a WONDERFULLY DELICIOUS option!!!!

Krakatau was AWESOME- the most fun on a waterslide everrrrrrrrrrrrrrrrrrrrrrrrrr…the downhills were fun, but the BEST part was how FAST we were launched UPHILL every time.  My butt came up off the seat a couple of times when we reached the top of the hill because it popped us up and over so fast!!!
Next we rode Taniwha Tubes which was so incredibly fun, although it didn't feel like it lasted very long!
Before taking a break, we rode Maku which was SO amazingly exciting as it vaulted up steep sidewalls.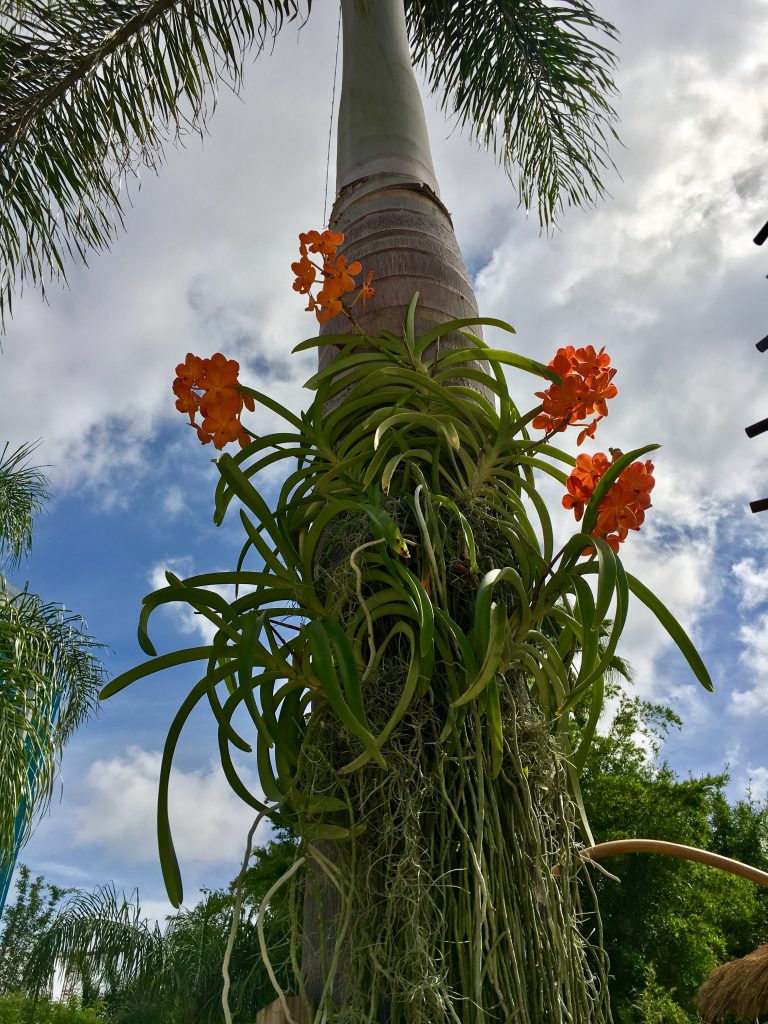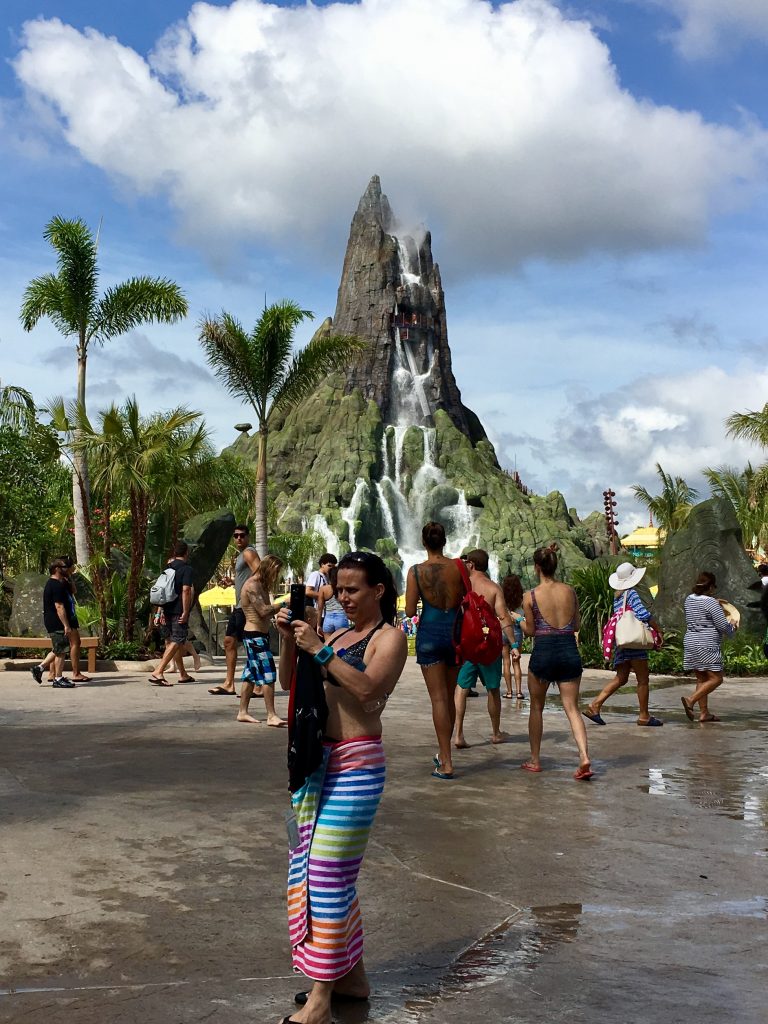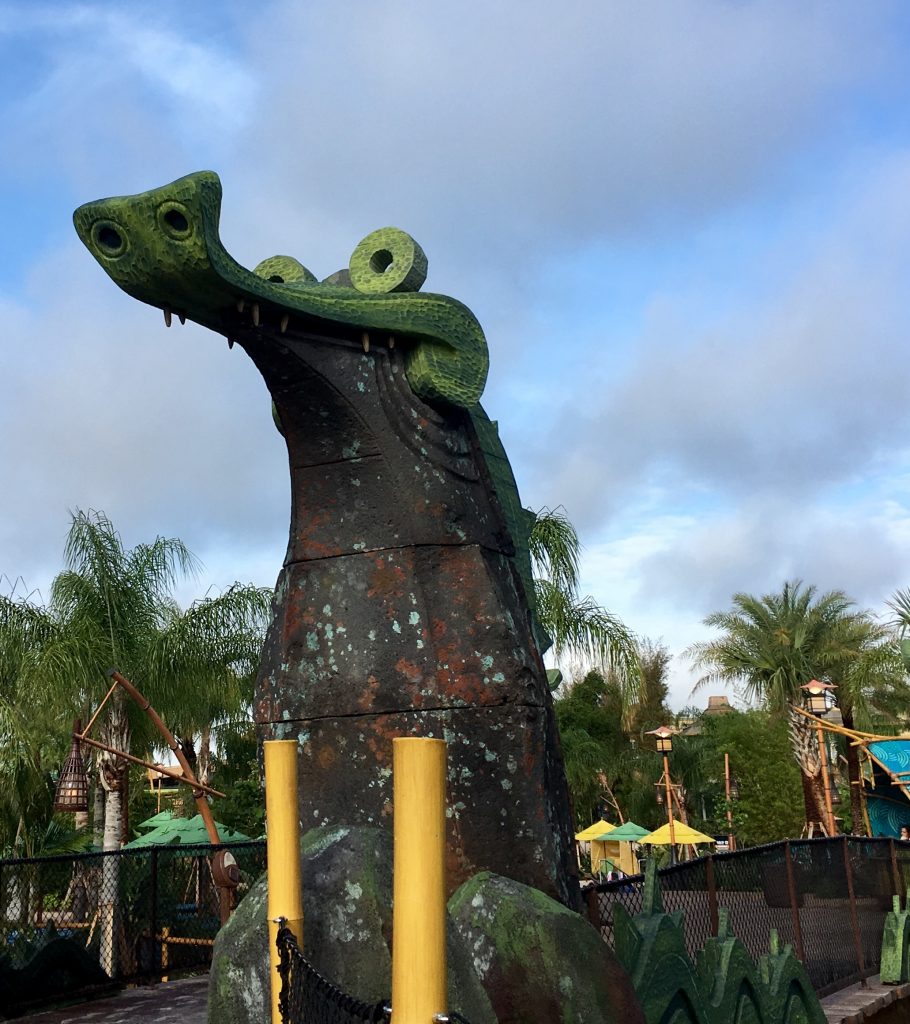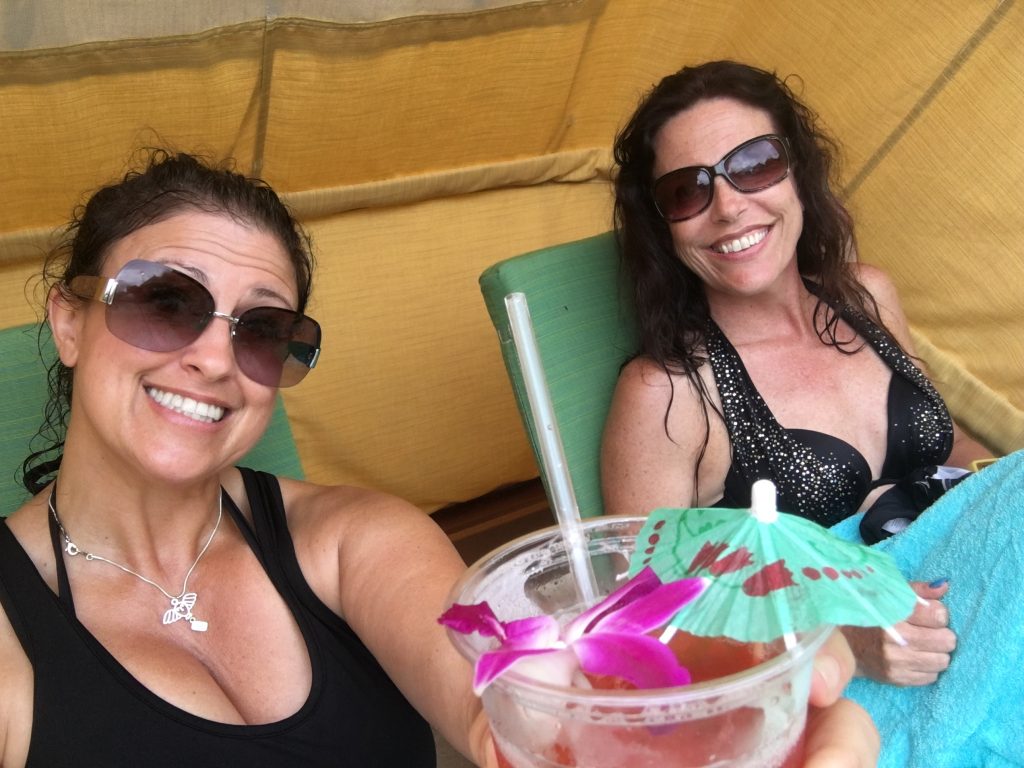 Everywhere you turn in the park, there were amazing details, statues, fun little animals, etc. so after those slides, I wanted to walk around and capture some of the magical theming with my go pro, only to find that it had accidentally turned on during our flight and so the battery was completely dead.
Since we had a 3 park pass, and lots to see, including my beloved Wizarding World, I decided we should go drop the go pro off at the room to charge it, and head to Universal Studios and Diagon alley for lunch and fun rides.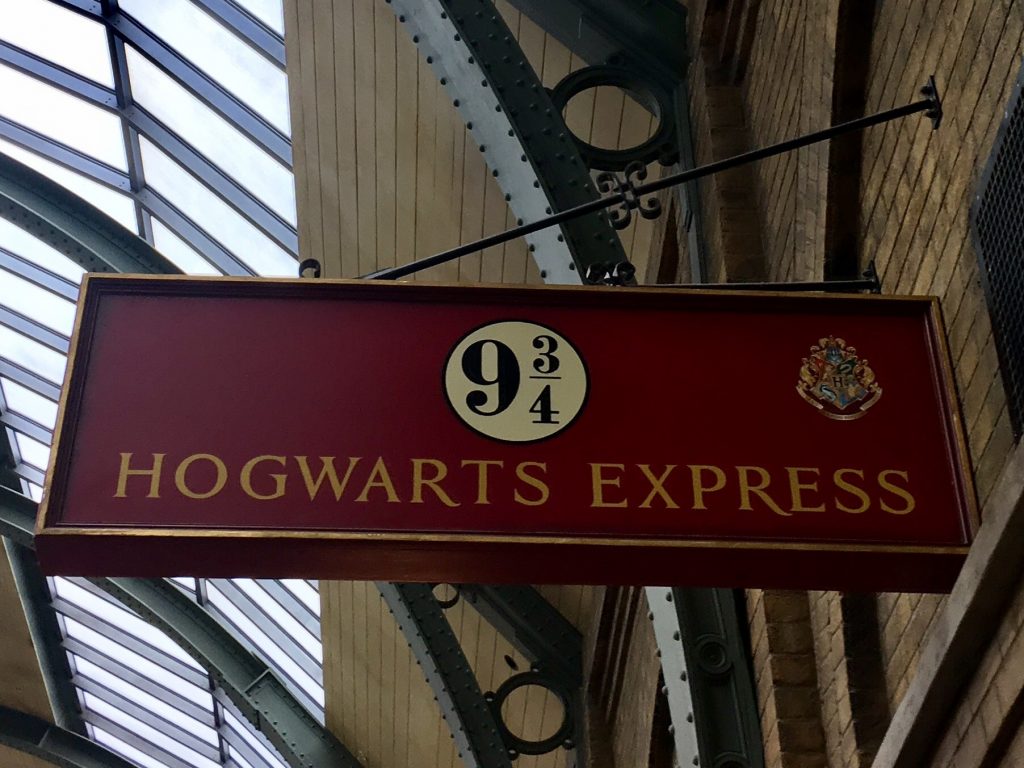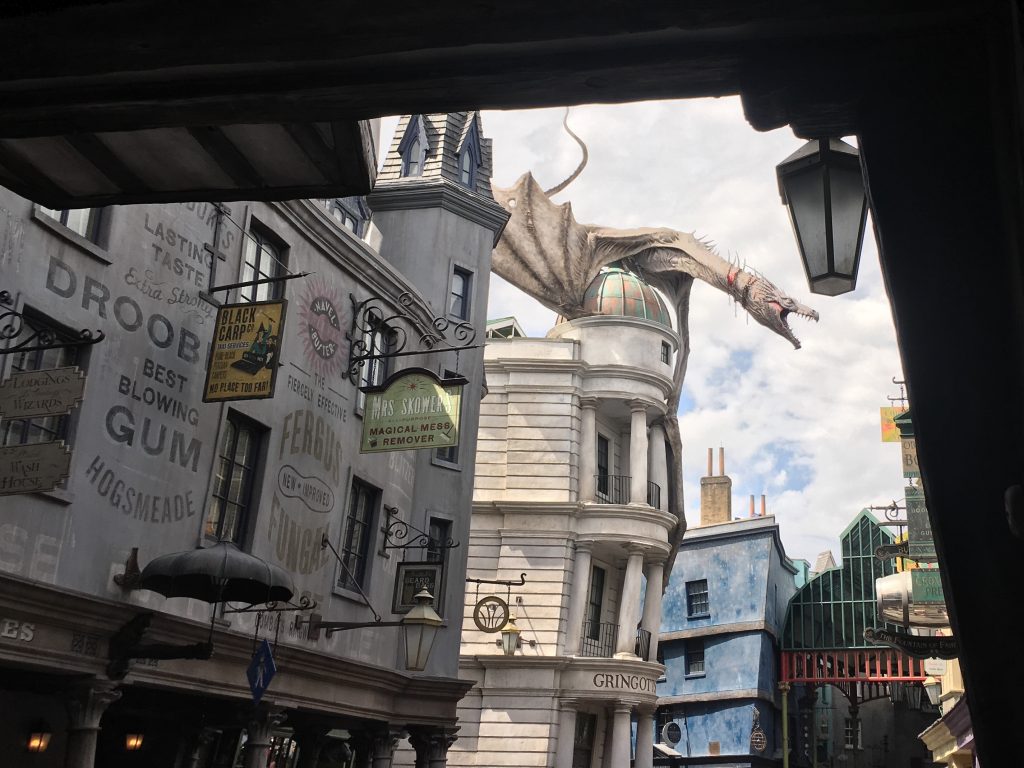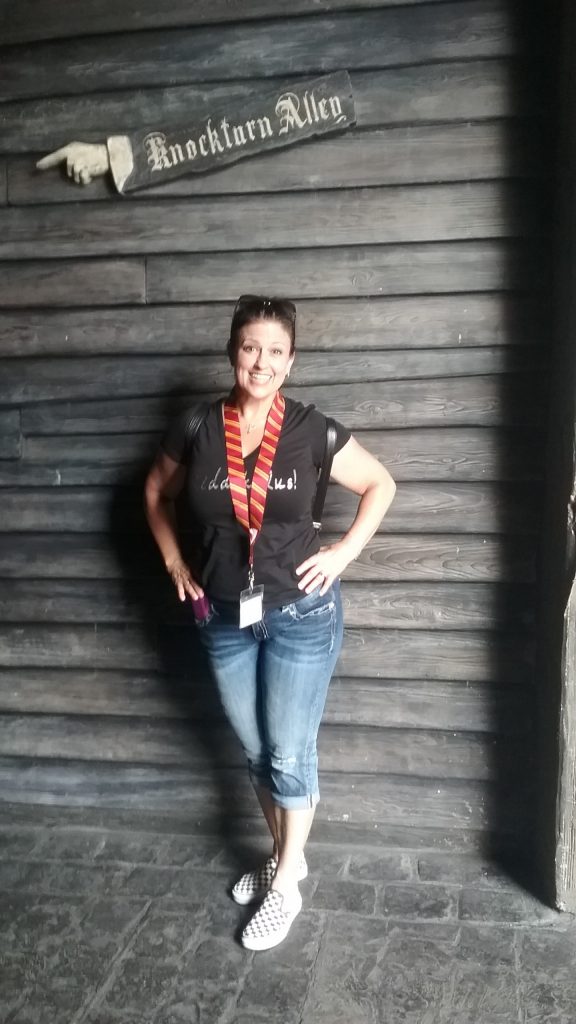 At Universal, we hopped in the singles line of Escape from Gringotts to save time.  I recommend doing the regular line once, if you've never seen it, but after that It's best just to ride in the singles line so there's more time to ride all the tons of other fun rides!!!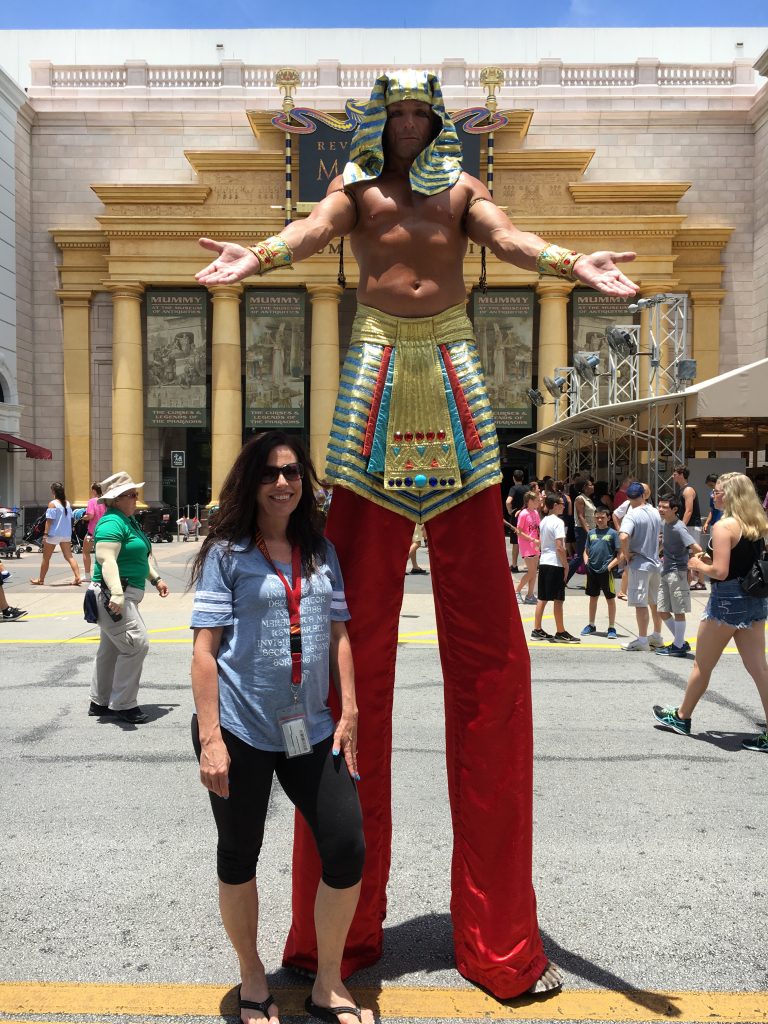 Next we rode the Mummy, which is SUCH a SUPER fun, almost hidden, gem.  It's a MUST ride every time I go.  Added bonus, the Express line is always super short!!! I've never waited more than the time it takes to walk the line plus 2 minutes to ride.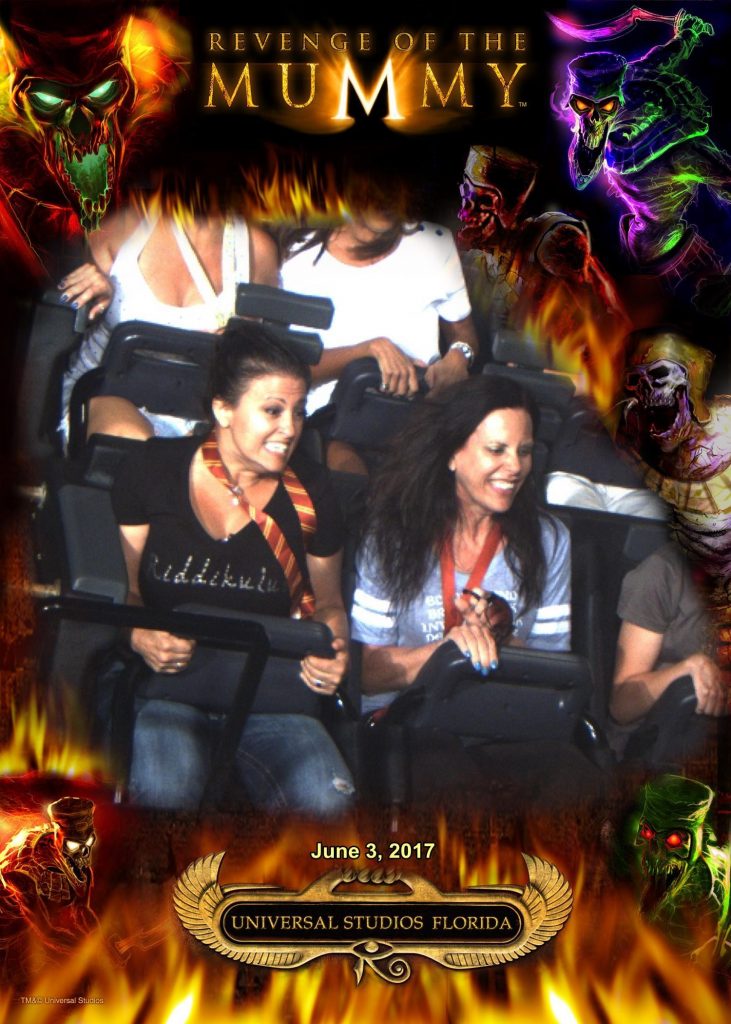 (I cannot say enough how much an Unlimited Express pass is SO WORTH IT- ideally you could stay at the Royal Pacific to get your Express Passes included)….then we rode my FAVORITE roller coaster, the Rock-it, which allows you to pick your own music to listen to during the ride which REALLY makes the ride so super fun.
Next stop; Hogwart's Express to go to Hogsmeade at Islands of Adventure!
Once there, we rode Forbidden Journey and then it started raining.  It rained and rained the entire rest of the night, so we never went back to Volcano Bay that evening.  So, sadly, we only spent 2.5 hours at Volcano Bay on Saturday….
Sunday, we decided to take advantage of the early admission to Islands of Adventure and hit Hogsmeade and ride many rides.
Somehow, between Saturday and Sunday, we were able to ride all the following rides, ranked in order from my ABSOLUTE TOP #1 favorite down:
Transformers
Escape from Gringotts
The Mummy
Skull Island, reign of Kong
Spider-Man
Rock-it
Jimmy Fallon's race through New York.
Harry Potter's Forbidden Journey
ET
Shrek 4D
Flight of the Hippogriff
The Hulk- albeit fun, this one shortens my life span a little every time 😉
On Sunday, we got to Volcano Bay at about 2 or 3PM and made yet another VB mistake: Krakatau was so fun and our favorite, so we decided to get in the 120 minute virtual line to ride it, versus checking out some of the other many, many slides that we still hadn't ridden.  While in virtual line, we did one lap on the lazy river, and then ordered drinks and food from our premium seating.  Unfortunately we sat and waited a full hour for our food, watching our ride time come and go, because our food was sent to the wrong padded loungers!!!!  When we finally got our food and finished eating, a cold front had moved in with some sprinkles and it was so cold we didn't want to get wet at all.  I will say, though, that the food (also from Whakawaiwai Eats), was DELICIOUS and healthy.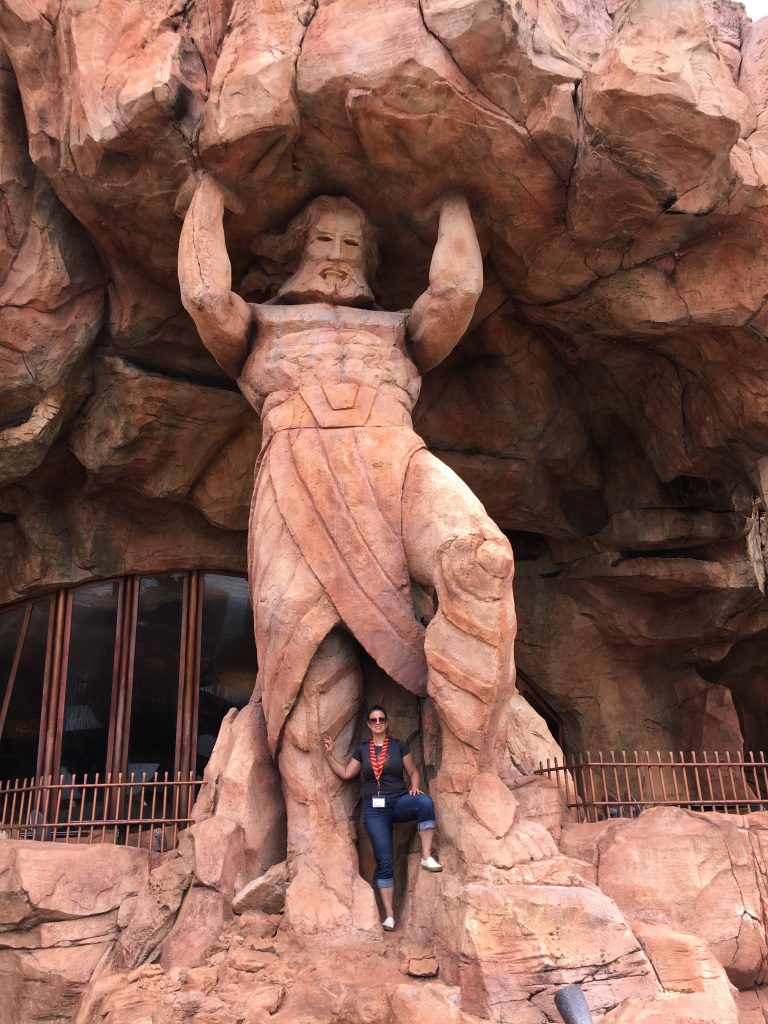 So, Volcano Bay was awesome although they still had a lot of kinks to work out and the weather did not cooperate with us, AND I wish we would have dedicated an ENTIRE (ideally hot and sunny) day to it.  But I can NOT WAIT to go again, it is, without any shadow of a doubt, the BEST water park I have ever been to.
Another absolute FAVORITE food place from the trip was Toothsome's Chocolate Factory—we ate there twice and didn't even have dessert because we filled ourselves on DELICIOUS apps, entrees, and their amazing chocolate bread.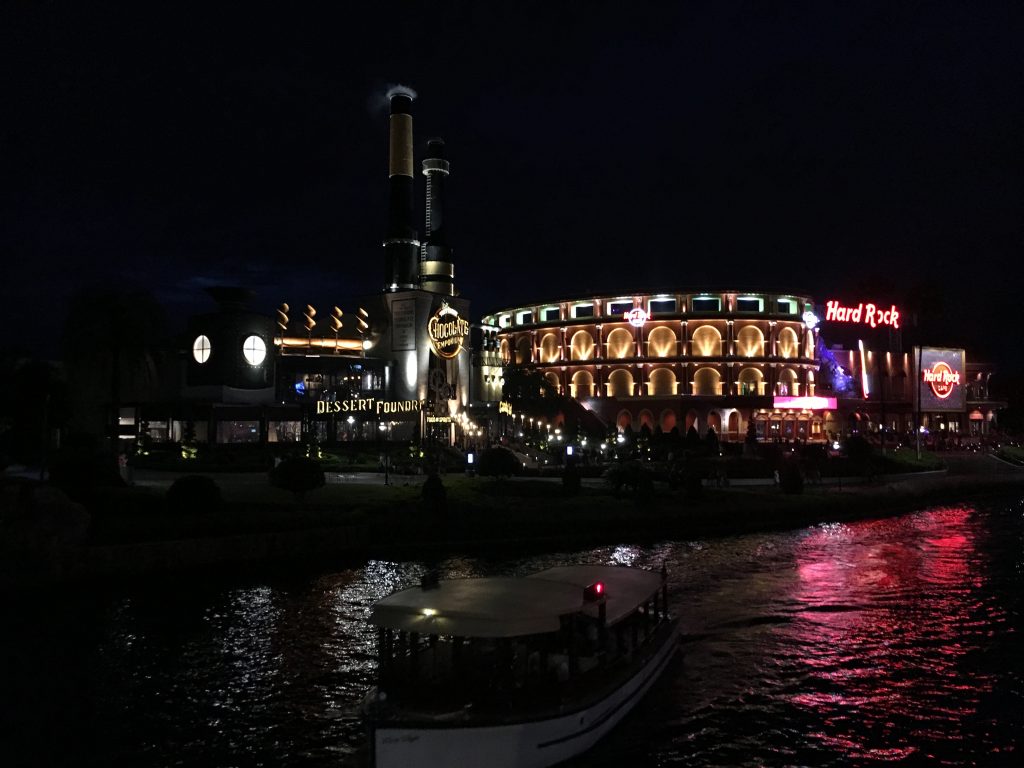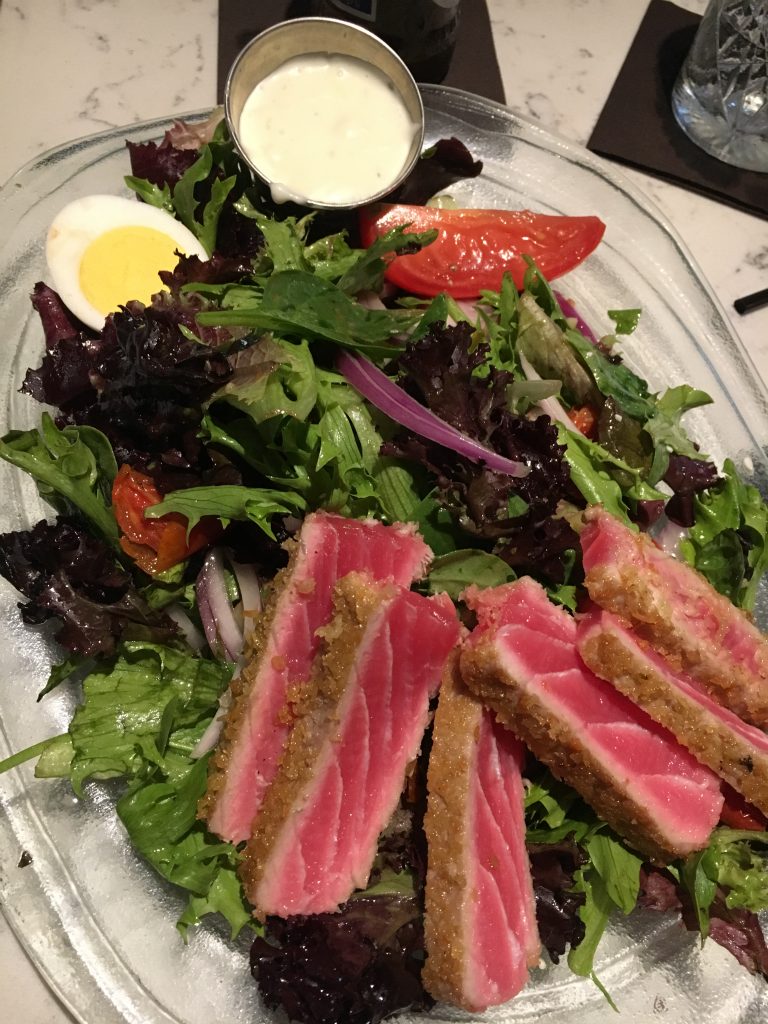 This is how silly we were on the plane, btw….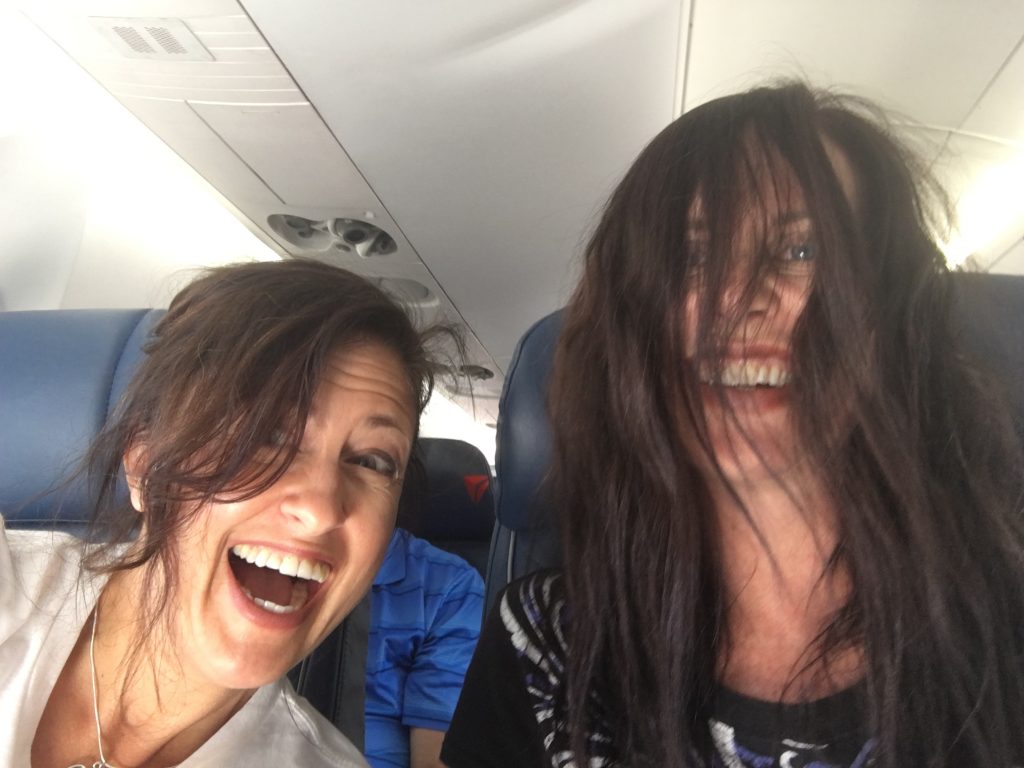 I ALSO *HAVE* to add the following, because it cracks me up so badly!!!!
We are old ladies, just having a silly good old time, and it was our FIRST TIME using a selfie stick, and these pix are hilarious to me!!!! The first pic is practically right after getting off the plane and to the resort:
(TIP: How NOT to use/hold a selfie stick……DOH! how embarrassing)