Since the moment I decided what my "50 before 50" will be, this was a multiple of "firsts" for me that I'll roll up into one: first American cruise (2nd cruise ever, but my first one was a Mediterranean cruise!), first time ever in the Bahamas, first time using Sea Bands, first Bamboo massage, and first time doing a double decker bus tour of Miami!
BOOKING THE CRUISE:
Since we are limited on vacation time, my husband and I decided to use Good Friday as an excuse to get some sun and sand and WARMTH for a long weekend trip!  I used the Vacation ticker at Vacations To Go to find a deal on a weekend Bahamas cruise ($299 per person, which, of course includes meals and lodging!).  You really MUST check out their 90-day ticker and its amazing prices, and the Vacations To Go Travel Agent I spoke to hooked us up with a great location for the room (the highest deck close to the pool, and right by the elevator) and was super great to work with.
The cruise departure was Friday at 5PM and it arrived back in Miami Monday at 7AM.  I chose Norwegian Cruise line because my experience with them on the Norwegian Epic for our Mediterranean cruise was excellent, and I really love the freestyle dining option (no assigned seats and assigned times for dinner & no requirement to dress up if we didn't want to!)!
BOOKING THE FLIGHT:
Although the cruise departs from the port at 5PM, you MUST be on the ship by 3PM, and can start checking in as early as 11AM to board at 12 noon.  Since flights to Miami are much less expensive on Thursday night versus Friday AM, we chose to fly in Thursday after work and stay at a hotel that offers a cruise package (which is basically just a shuttle to the cruise port).  There are a couple of hotels that offer this, and we chose to stay at Embassy Suites  because I have a Hilton HHonors account.  This was a beautiful hotel, with an amazing atrium.  The room was gorgeous and comfortable, with  air humidifier unit that kept the air fresh.  This IS by the airport, though, so you can hear the loud planes until ~11PM, and they start back up at ~7AM, but we tuned it out and it wasn't a bother while we slept.  If you consider how much more expensive the flights were for Friday AM, we about broke even with the hotel cost.
Another option is to fly to Fort Lauderdale and get a transfer for ~$16-20 per person to the port of Miami, since flights to FLL are cheaper.
I watched the flight prices over a course of from 8 weeks prior to departure to 2 weeks prior to departure.  We booked at 7 weeks prior to departure, but the lowest price was 5.6 weeks prior to departure.  That was too risky for me, as you can see by the chart below, prices starting going up a lot higher as the departure date grew nearer!  See the chart below to view the prices I was looking at (even after I bought the tix, out of curiousity!).  The horizontal axis is the number of weeks before the trip.  There are a couple of different sources that I checked for prices, hence the different prices for the same time points, like 7.1 weeks prior to departure.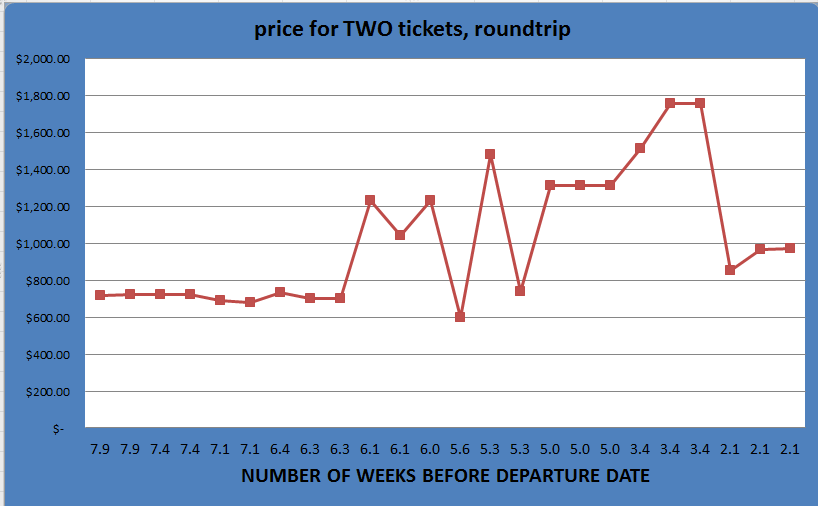 PORTS- NASSAU, BAHAMAS
Ok, our flights were booked, our cruise was booked, so the next step was to research what we were going to do on the cruise and at the ports!  After talking with friends, and logging into and checking out the excursions offered through the cruise line, and also checking out some other awesome sites like cruise critic. Cruise Port Insider , What's in Port, and Shore Trips,  I ended up choosing the super easy route; to go through the cruise line excursions because I wasn't sure what time we would be allowed to leave the ship and what time we HAD to be back on the boat.  Also, I didn't feel like doing any more research to figure that out (too lazy).  The boat left ports at 5, but you have to be on the boat a certain timeframe prior to departure.
I was told that the beaches by the port were not that nice, although there's supposedly an amazing conch salad and soup place behind Senor Frogs, so we chose the Blue Lagoon excursion.  It was a toss-up between that and the Aquaventure waterpark at Atlantis, but we thought we'd stay away from the crowds and choose a more relaxing time.
The scenic boat ride was ~40 minutes  to the beautiful Blue Lagoon Island.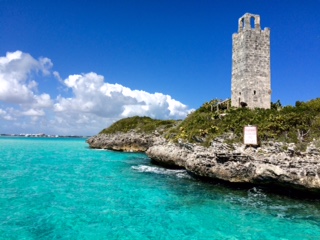 We immediately decided to stay away from the kids and the crowds by heading to a secluded cove, after getting our "bucket of beer on ice" at the bar.  The bartenders were very accommodating and even gave us a discount on my husband's favorite beer (which we then repaid in tips).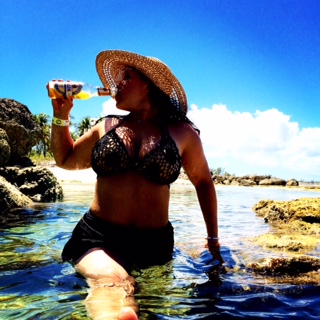 The cove on the other side of the island was perfect for adults sans kids; secluded, quiet, with beautiful views and snorkeling.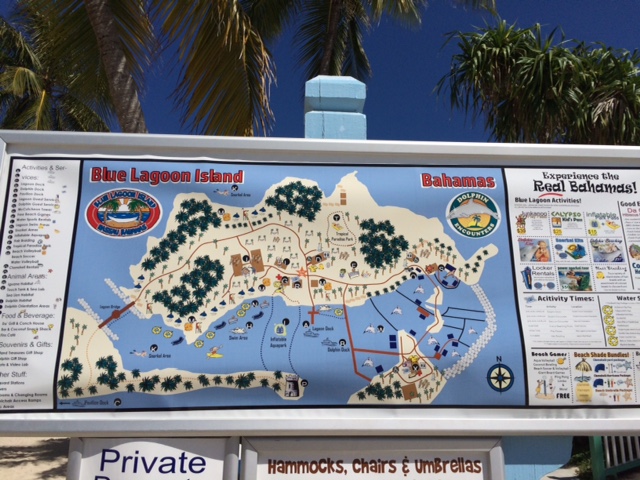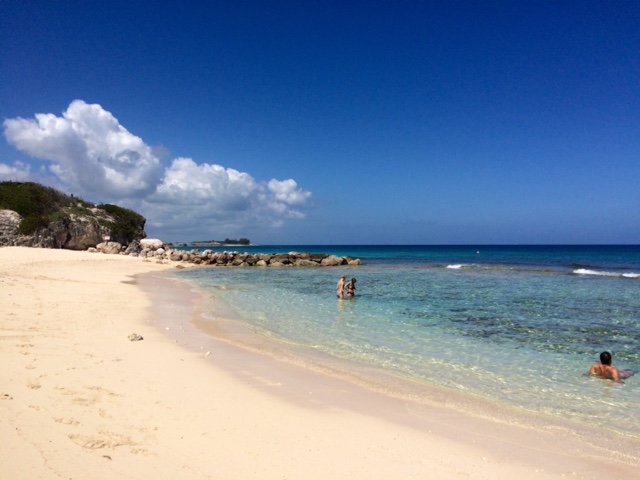 The food was the standard fare; hot dogs burgers, veggie burgers, chicken, fries, veggies and black beans and rice. Not mind-blowing, by any means, but we didn't go there for the food!  Food was included in the excursion, but elsewhere they took US cash or credit—no problem mon.  We did not visit the dolphins or seals, but I understand that you can do so and observe for no extra charge.
I would definitely recommend this excursion to anyone porting in Nassau!
GREAT STIRRUP CAY
This cay belongs to Norwegian cruise line, so it was nice in that you could use your room key for drinks, and the food was the standard buffet fare.  This was a wonderful island to explore, offering many activities and water sports (for an extra charge) and we had the opportunity to either hang out in the crowd and party with a DJ, or find a secluded spot away from all the action.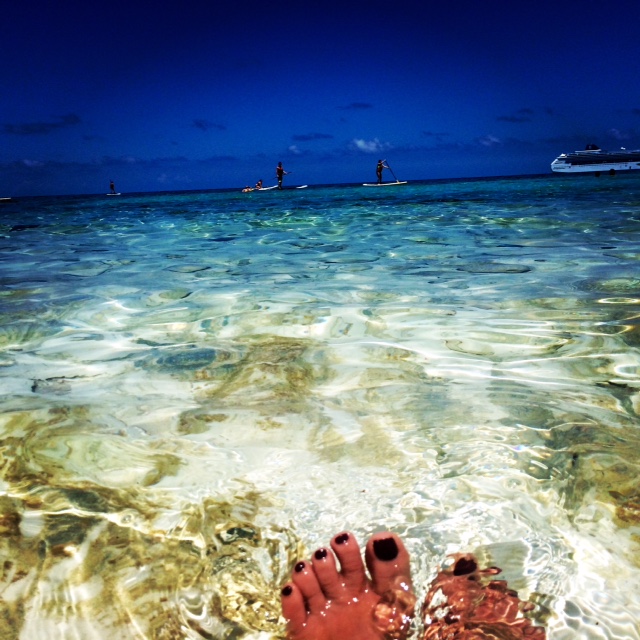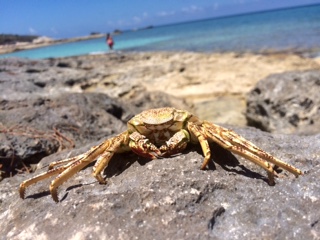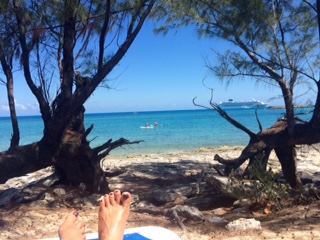 MASSAGES
On the first night of the cruise, we decided to treat ourselves to massages!  I had the Bamboo massage for the first time, and my husband had the Hot Stone Massage.  The Bamboo massage was amazing and invigorating.  The massage therapist basically rolls small pieces of bamboo up and down problem areas (entire body!), which kind of felt like a MUCH more relaxing foam roller (because you don't have to do it yourself!).  Due to my soreness, she used an oil with Arnica and something that felt kind of like ICY HOT, which actually made me feel super refreshed and ready to tackle the day (even though it was 9:30PM!) unlike my husband who was ready to go to sleep after his massage…
Note: the salons make their money off of products, so if you go to the salon for ANY service, they will "recommend" many products and try their best to sell them!
SEA SICKNESS
Throughout the entire cruise I felt fine, I think because the waters were calm and the boat is so big that you barely feel the movement.  While rocking back and forth in the little tenders as they sat, attached to the boat, waiting to fill up to capacity with passengers, however I would have definitely been very ill if it weren't for my Sea Bands (got them on Amazon). Sea Bands apply accupressure to a spot on your wrist called the Nei-Kuan point. They greatly reduce nausea, don't make you drowsy, and can alleviate after you start to feel sick  (unlike Dramamine).  I wouldn't take a cruise without them, and less Drowsy Dramamine as back up, if you are prone to motion sickness!
WATER BOTTLE
I recommend that you bring your own refillable water bottle to fill at water fountains or water stations since the cruise line charges a LOT for bottled water, and the use of these bottles results in a lot of extra non-biodegradable plastic that typically isn't recycled.  This is bad for the very ocean that we are cruising on as most of that plastic ends up in the ocean (watch Plastic Paradise on Netflix for more shocking and saddening info on that!).
MONEY and ROOM KEY
If you've never been on a cruise before, you might be surprised to find that you can't use cash or different credit cards for anything on the cruise or on the Cay owned by the cruise.  At least, this was the case for the Norwegian, so I'm only assuming that they are all like that.  You give the cruise line one credit card at the check-in for the trip, then you and your family must use your room key for any purchases on the entire ship.  On the last night of the cruise, you will get an itemized bill to review.  You can go and pay for it with cash, or the bill will be automatically be charged to the card provided.
DISEMBARKATION AND MIAMI "HOP ON HOP OFF" TOURS
Our cruise arrived at the port of Miami at 7AM on Monday.  Rooms had to be vacated no later than 9AM, and one couldn't stay on the ship after 9:30AM.  I didn't want to be stuck rushing to the airport, so I had picked a flight later in the evening, departing at 3:25PM.
So what to do between 9AM and the time we had to be at the airport?  The Miami "Hop on Hop off" Big bus Tour of Miami !!!!  The excursion could be arranged while on the ship the night before, and we had to meet the group for the excursion at 8:30AM, and were on an awesome Double Decker Bus for the tour by 9:30.  We traveled through Coconut Grove, Coral Gables, Little Havana and learned so much about the beautiful area from an awesome and entertaining tour guide named Ivory.
Here's a picture of the Biltmore Hotel, which was on the tour: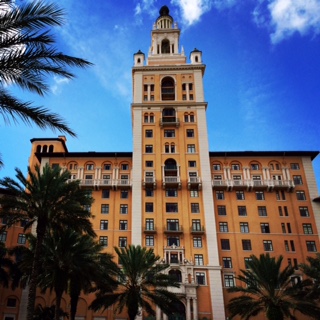 The company offers tours lasting about 1.5 hours on three different loops of Miami, including South Beach, and each tour has different places you can hop off, and then whenever you want, hop on another Big Bus (they run about every 20 to 30 minutes)!!!   This was SUCH and AMAZING way to spend our travel day, so I would highly recommend getting a later flight and doing this (note flights HAVE to be after 3PM to do this)!!!
All in all, it was a PERFECT FIRST of trying 50 New Things before turning 50!!!!! I highly recommend a trip like this if you have little vacation time to spare and a little extra "fun money"!  Unfortunately, I always get super bummed when leaving island vacations….I think that's a sign that islands are where I'm meant to be!